Romeo & Juliet
Boise, Idaho
Suite Details
King-sized bed
52″ TV
Jetted tub with shower
Blu-ray player
Full breakfast included
Sparkling cider included
Snacks, DVD's and other lovely options available.
Located on the second floor. Multi-level suite.
Timeless Lovers
Whether you are Romeo or Juliet, this suite is meant for timeless lovers. Prepare to be enveloped in the romance and beauty of this two story room. The large white winding staircase with deep red carpet is a pathway to the famous balcony where Juliet sat calling out for her lover. Just behind the balcony sits an elegantly displayed king-size bed, and below, a jetted tub. This suite is sure to show the one you love how much they really mean to you.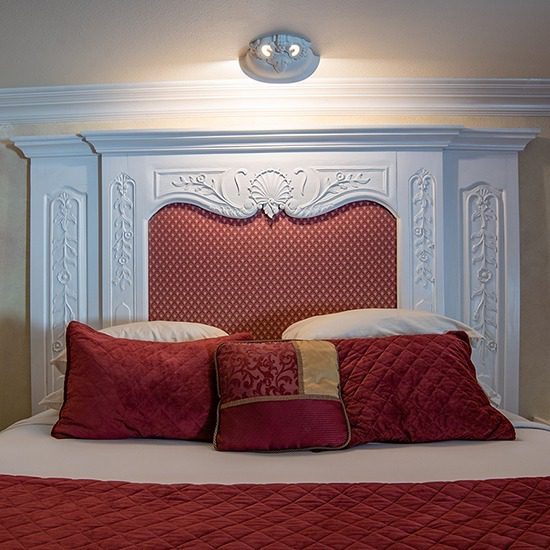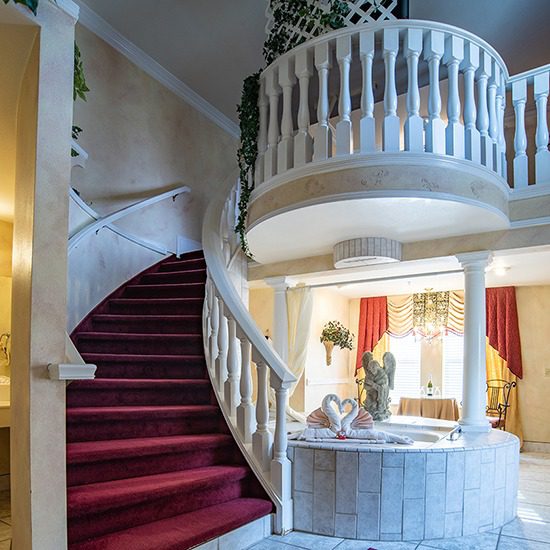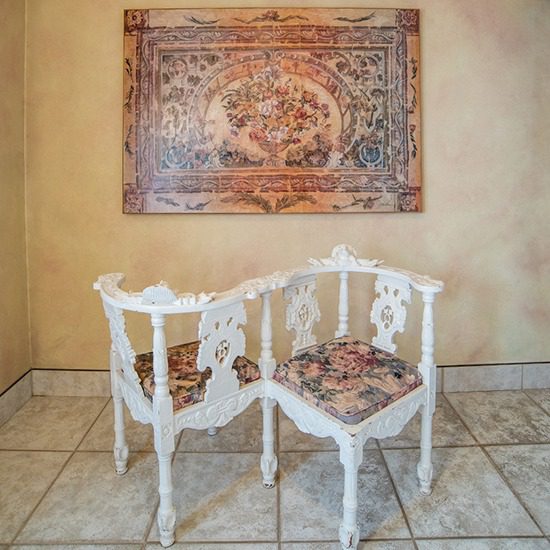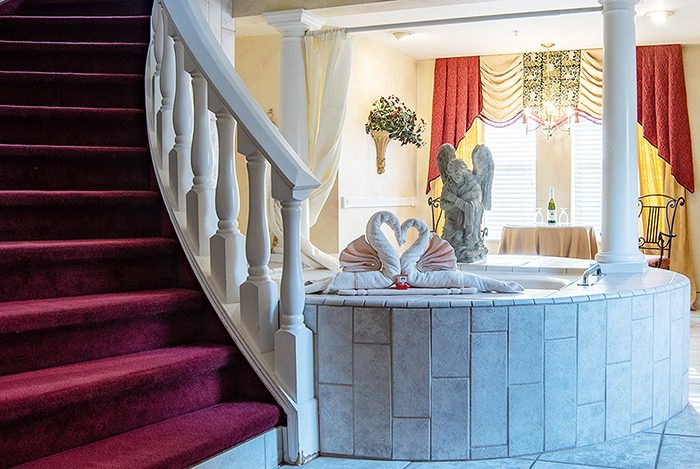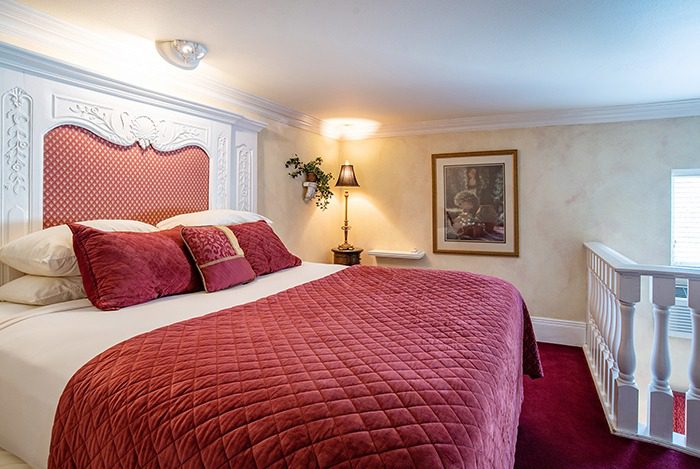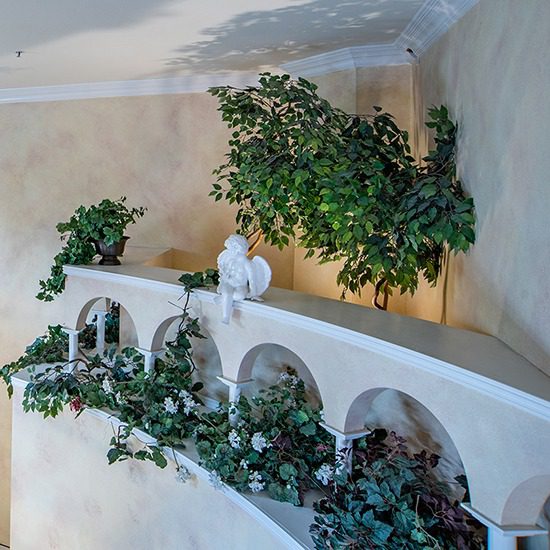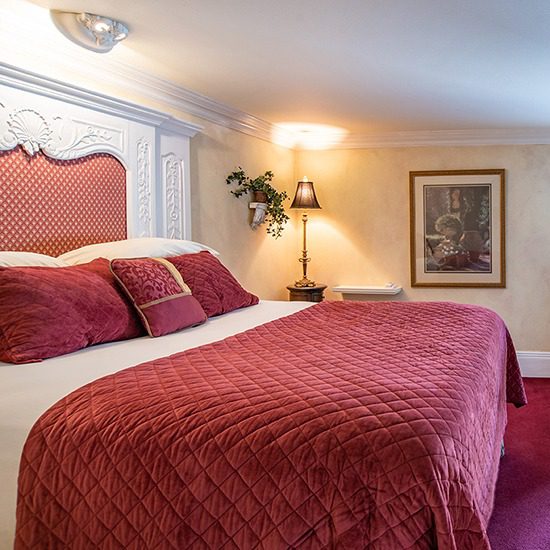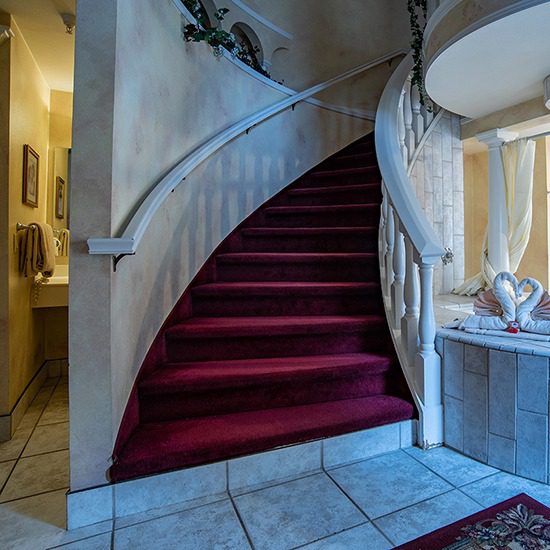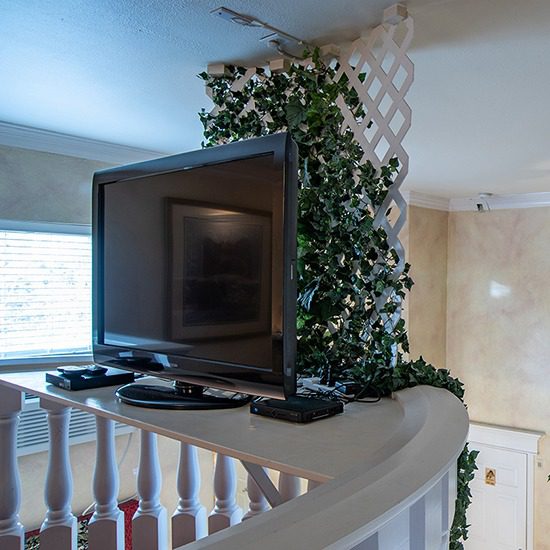 My boyfriend and I stayed here to celebrate our second Christmas together. The room is absolutely gorgeous. Every accent is so elegant and ties everything together. Very well done and we can't wait to come back.
The Millers
We celebrated our eight anniversary here in the Romeo & Juliet room. It was amazing! Staff were great and our room was everything I thought it would be. We will definitely be coming back again!! Thank you!
Nick & Monica Chavez
We came to the Anniversary Inn to celebrate my husband's 89th birthday! You're never too old for romance and fun! We've been here several times in the past, but never in the Romeo & Juliet suite. Turned out to be more "fun" than romance. This is not the room for senior citizens. With much effort we climbed into the jetted tub and enjoyed a relaxing bath together–with a fizzy bath bomb. When it came time to get out, we couldn't! We kept slipping back down–laughing hysterically and making jokes about having to call 911 for help getting out! We discovered the railing at the foot of the tub and easily climbed out. What fun we would have missed had we discovered it first! The bed was our next challenge until we found the steps. We slept like logs–it was so quiet. Only one night, but we felt like a week's vacation–so relaxing. Breakfast came and we felt like royalty eating in the room. This was a gift from our kids, but we'll do it again soon. Probably on our anniversary (34th) in September! Thanks, AI. Still great experience. Wonderful service. Unique!
Shirley in Boise
My husband and I stayed here tonight for our five year anniversary of when we met. This room is fantastic. The Anniversary Inn is a great way to remember what's important and get that needed little time away. We are off to float the river now.
Wayne & Amanda
We got married yesterday and came to this beautiful room. Everything about this room is amazing! We celebrated the start of our marriage here and our 3 years together today! The bathtub is wonderful! We don't want to leave, but we have to let other people enjoy this room. I hope your stay is as magical as ours! Thank you Anniversary Inn! Forever & Always…P.S. We will be back!!! 🙂
BC & MC
Join Our Email List
Sign up to join our email list and receive Anniversary Inn news and specials directly in your inbox. Sign up today!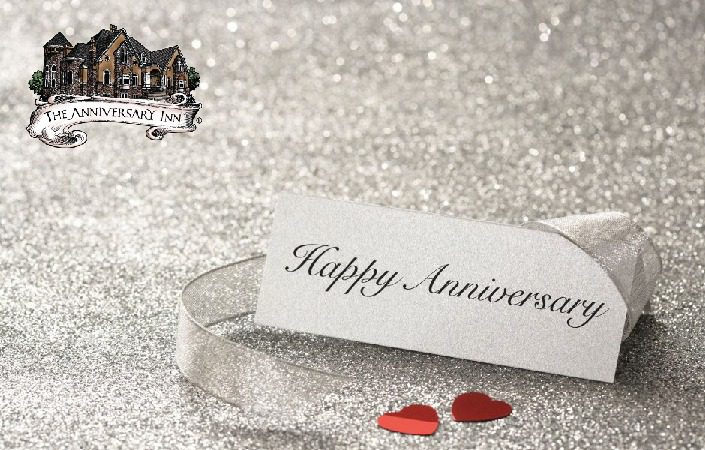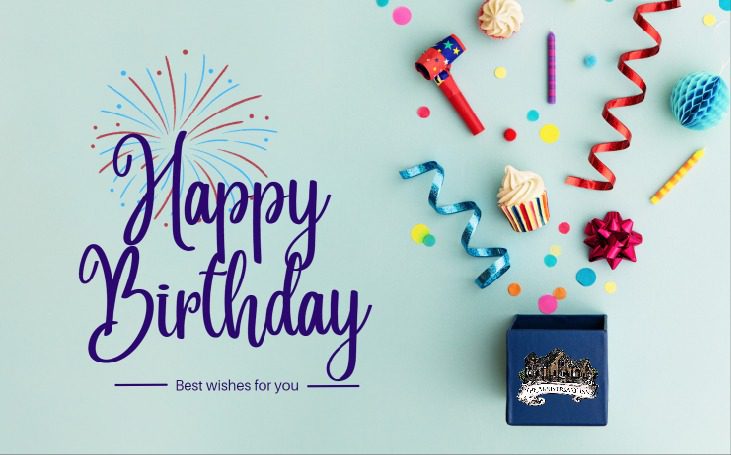 Special promotion codes for Anniversary and Birthday gifts will be emailed to you 1-4 weeks before the dates you have given us. Be sure to sign up today so you don't miss out.
Other Suites You May Like
Don't waste your love on somebody who doesn't value it.
― William Shakespeare, Romeo & Juliet
Good night, good night! parting is such sweet sorrow,
That I shall say good night till it be morrow.
― William Shakespeare, Romeo & Juliet
See how she leans her cheek upon her hand.
O, that I were a glove upon that hand
That I might touch that cheek!
― William Shakespeare, Romeo & Juliet
Disclaimer: The photos as well as the amenities and characteristics of the suite as described on this page (such as type of tub, size of television screen, bed, etc.) may vary from what is in your suite at the time of your stay due to repairs and updates. If you require a specific type of tub or TV screen or other room characteristics during your stay, please call us and verify this with us on the phone to verify that we will be able to accommodate your needs. Otherwise, no refunds or discounts after your stay can be given due to minor variations in suite layout or characteristics such as these.
BOISE, IDAHO
1575 South Lusk Place
Boise, ID 83706
208-387-4900
1-800-324-4152
INN KEEPER
Galen Bechtel
[email protected]