Arabian Nights
Logan, Utah
Suite Details
King-size bed
50″ TV
Jetted tub
Separate double head shower
Separate dining area in the sunroom
Decorative fountain
DVD player
Full breakfast included
Sparkling cider included
Snacks, DVD's and other lovely options available.
Located on the second floor, with private steps.
An Unforgettable Journey
Escape the sweltering heat of the Middle East when you step into Arabian Nights where you are the rulers of your very own palace. Experience an enchanted night in the stunningly decorated rendition of the Arabian Nights. The magic comes to life in the elegant bedroom area complete with a king-sized bed; accented by the vivid colors and stained glass windows. The jetted tub is surrounded by extraordinary vibrantly colored tile work. Enjoy breakfast in the separate sunroom. Let the enchantment of this fairytale inspired suite take you on an unforgettable journey.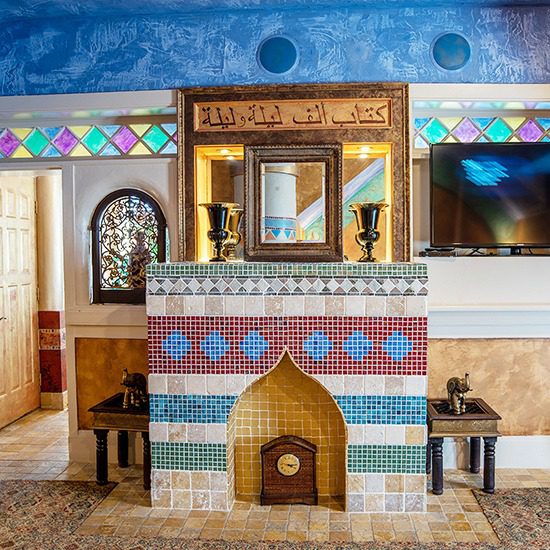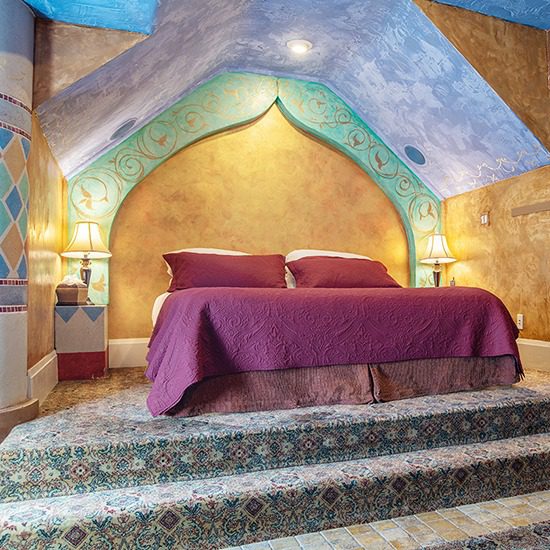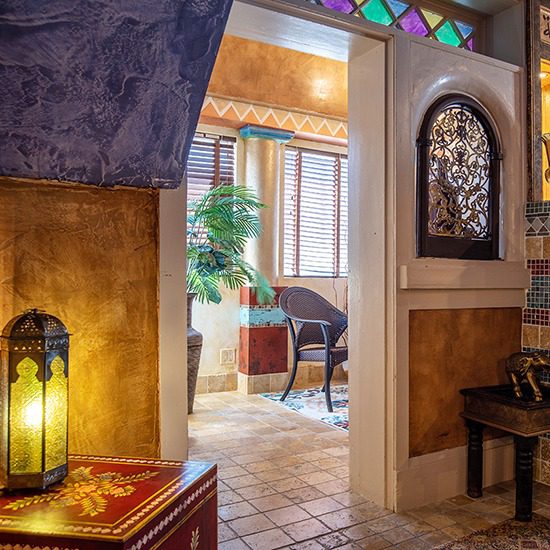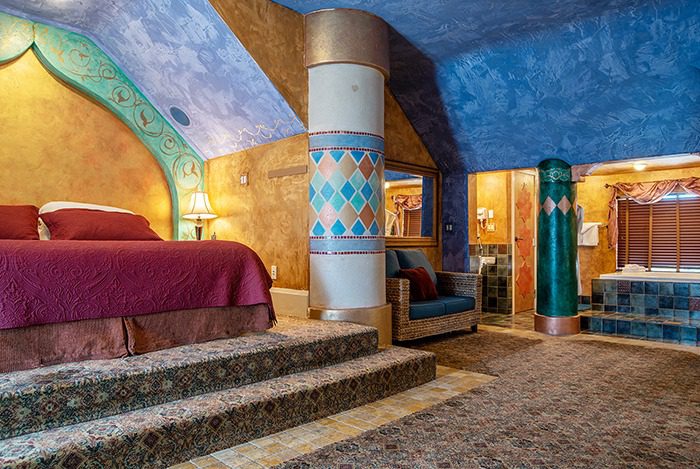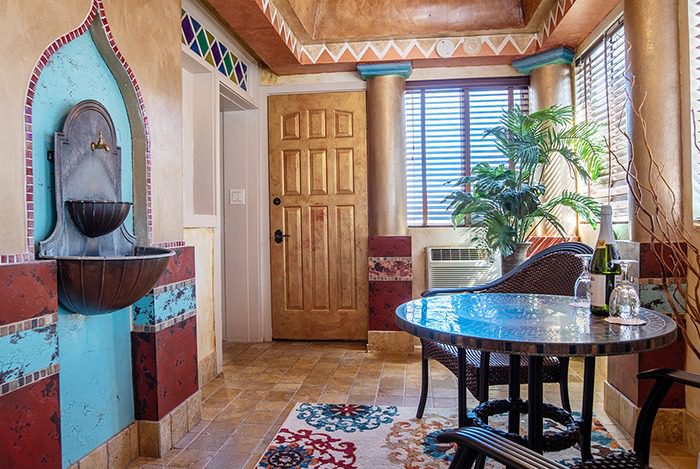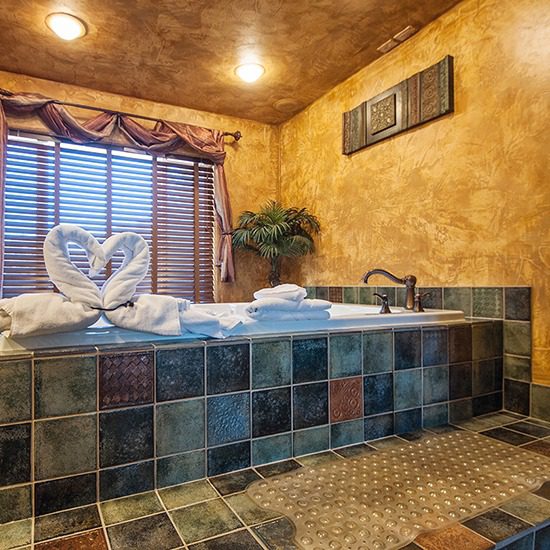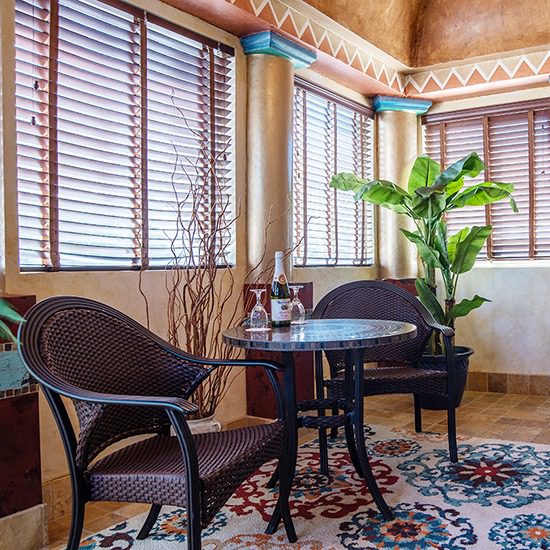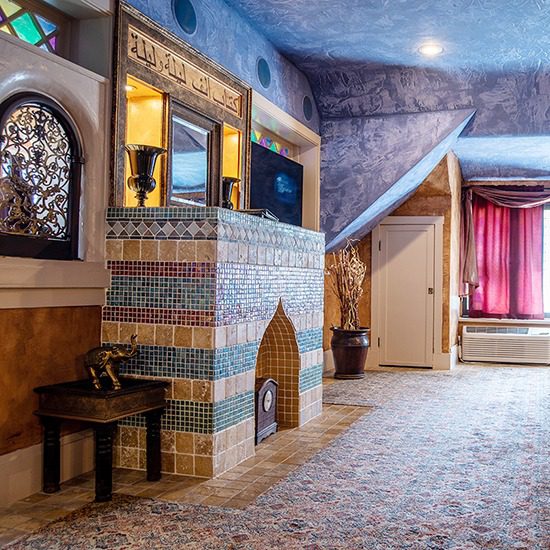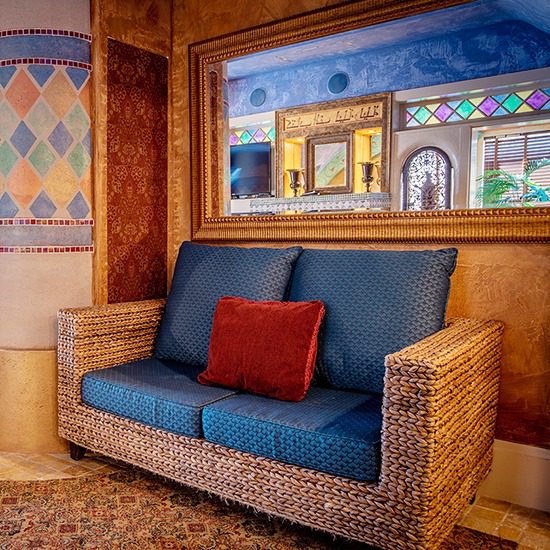 We really enjoyed our stay in this Arabian paradise! Celebrating spring break and a belated 22nd anniversary, we really needed this break. So quiet and comfortable. Thanks!
Russ and Darcie S.
This is our 5th time staying at the Anniversary Inn and our 5th anniversary! We loved all the rooms (Juliet's Balcony, Carribean Sea Cave, The Tipi, Victorian, and now Arabian Nights) and will eventually stay in all the rooms, over the years. Since our first stay 5 years ago at Juliet's Balcony, we have moved 3 times, have 2 kids, and 1 graduation. Coming back here always makes me realize how far we've come in these short 5 years.
The Dahl's
This was our first visit to the Anniversary Inn. It was the perfect way to celebrate our 12th anniversary! The Arabian Nights room was even better than expected. We loved eating our delicious breakfast in the sunroom this morning. We don't live local, but we hope to come back again someday when we're in town visiting. Thank you!
Laurel & Nathan Shepherd
Rogers, AR
My wife and I have been visiting Anniversary Inn for several years now… but not always for our anniversary. (I know, but at least we're cute rule breakers!) This is one of those times. She gave me a gift certificate for Father's Day. Best. Gift. Ever. I love you, wife! You are my best friend. Anniversary Inn—you're pretty great, too.
Adam J.
Came to celebrate our 16th year as husband and wife. The room was beautiful. Especially enjoyed the jetted tub and romantic atmosphere.
Jeremy & Michel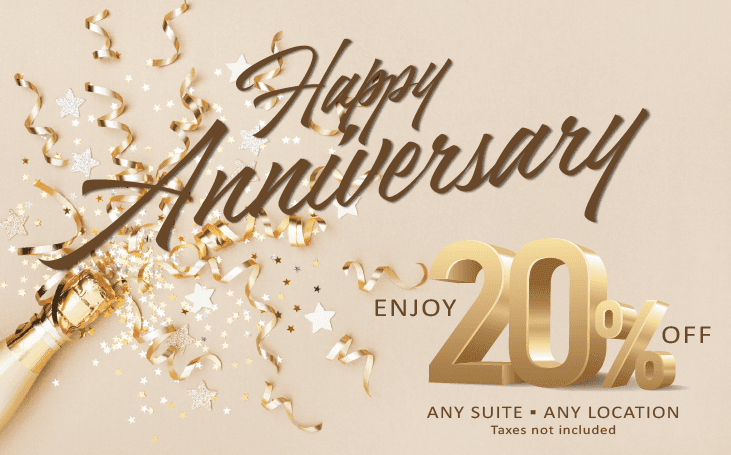 Sign up for our email list and receive Anniversary Inn news and specials directly in your inbox. Sign up today!
New York City is the most populous city in the United States, with an estimated population of 8.3 million people. But you can enjoy the big apple with just the two of you.  
The City of Tall Sky Scrapers
Overlook the city below as you snuggle in your cozy bed under the deep blue starry sky. 
As many as 800 languages are spoken in New York, making it the most linguistically diverse city in the world. But when you close the door, the only language you will need is the language of love.
Disclaimer: The photos as well as the amenities and characteristics of the suite as described on this page (such as type of tub, size of television screen, bed, etc.) may vary from what is in your suite at the time of your stay due to repairs and updates. If you require a specific type of tub or TV screen or other room characteristics during your stay, please call us and verify this with us on the phone to verify that we will be able to accommodate your needs. Otherwise, no refunds or discounts after your stay can be given due to minor variations in suite layout or characteristics such as these.
LOGAN, UTAH
169 East Center Street
Logan, UT 84321
435-752-3443
1-800-324-4152
INN KEEPER
Molly Winborg
[email protected]