The Royale
Suite Tier: Diamond
Suite Details
King-sized bed
52″ TV
Jetted tub with shower
Blu-ray player
Full breakfast included
Sparkling cider included
Snacks, DVD's and other lovely options available.
Located on the second floor. Multi-level suite.
Glitz and Glamor
Come one, come all thou Kings and Queens! The Royale is here for you to take time from the every day bustle to treat each other like royalty. Experience luxury and leisure with your loved one. Surround yourselves in lavish sapphire, silver and shine! It will make you feel sublime.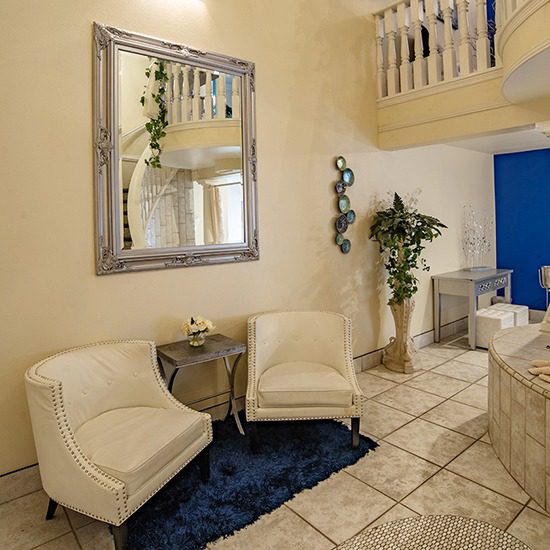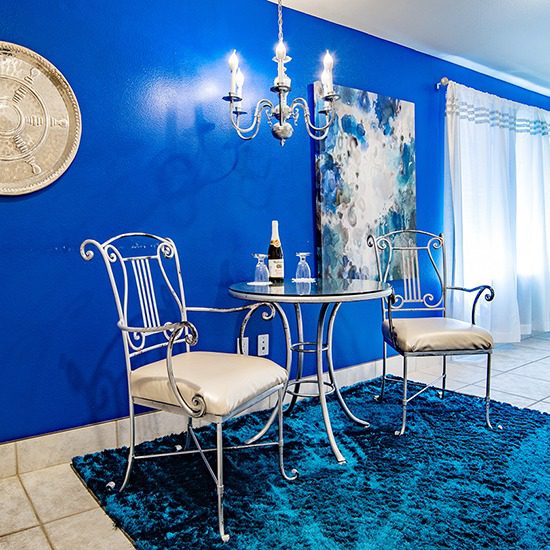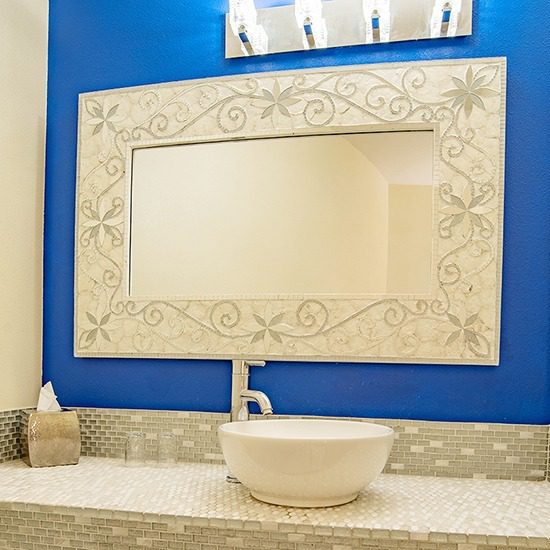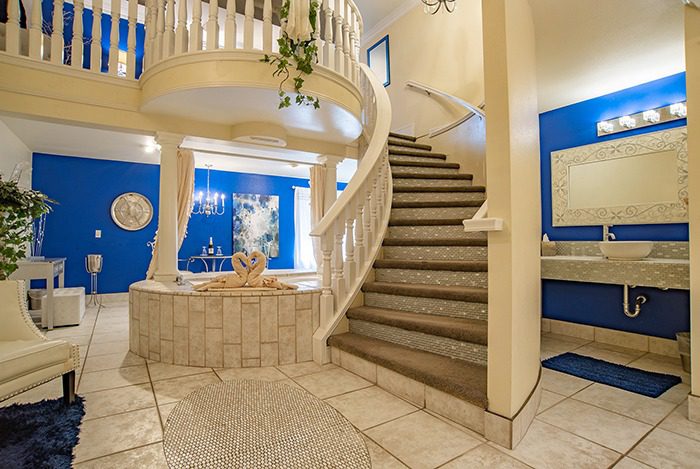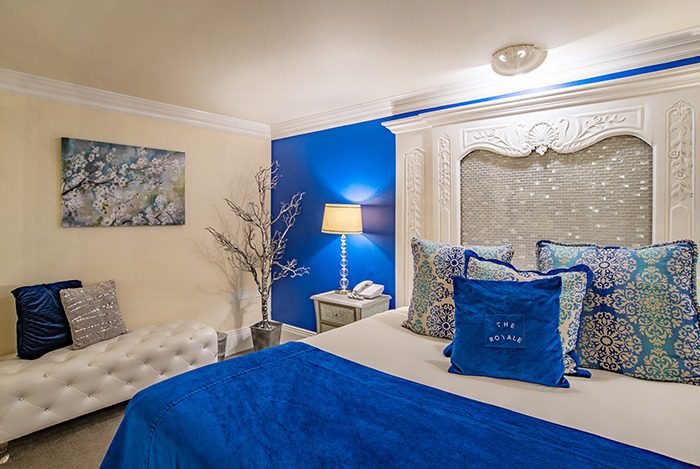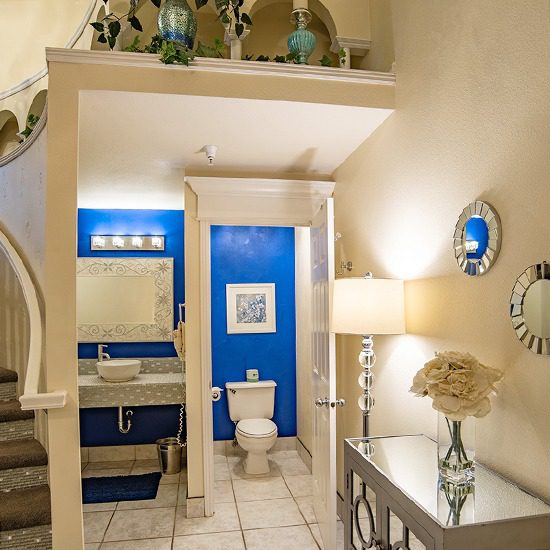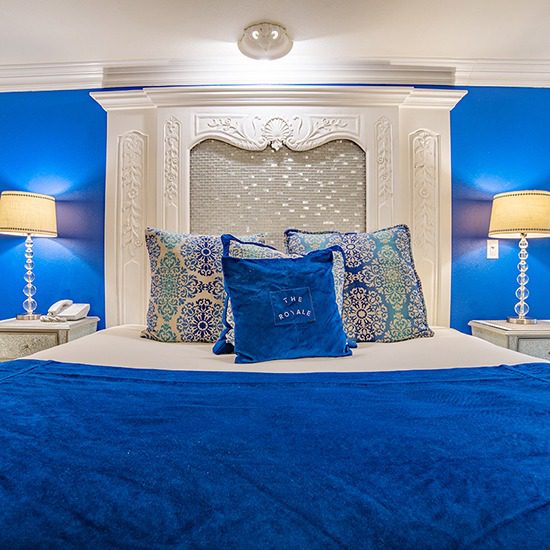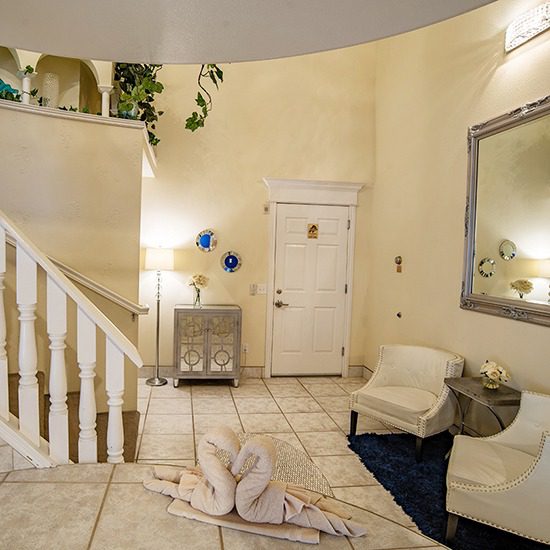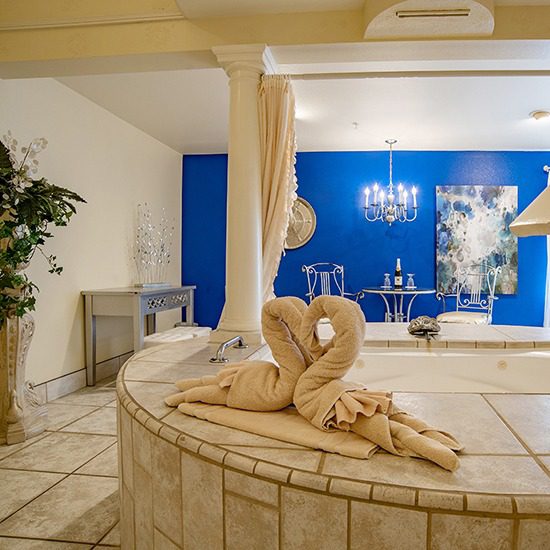 This is our second room at this Inn that we've been at. It has been such an amazing experience. We love everything about this place! I'm not as good with my words as him, but I love this man so much and this place lets our love show like no other. We hope you enjoy your stay as much as we did! I would recommend this place to anyone! As she said, this was our 2nd stay and it was just as good as the first. As great as the room has been, she made our stays feel like Heaven. I love her, this place just gave us an extra opportunity to show it.
S & K
Had an amazing time. Would recommend to everyone. The bed was so comfy! Enjoy!
R & M
We love spending our time here! So far this is our favorite room! We love the brightness and the space! We celebrated our happy 2 year anniversary! Thank you again Anniversary Inn! We had a great time! Couldn't be happier with my husband! The love of my life.
Jared & Tara Ostler
Hello! Thanks for welcoming us and making us feel special and appreciated as a military couple. It's our 4th anniversary and it's been very nice. We like the big tub and bed and how spacious and fancy it is. Thanks!
Rebekah R & Alex B
This whole experience was amazing. This room definitely made me feel like a queen. XOXO
Brent and Jess
Join Our Email List
Sign up to join our email list and receive Anniversary Inn news and specials directly in your inbox. Sign up today!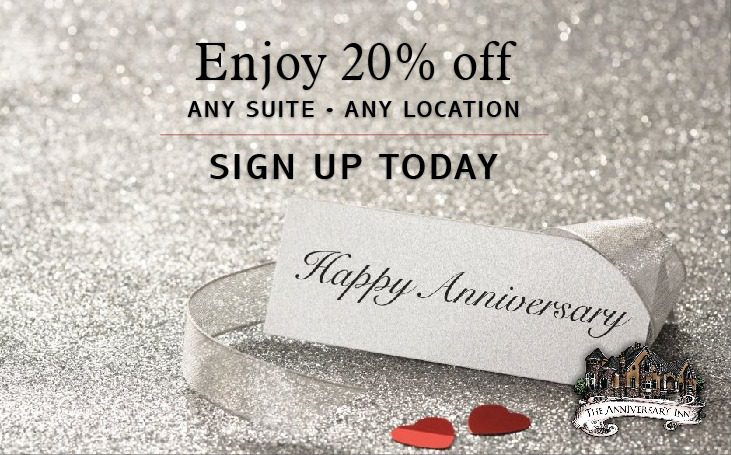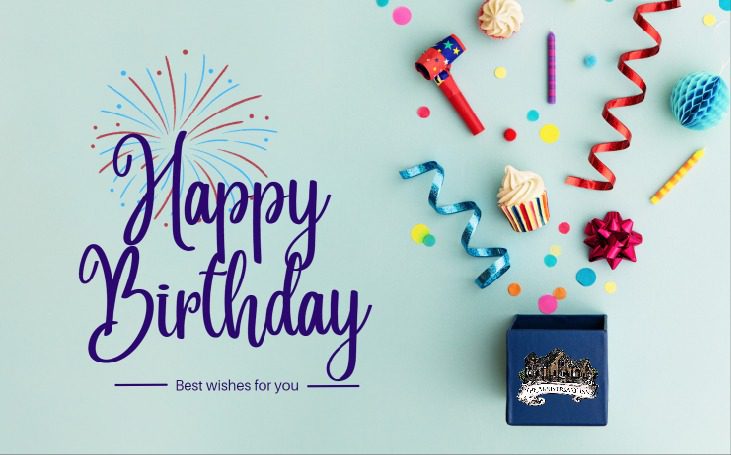 Special promotion codes for Anniversary and Birthday gifts will be emailed to you shortly before the dates you have given us. Be sure to sign up today so you don't miss out.
Other Suites You May Like
You can have me anywhere.
– Casino Royale
Love makes our soul crawl out of its hiding place.
– Zora Neale Hurston
The best feeling is when you look at him, and he is already staring.
Disclaimer: The photos as well as the amenities and characteristics of the suite as described on this page (such as type of tub, size of television screen, bed, etc.) may vary from what is in your suite at the time of your stay due to repairs and updates. If you require a specific type of tub or TV screen or other room characteristics during your stay, please call us and verify this with us on the phone to verify that we will be able to accommodate your needs. Otherwise, no refunds or discounts after your stay can be given due to minor variations in suite layout or characteristics such as these.
BOISE, IDAHO
1575 South Lusk Place
Boise, ID 83706
208-387-4900
1-800-324-4152
INN KEEPER
Galen Bechtel
[email protected]