Bronco Nights
Boise, Idaho
Suite Details
King-sized bed
56″ flat screen TV
(3) 41″ flat screen TVs
Corner jetted tub
Foosball table
Twin reclining chairs
Blue-ray player
Popcorn and soda included
Full breakfast included
Sparkling cider included
Snacks, DVD's and other lovely options available.
Located on the main floor.
No Fumble Zone
This suite is a super fan's dream come true! Bronco Nights surrounds you in blue and orange in ways you could never imagine. Celebrate in style as you watch your favorite team from the cozy comfort of overstuffed recliners. Take a halftime foosball break! The jetted tub is the perfect place to relax your sore muscles after the big game. This is a suite you have to see to believe.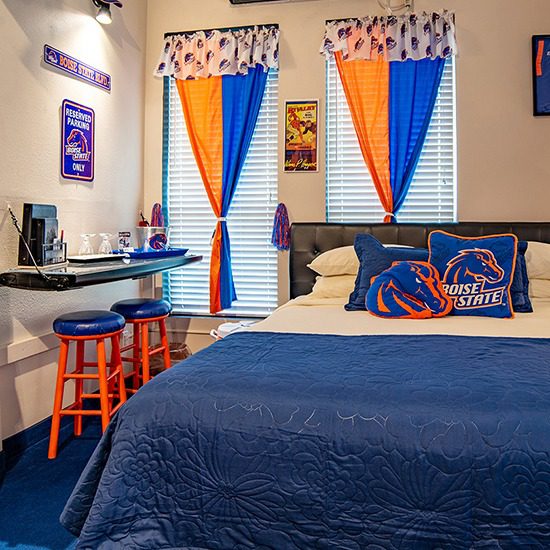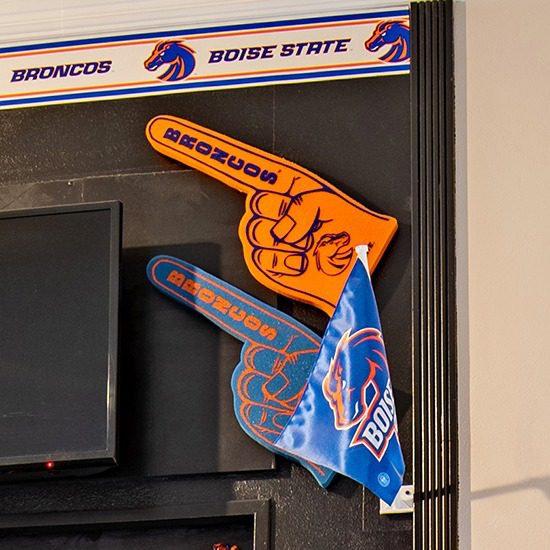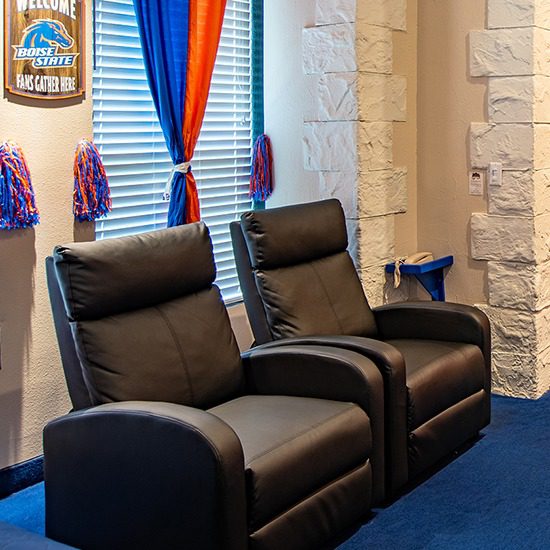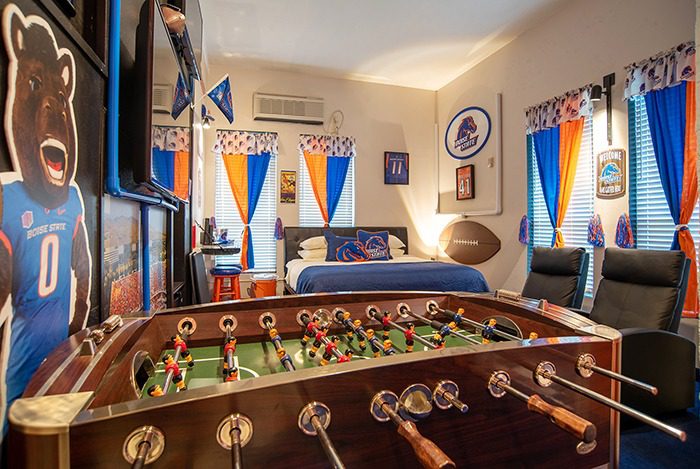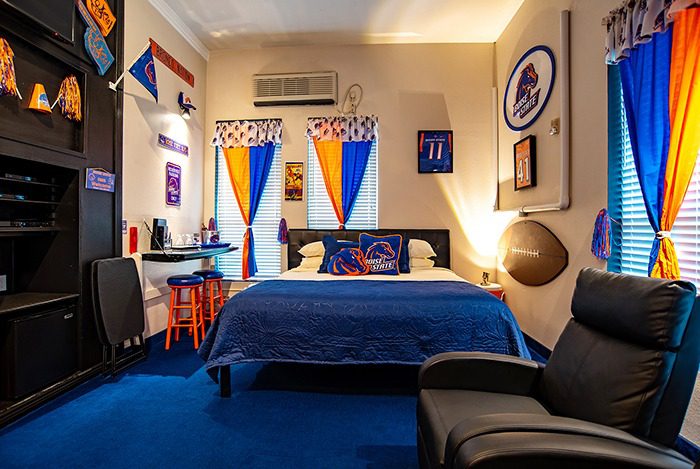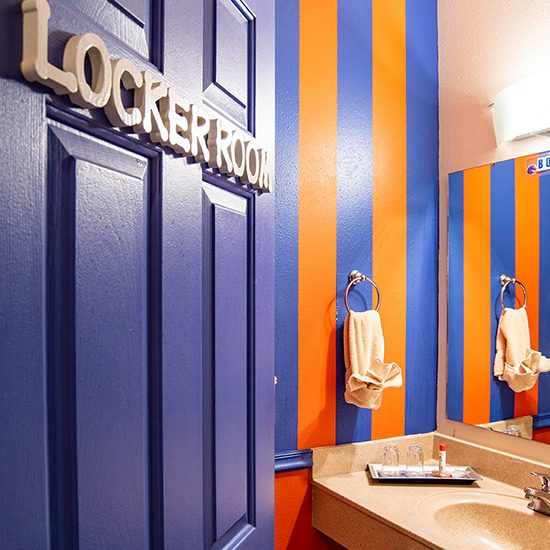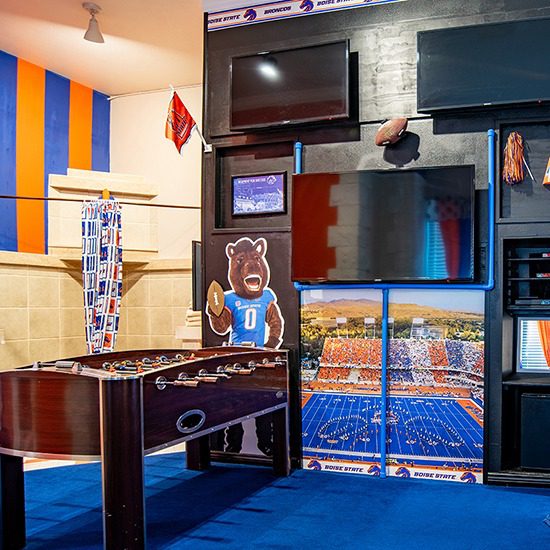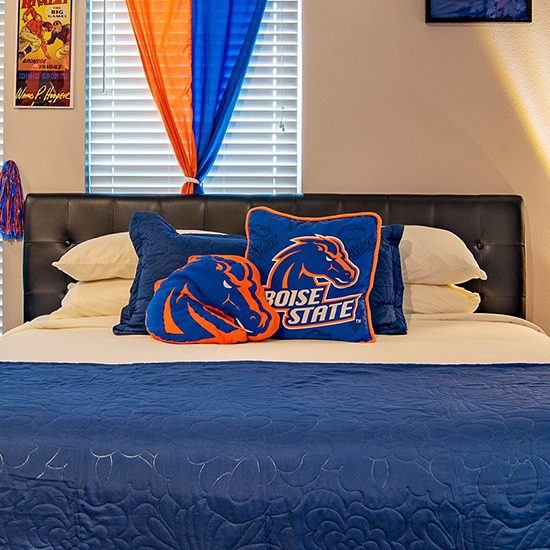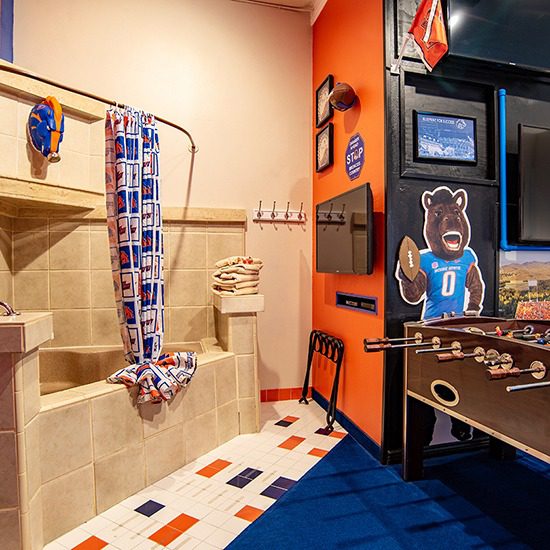 Had a wonderful experience here! Not a Broncos fan but LOVE football! I kicked butt in foosball just like the old days! Staff was awesome!
Football Foosball Fan
Today we celebrated our seventh anniversary! What an incredible room! I am a spa & movie girl, he is a football fan! What a great way to blend our two enjoyments! We love all of our stays here, but this room was extra fun!
R & C
The BSU room was absolutely great! What a fun movie night! Everything was really great!
Gary & Jody
Stayed one night in this room. Love the TVs and the one by the bath. Love this place. The staff is wonderful, will be back.
Anna S. & Shaun H.
Stayed in here for my wife's birthday. We went to the Boise State game after checking in and came back to have a wonderful night in this very cool room! We loved the décor and made for a perfect BSU day!
Chris & Jessica
Join Our Email List
Sign up to join our email list and receive Anniversary Inn news and specials directly in your inbox. Sign up today!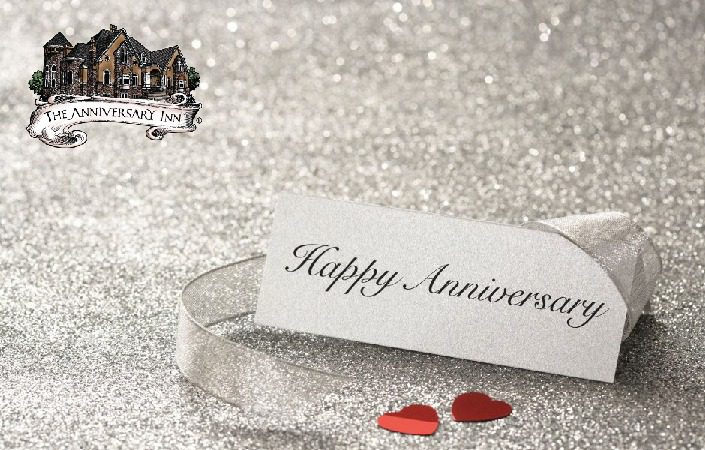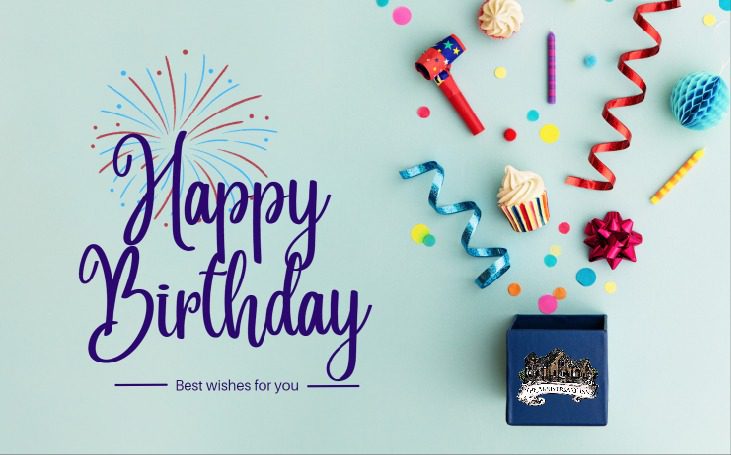 Special promotion codes for Anniversary and Birthday gifts will be emailed to you 1-4 weeks before the dates you have given us. Be sure to sign up today so you don't miss out.
Other Suites You May Like
Boise State played their first football game in 1933, the same year as the Mount Rushmore dedication. 
The team opened the 1970 season in the new Broncos Stadium. One of the most popular features of the stadium was that fans could win tickets and team swag by riding a real bucking bronco for more than 10 seconds. 
Disclaimer: The photos as well as the amenities and characteristics of the suite as described on this page (such as type of tub, size of television screen, bed, etc.) may vary from what is in your suite at the time of your stay due to repairs and updates. If you require a specific type of tub or TV screen or other room characteristics during your stay, please call us and verify this with us on the phone to verify that we will be able to accommodate your needs. Otherwise, no refunds or discounts after your stay can be given due to minor variations in suite layout or characteristics such as these.
BOISE, IDAHO
1575 South Lusk Place
Boise, ID 83706
208-387-4900
1-800-324-4152
INN KEEPER
Galen Bechtel
[email protected]