Southern Comfort
Logan, Utah
Suite Details
King-size bed
48″ LCD TV visible from the bed
43″ LCD TV visible from bar and tub
DVD Player
Bubbler tub
Enormous walk-in shower with bench
Loveseat Sofa
Darts
Bar area
Stand-up shuffleboard table
Dancing pole
Full breakfast included
Sparkling cider included
Snacks, DVD's and other lovely options available.
Located on the third floor.
The Love Shack
Good old southern times are in store in this multidimensional suite. This suite is as sweet as "Sweet Georgia Brown" and truly embodies the spirit of the south with elements of a New Orleans style bar, Mardi Gras, and the warmth of southern comfort envelopes you as you enter. There is also plenty of play in your very own New Orleans bar and you can almost feel the sultry air as you enter the crocodile-filled swamp in search of your LOVE SHACK. Dine at the comfort cafe, Southern Comfort Bar or in your love shack bar behind the splendid king-sized bed. This suite is also complete with a large, separate shower with bench and jetted tub. Sleep soundly in the deep swamps of the bayou in your cozy little love shack guarded by your very own Party Gras Gator. So, what are you waiting for? Step inside, for the moss and bead draped splendor that awaits you. Complimentary Mardi Gras beads included.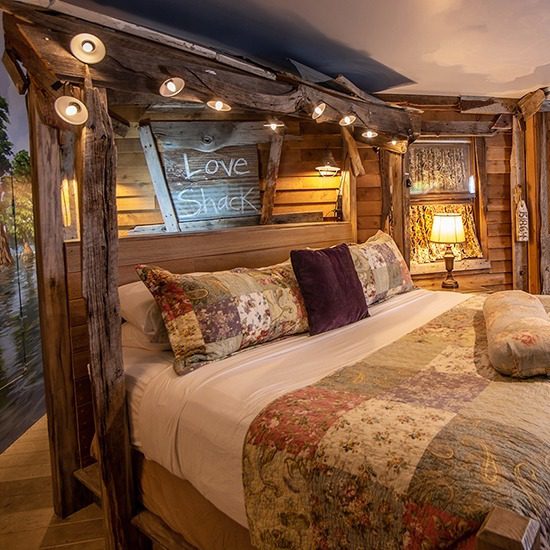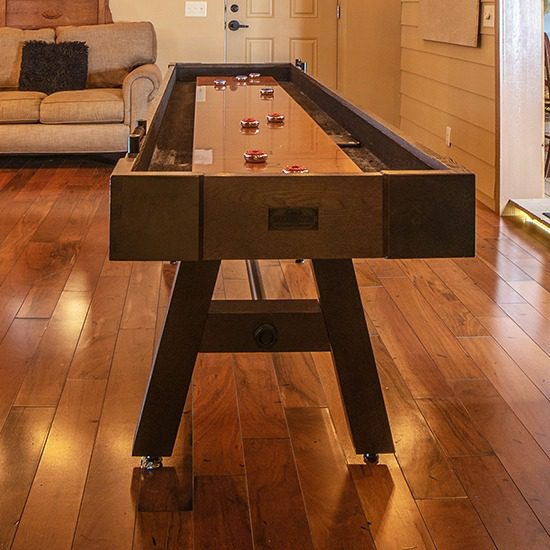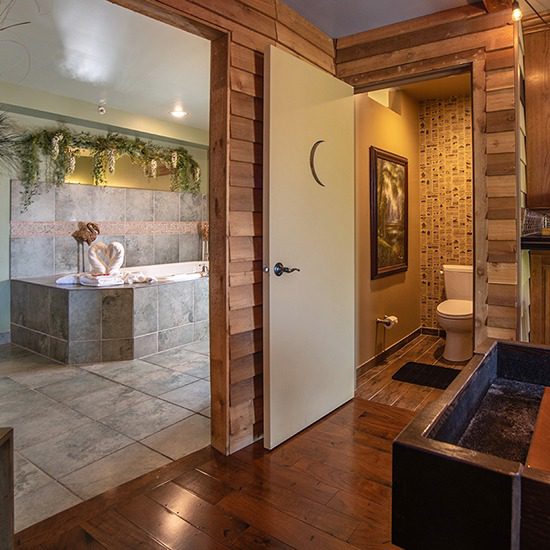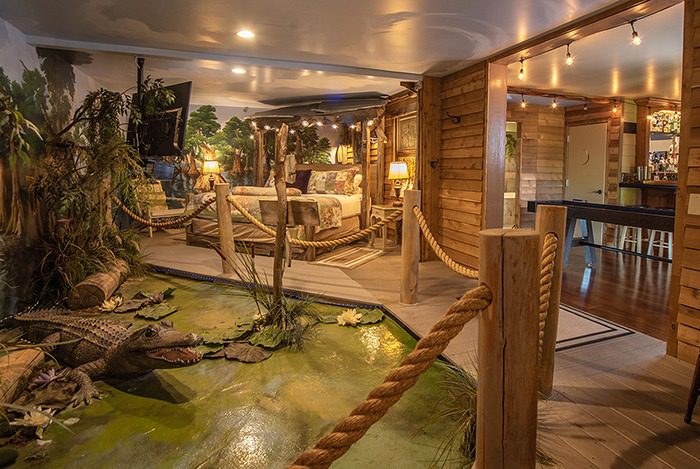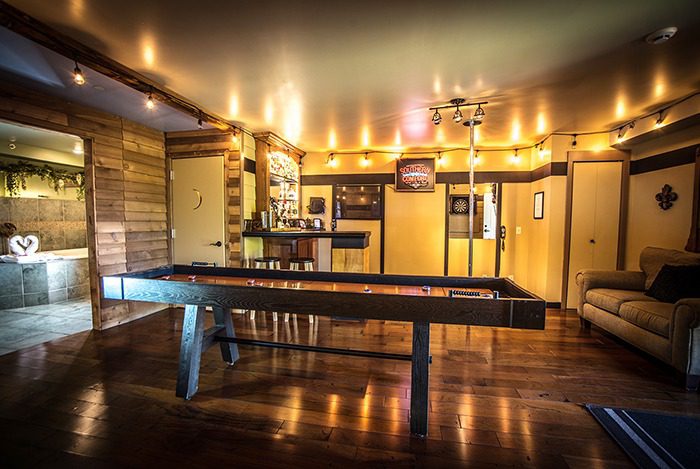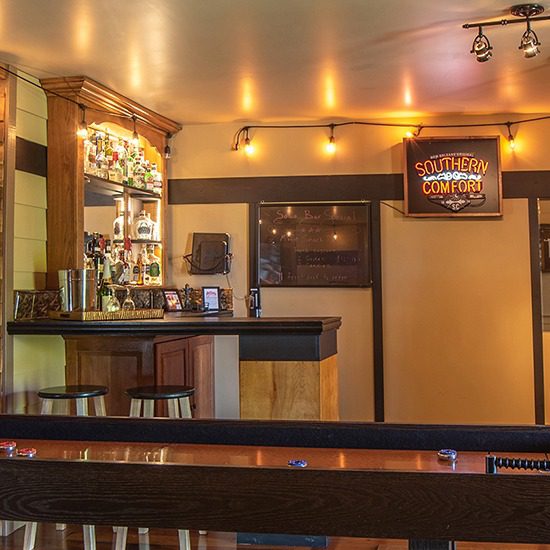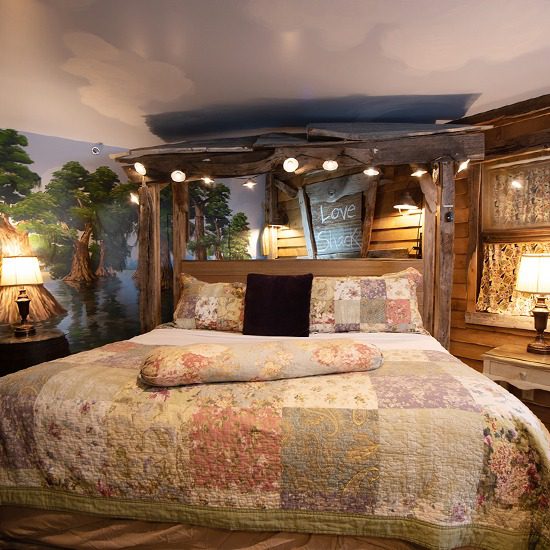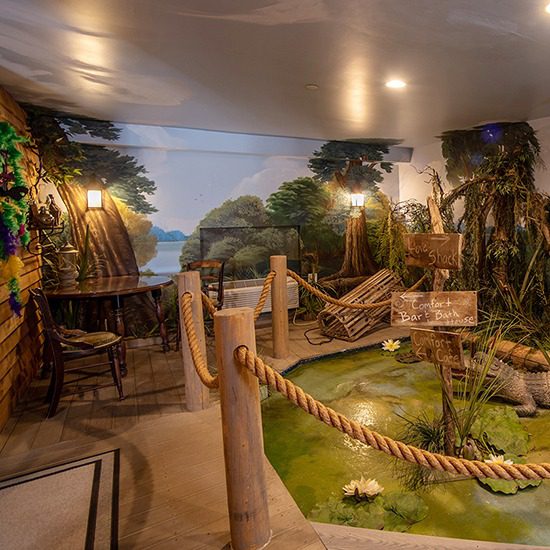 We had the best time in this room. We had fun playing the games and just relaxing in the big tub.
The Wilsons
Celebrating our 35th wedding anniversary. Nice room and we loved the games. The tub and shower were awesome! Such a fun night of games and prizes! We have stayed in SLC and Boise several times but this might be our favorite location!
PNK
We had scheduled this trip for October, then the day before, my boyfriend was in a motorcycle accident and we had to reschedule. After weeks of doctors and PT we are here mending slower than he would like but we really enjoyed playing darts and shuffleboard. We went to MayMo's for the total 'Southern' experience. This is our second stay here and we had so much fun. The tub and shower were both amazing. The moon on the outhouse door made me laugh.
Slowly Mending
We stayed here for two nights, and we loved this room. We are on our way through to go on our 1 year honeymoon trip!
Honeymooners 
Today is our 44th anniversary! We've had many trips to the Anniversary Inn and it is always a delight. Thanks for all the special details.
S & R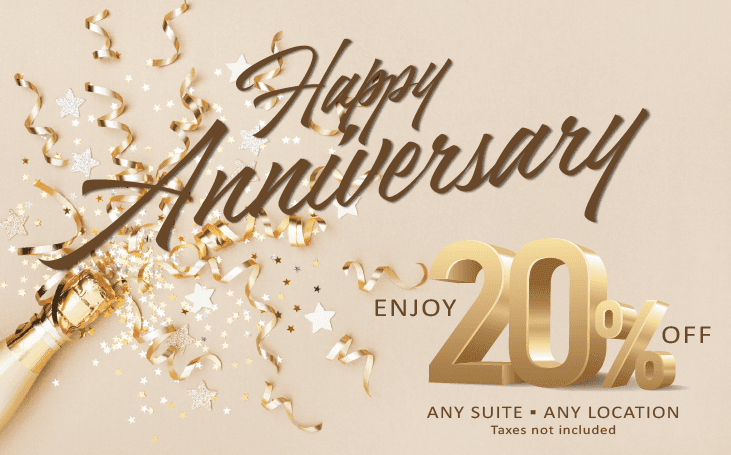 Sign up for our email list and receive Anniversary Inn news and specials directly in your inbox. Sign up today!
Other Suites You May Like
New York City is the most populous city in the United States, with an estimated population of 8.3 million people. But you can enjoy the big apple with just the two of you.  
The City of Tall Sky Scrapers
Overlook the city below as you snuggle in your cozy bed under the deep blue starry sky. 
As many as 800 languages are spoken in New York, making it the most linguistically diverse city in the world. But when you close the door, the only language you will need is the language of love.
Disclaimer: The photos as well as the amenities and characteristics of the suite as described on this page (such as type of tub, size of television screen, bed, etc.) may vary from what is in your suite at the time of your stay due to repairs and updates. If you require a specific type of tub or TV screen or other room characteristics during your stay, please call us and verify this with us on the phone to verify that we will be able to accommodate your needs. Otherwise, no refunds or discounts after your stay can be given due to minor variations in suite layout or characteristics such as these.
LOGAN, UTAH
169 East Center Street
Logan, UT 84321
435-752-3443
1-800-324-4152
INN KEEPER
Molly Winborg
[email protected]