Red Rock Canyon
Boise, Idaho
Suite Details
84″ round queen-sized bed
(2) 46″ TVs
Jetted tub
Separate shower
(2) Blue-ray players
Chaise lounge

Full breakfast included

Sparkling cider included
Snacks, DVD's and other lovely options available.
Located on the main floor.
Handicap Accessible – ADA Approved
Tranquil Love
When you enter the Red Rock Canyon you can't help but feel the sense of adventure that comes from being in the great outdoors. Southwestern splendor surrounds you in this outstanding suite. Snuggle with your sweetheart while you watch a movie on one of the two 46″ televisions from the oversize chaise lounge. You will surely rest peacefully in the queen-sized bed nestled into this suite's turret, or you can splash around in the jetted tub.
(Once inside the tour, click and drag your mouse to look around, or click on the circles to move around the suite.)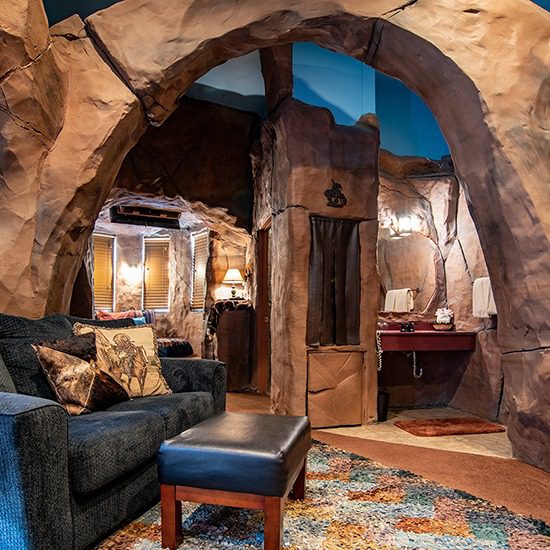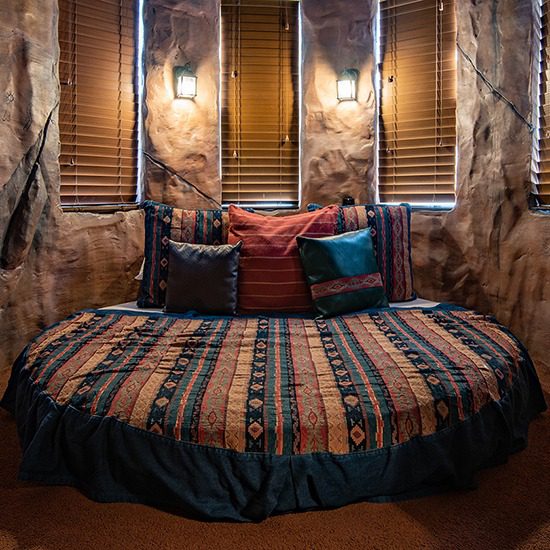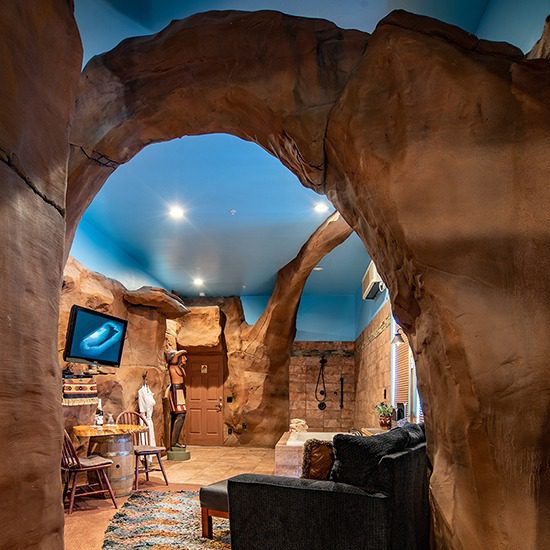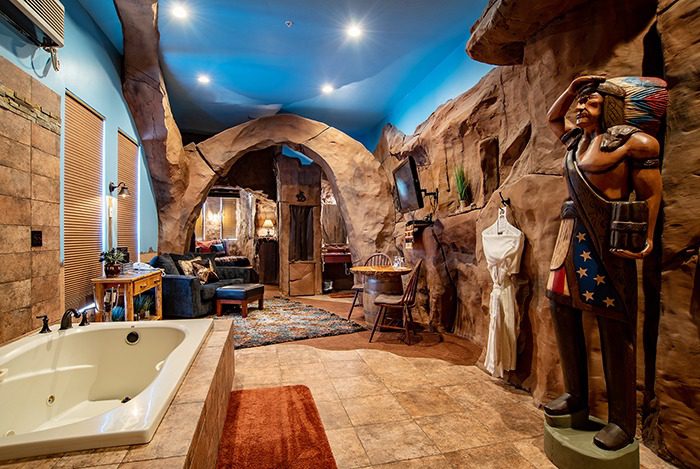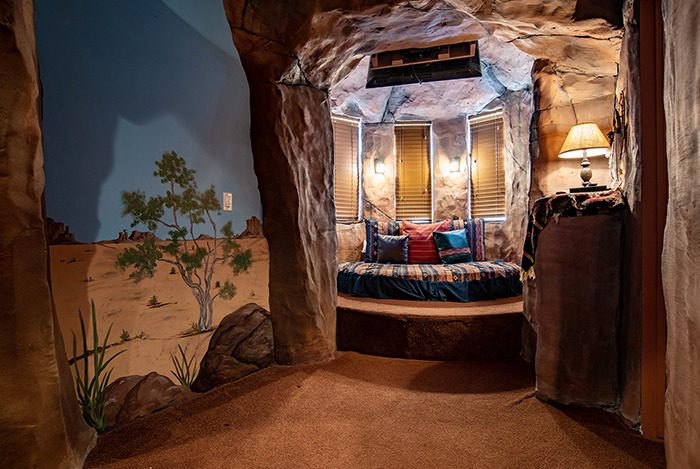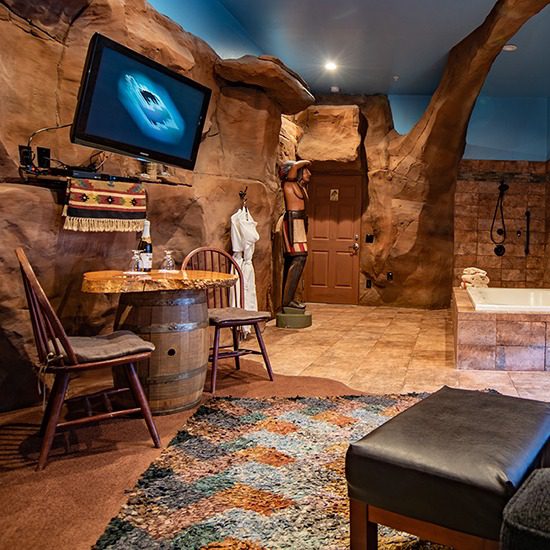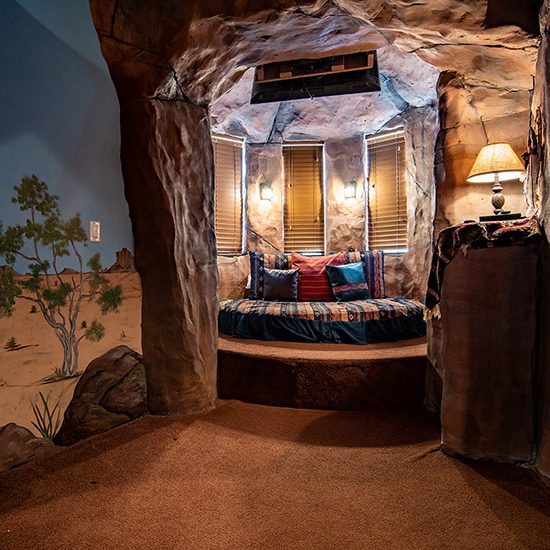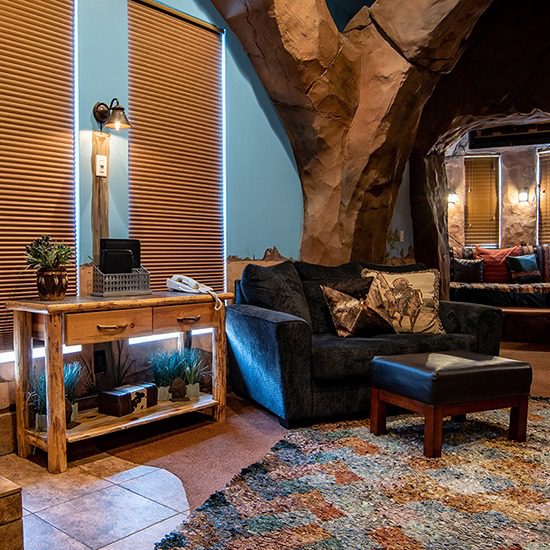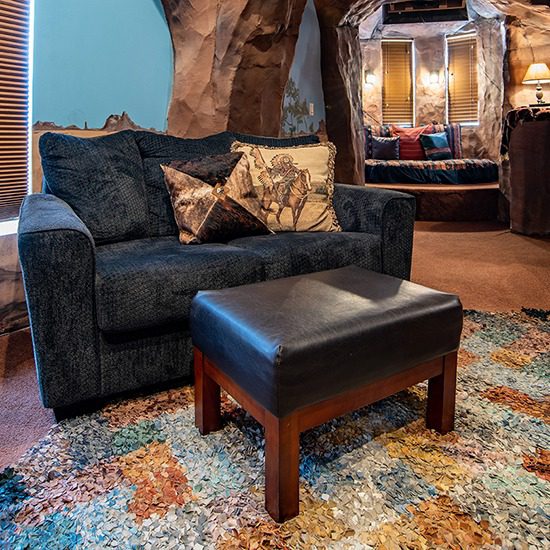 Had a great night in the Red Rock Canyon. Décor was amazing. The whole experience was great. Will always recommend. Definitely will be back.
S & J
What a beautiful stay. We enjoyed the round bed in the cave, the cool shower, and the wonderful food. Our daughter got this for us and it was beautiful…God bless you.
Cliff and Kathy Scheline
Loved the room, the jetted tub was amazing, the service is great. We can't wait to come back!
The Parks
This room is our second room experience at the Inn. The Indian guarding the door definitely took us by surprise! And since we're taller, the bed gave us some good laughs! We used the room as a quick weekend from Nampa to escape our four young children and celebrate our 14th anniversary. The tub was great even though the bubbles got out of control–but every moment we loved! Wish blessings to whomever stays here after us!
Chelsea & Nick Brown
I have almost stayed in every single room in this hotel, but by far this room is my favorite.
Ashelee
Join Our Email List
Sign up to join our email list and receive Anniversary Inn news and specials directly in your inbox. Sign up today!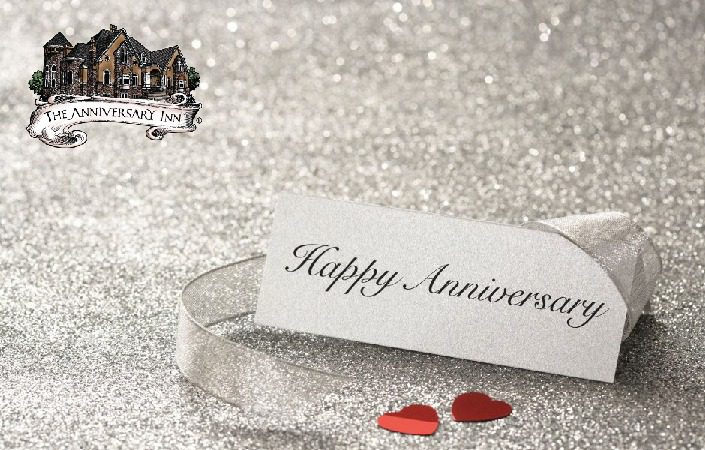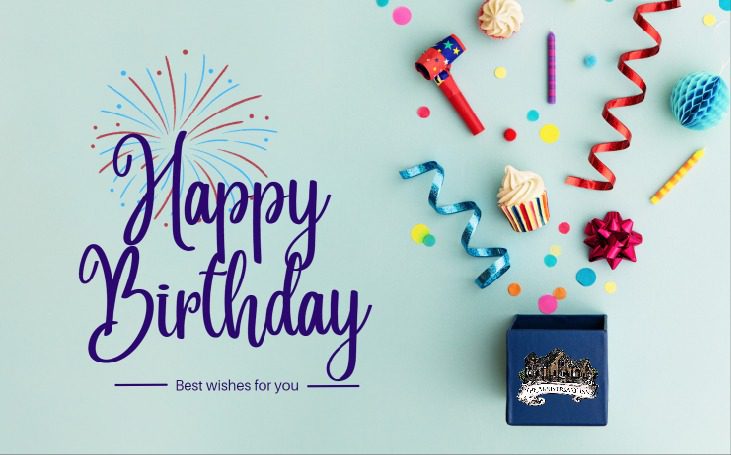 Special promotion codes for Anniversary and Birthday gifts will be emailed to you 1-4 weeks before the dates you have given us. Be sure to sign up today so you don't miss out.
Other Suites You May Like
The world reveals itself to those who travel on foot.
― Werner Herzog
The one thing I learned is to just give a shot to everything. You don't want to live in regret.
― Chloe Kim
Music gives a soul to the universe, wings to the mind, flight to the imagination, and life to everything.
― Plato
Disclaimer: The photos as well as the amenities and characteristics of the suite as described on this page (such as type of tub, size of television screen, bed, etc.) may vary from what is in your suite at the time of your stay due to repairs and updates. If you require a specific type of tub or TV screen or other room characteristics during your stay, please call us and verify this with us on the phone to verify that we will be able to accommodate your needs. Otherwise, no refunds or discounts after your stay can be given due to minor variations in suite layout or characteristics such as these.
BOISE, IDAHO
1575 South Lusk Place
Boise, ID 83706
208-387-4900
1-800-324-4152
INN KEEPER
Galen Bechtel
[email protected]