Swiss Family Robinson
(Suite #28)
Boise, Idaho
Swiss Family Robinson
(Suite #28)
Suite Details
Queen-sized bed
45″ TV
Jetted Tub with shower
Blue-ray player
Full breakfast included
Sparkling cider included
Snacks, DVD's and other lovely options available.
Located on the second floor. Multi-level suite.
Tropical Paradise
Tropical paradise and romance come together in this exotic suite. Revive from the salty sea water, sun, and sand in your jetted tub while the elephant's trunk provides a soothing shower. When it's time to retire for the evening, venture up the "rope" staircase that winds along a tree trunk to your queen-sized tree house bed. If you aren't too busy enjoying the beautiful island scenery, take in a movie on your 45″ TV. A favorite of many, we are confident this is an adventure you do not want to miss!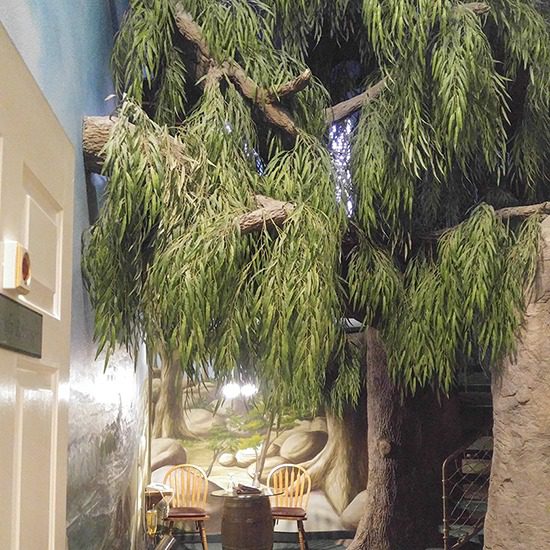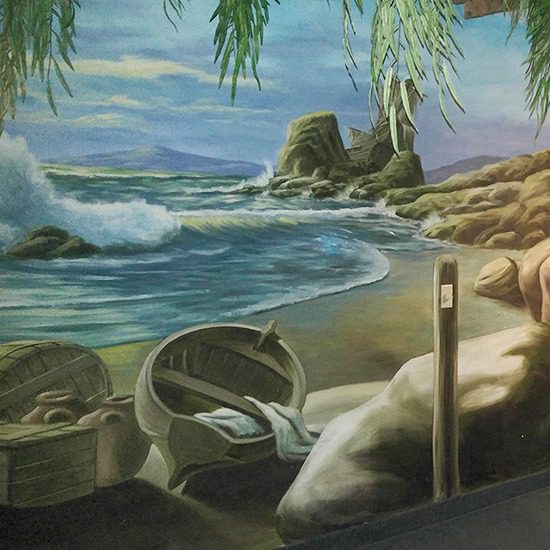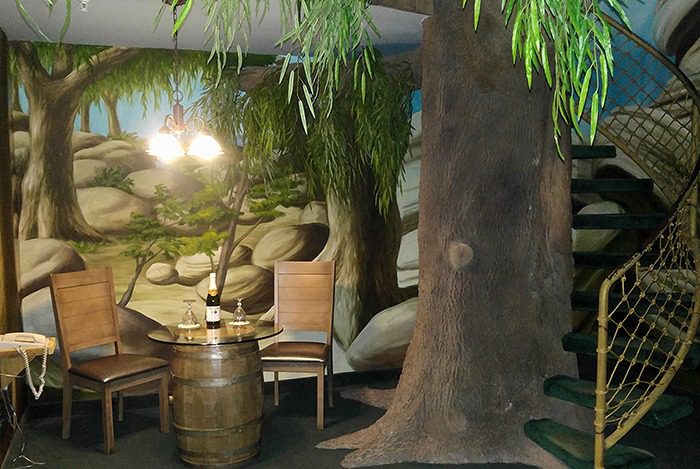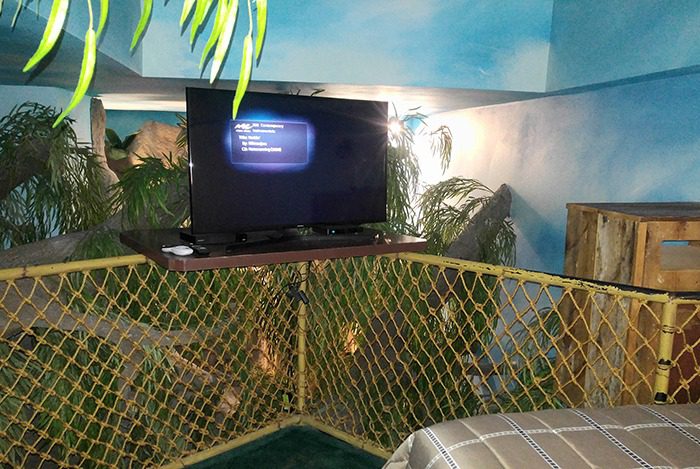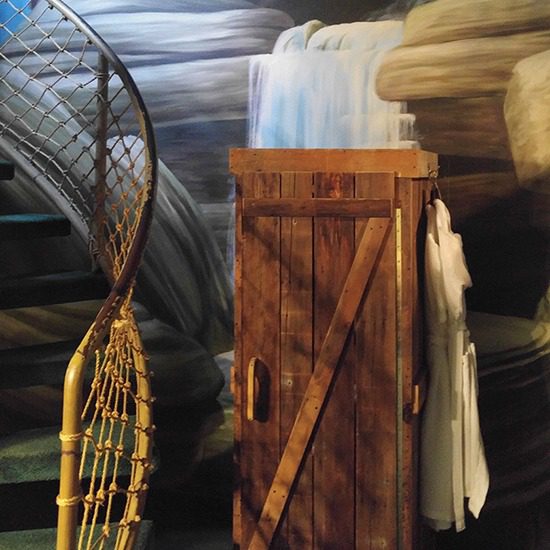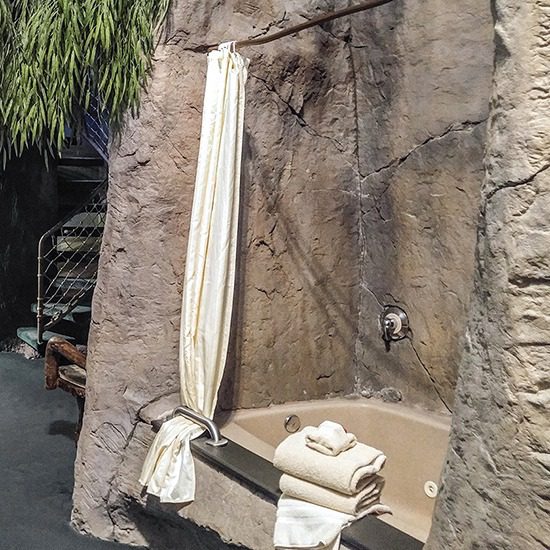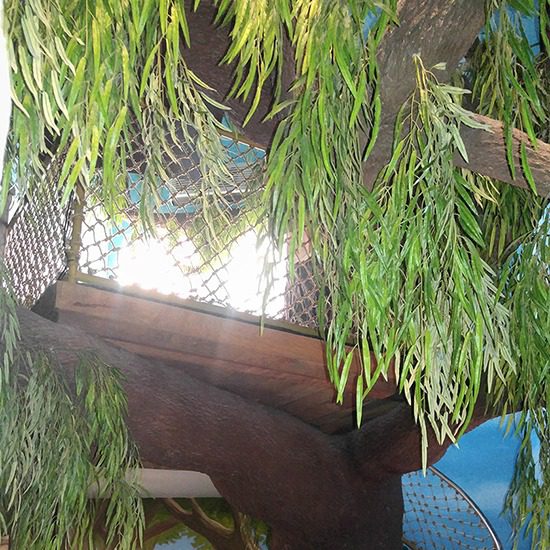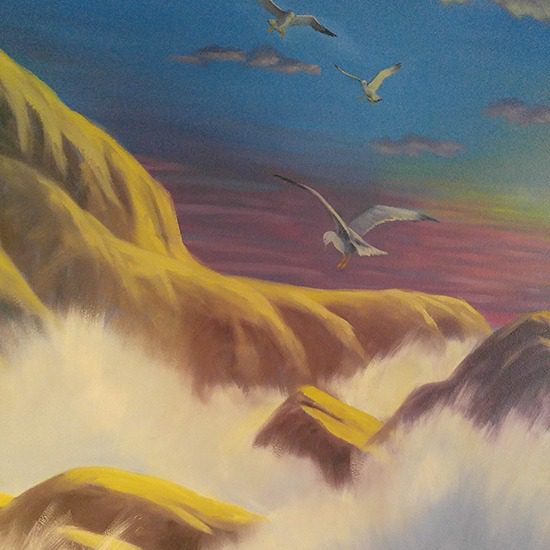 Everyone should play cards together in a jacuzzi tub with an elephant at least once in their lives! Who knew you could have so much fun in a treehouse! My hubby sure picks the best date nights! XOXO
The Henrys
This is our second anniversary and wanted to do something fun and a little different. We've heard so many good things about The Anniversary Inn! It definitely did not disappoint, spending the night here was like stepping into another world! Thank you for helping to make our second anniversary great. We'll definitely be back!
The Popes
This is our second time staying here. The rooms are great and it is an amazing place to get away with the one you love! The shower is great, the tub even better! Thank you Anniversary Inn for having such a fun place to spice up our love life!
Happy Couple
We had our first of many stays here! The breakfast was divine and the robes so comfy. Checked off a few items on our bucket list while here. Sleeping in a treehouse and showering with an elephant! We'll be back.
Satisfied Guests
What an amazing way to spend our first anniversary! This was so beautiful and a much needed break from the day to day! We can't wait to come back.
Happy One Year
Join Our Email List
Sign up to join our email list and receive Anniversary Inn news and specials directly in your inbox. Sign up today!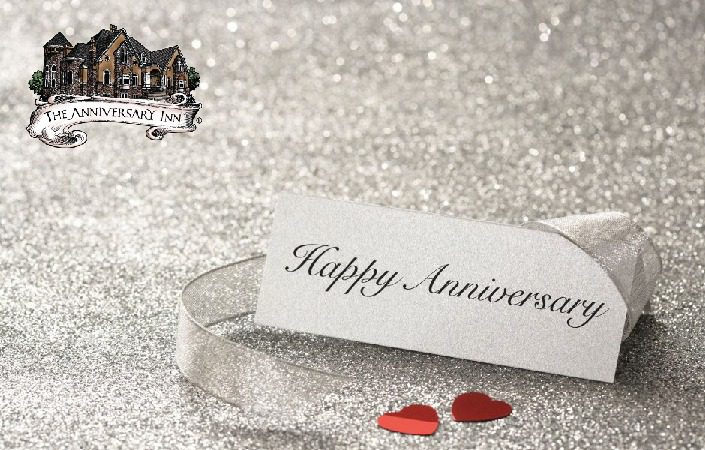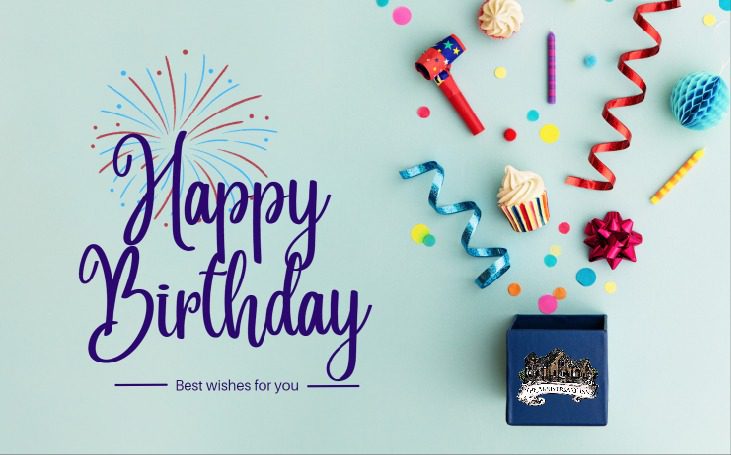 Special promotion codes for Anniversary and Birthday gifts will be emailed to you 1-4 weeks before the dates you have given us. Be sure to sign up today so you don't miss out.
Other Suites You May Like
In the 1960's movie, the actor portraying the pirate the tiger was chasing was actually the tiger's trainer. The trainer knew that having his back to the tiger would make it natural predatory and he could not trust the tiger to not maul the normal actor playing the pirate. 
Tree dwellings can be traced back to the people of the South Pacific and Southeast Asia, who lived in trees to provide secure homes for their families. They came and went via thatched baskets that were raised and lowered down the tree trunk.
Tree houses have been used for living in for thousands of years. They were first built in areas where the ground was not suitable for building due to possible flooding. The underneath part of the Canopy was often used for shade in hot climates. 
Disclaimer: The photos as well as the amenities and characteristics of the suite as described on this page (such as type of tub, size of television screen, bed, etc.) may vary from what is in your suite at the time of your stay due to repairs and updates. If you require a specific type of tub or TV screen or other room characteristics during your stay, please call us and verify this with us on the phone to verify that we will be able to accommodate your needs. Otherwise, no refunds or discounts after your stay can be given due to minor variations in suite layout or characteristics such as these.
BOISE, IDAHO
1575 South Lusk Place
Boise, ID 83706
208-387-4900
1-800-324-4152
INN KEEPER
Galen Bechtel
[email protected]