Jungle Safari
5th South, Salt Lake City, Utah
Suite Details
Queen bed
43″ TV
Oval jetted tub with waterfall shower
DVD player

Full breakfast included

Sparkling cider included
Snacks, DVD's and other lovely options available.
Stairs to enter bed.
Located on the second floor.
An Adventure Begins
With an elephant's trunk for a shower, a crocodile at the entrance and wild beasts peering at you, the Jungle Safari Suite is for those with a sense of adventure. It's like Humphrey Bogart and Kathryn Hepburn traveling up the Congo on the African Queen. Danger seems to be lurking at every corner. But, you're safe with us, just climb up to your bed and listen to your cascading waterfall. The wildlife around you are only painted murals…at least in the daylight.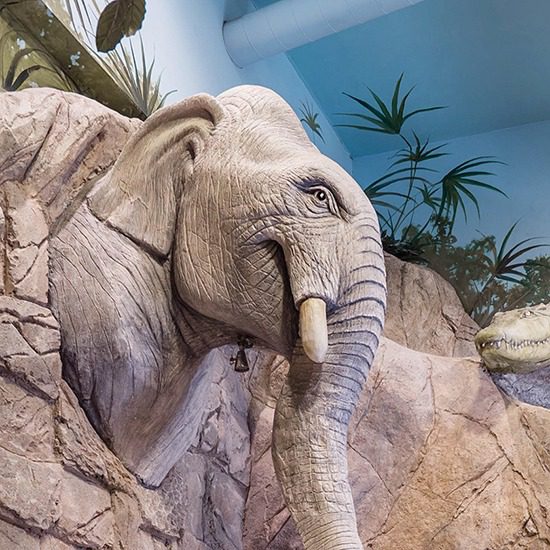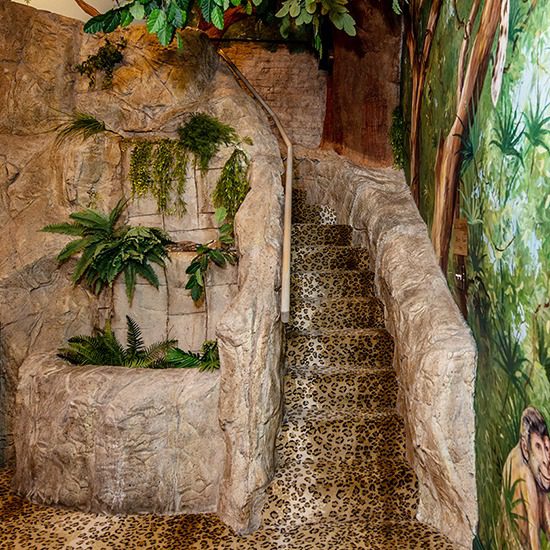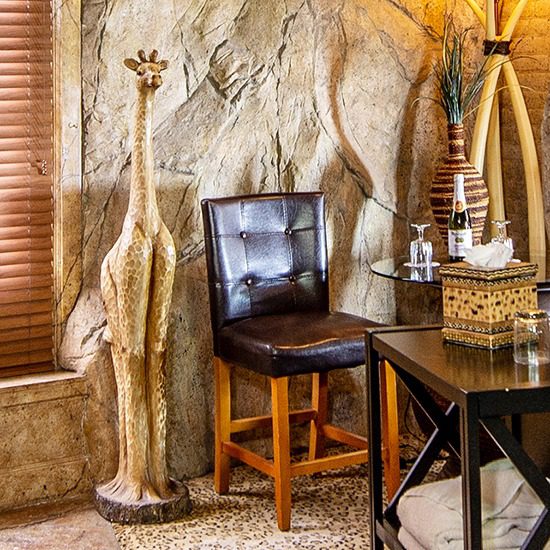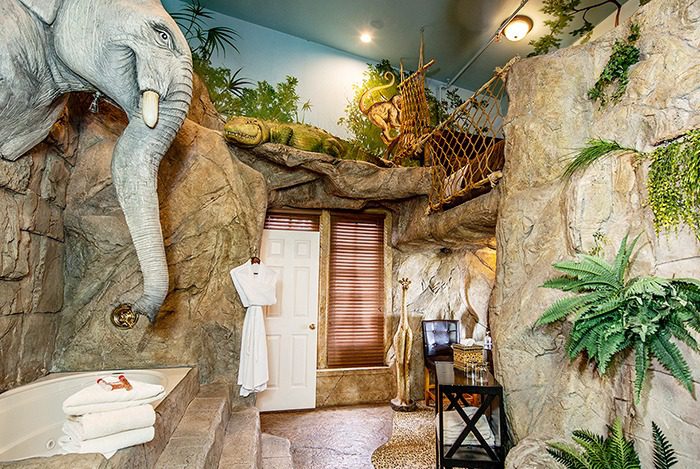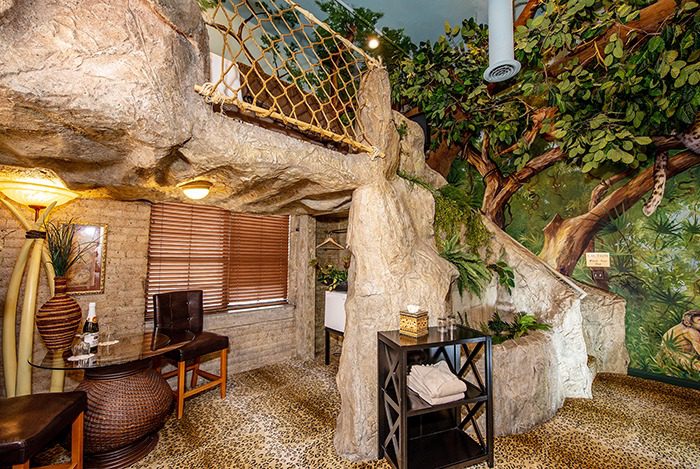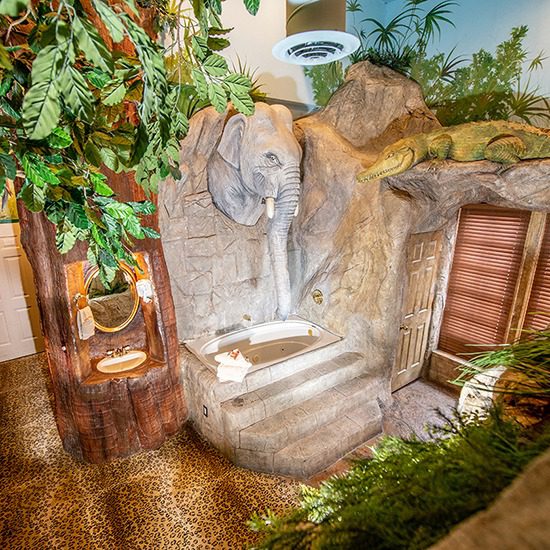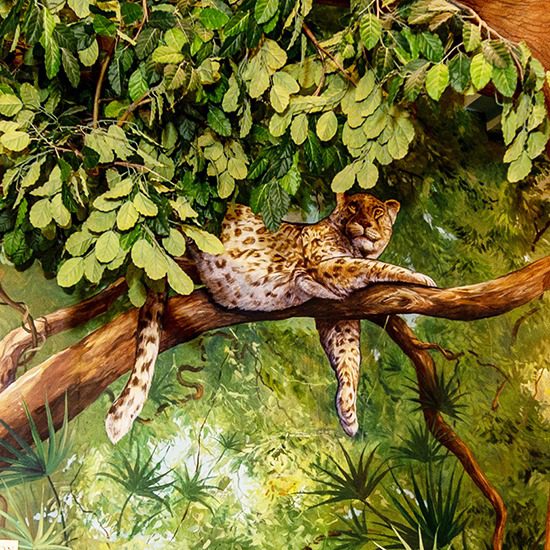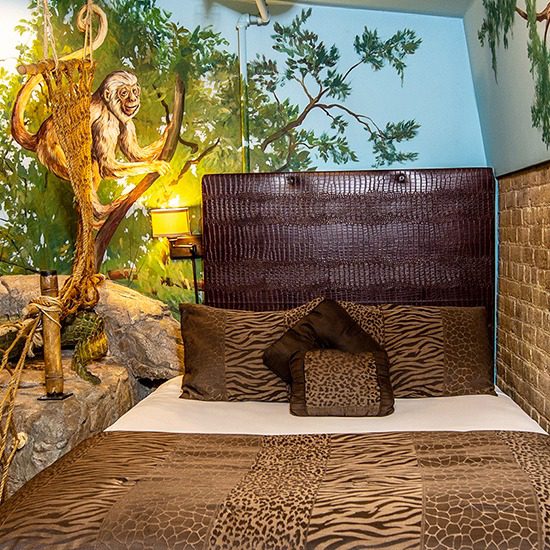 We have been to other locations but this was our first time here and it did not disappoint! The suite is amazing and we loved all the animal friends. A great place to spend with that special someone and get away from the worries of the world. We really enjoyed our stay and will definitely be back.
The Walsh Family
We loved our stay in the Jungle Safari suite! We tried to ask the elephant and crocodile to share their secrets, but they're pretty good at staying quiet. We loved the waterfall and jacuzzi. Breakfast was delicious as well. We loved the movie selection. We'd love to come back and try other suites! Enjoy!
Mark & Nicole
This was my fiancé and my first time staying here and it was mind blowing! Ten year anniversary wasn't a disappointment at all, what a fun way to celebrate our love! I proposed while she was looking at the bed. It was the perfect moment with the waterfall in the background! This suite has the whole vibe! Worth the money without a doubt! Love how sound proof the suites are! Incredible stay! To infinity and beyond!
Callie & Dezi
Such a fun suite! Alli the alligator was side-eyeing us the whole night, but the elephant was kind and lent us his trunk for getting in and out of the tub. We came for our first anniversary and it was a great follow-up suite to the one we stayed at in Boise, Idaho on our wedding night. We will definitely be back–we absolutely love the Anniversary Inn. We hope you all enjoy this suite as much as we did!
Elephant Afficionados
Such a fun jungle experience! The tub can get pretty hot and feels like a private hot tub. Also, the lights can dim using the tiny knob on the switch. We loved our stay!
Hot tub enthusiasts
Join Our Email List
Sign up to join our email list and receive Anniversary Inn news and specials directly in your inbox. Sign up today!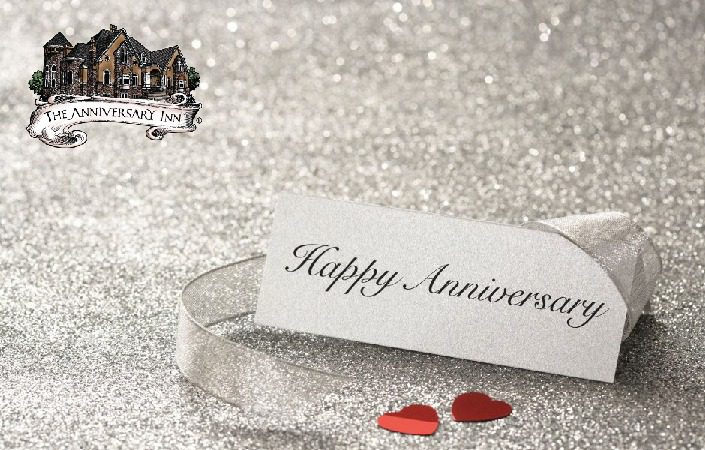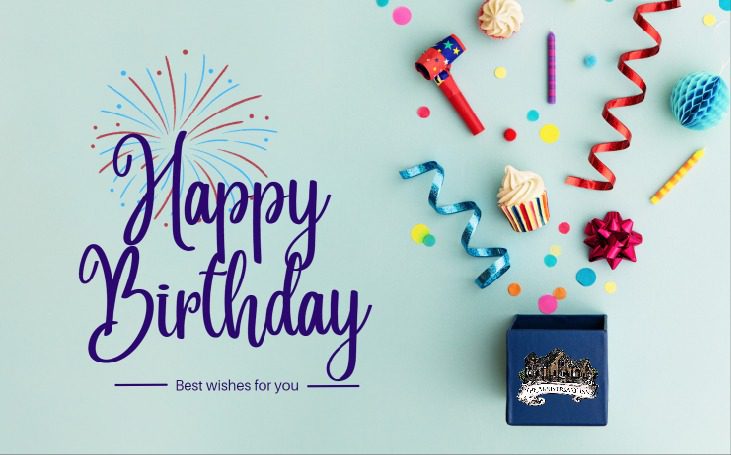 Special promotion codes for Anniversary and Birthday gifts will be emailed to you 1-4 weeks before the dates you have given us. Be sure to sign up today so you don't miss out.
Other Suites You May Like
I wanna drive you
Wild, wild, wild
I wanna love you
For miles and miles
— Wild, by John Legend & Gary Clark Jr.
Your Custom Safari Awaits
Start your unforgettable, tailor-made customized safari journey tonight!
All you gotta do is… Look for the bare necessisties, the simple bare necessitites. Forget about your worries and your strife.
― Baloo, Jungle Book
Disclaimer: The photos as well as the amenities and characteristics of the suite as described on this page (such as type of tub, size of television screen, bed, etc.) may vary from what is in your suite at the time of your stay due to repairs and updates. If you require a specific type of tub or TV screen or other room characteristics during your stay, please call us and verify this with us on the phone to verify that we will be able to accommodate your needs. Otherwise, no refunds or discounts after your stay can be given due to minor variations in suite layout or characteristics such as these.
SALT LAKE CITY
5TH SOUTH
460 South 1000 East
Salt Lake City, UT 84102
801-363-4900
1-800-324-4152
INN KEEPER
Kristen Blea
[email protected]