Suite Details
King-sized bed
55″ TV
Corner jetted tub with shower
Blu-ray player
Leather loveseat
Desk and chair
Full breakfast included
Sparkling cider included
Snacks, DVD's and other lovely options available.
Located on the main floor.
The Magic of London's Fog
Come in from the fog of the world into the comfort and magic of our London Fog. Let our Olde London streets calm and restore you. Clear the haze in your mind and settle your senses. Connect and snuggle in the simple luxury with a fusion of olde world charm and new jet set style. A bit contemporary merged with a cozy old street scene, amidst a mist with memories of a more quiet, simple time. Your spirits are sure to be lifted as you soak in the fountain-like tub. You can imagine that you are sneaking a dip in the grand fountain at Trafalgar Square. Sip complimentary London Fog Tea with shortbread. Settle in the comfort of a king-sized bed or cozy loveseat and perhaps, check out an England or London based movie from our DVD selection to enhance your London experience. Remember the fog always lifts. London Fog is certain to help. This is the perfect suite for a world adventure staycation.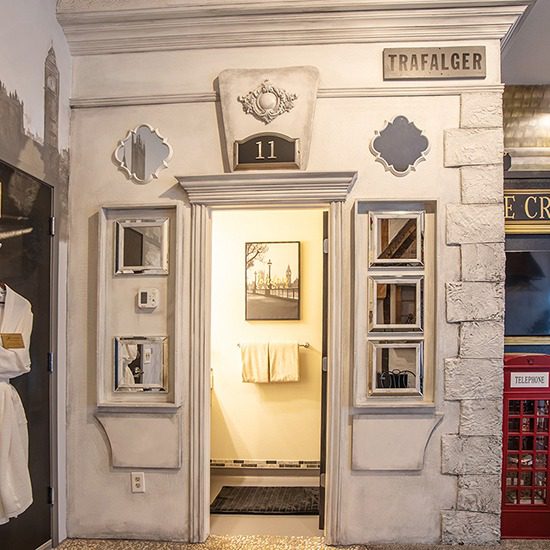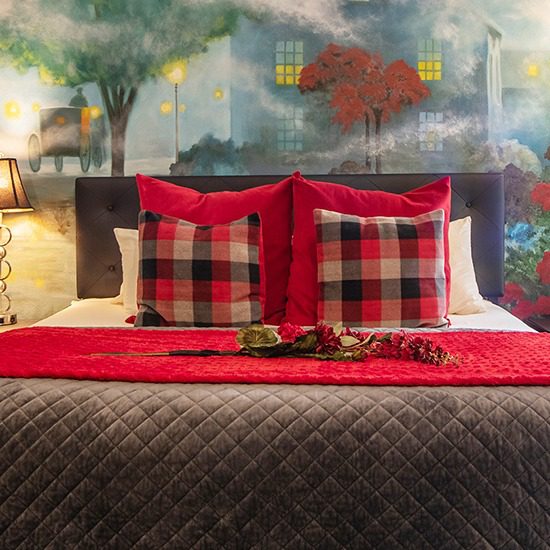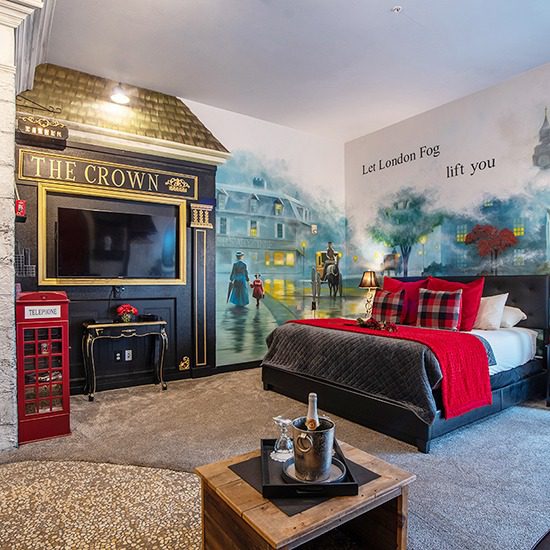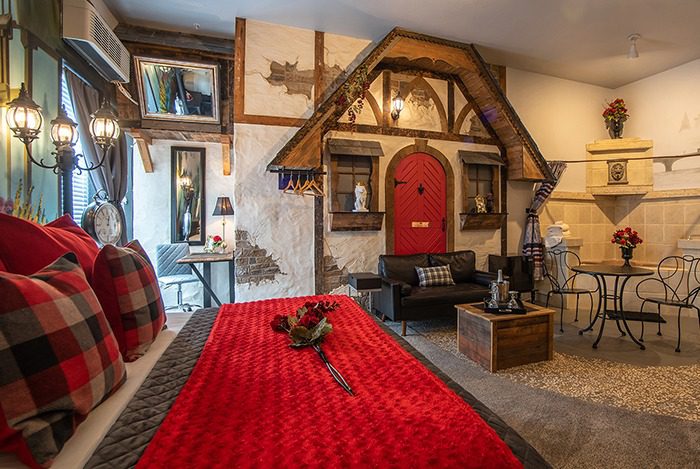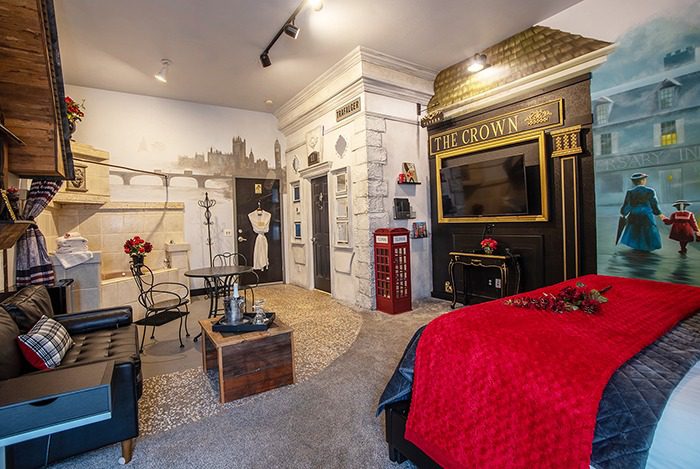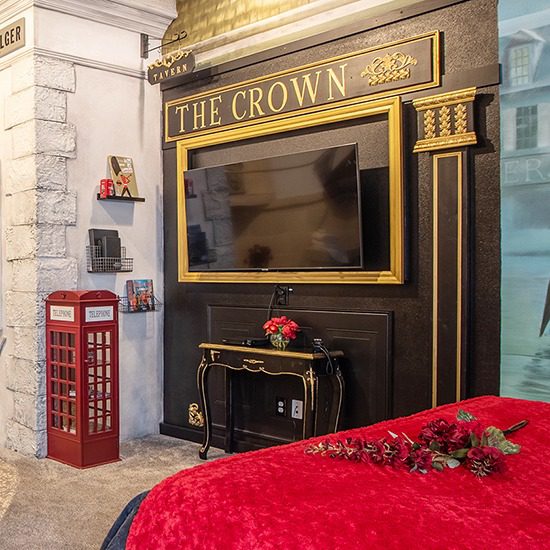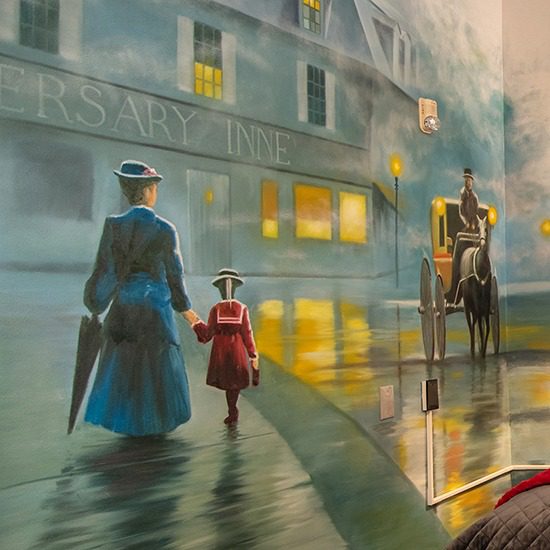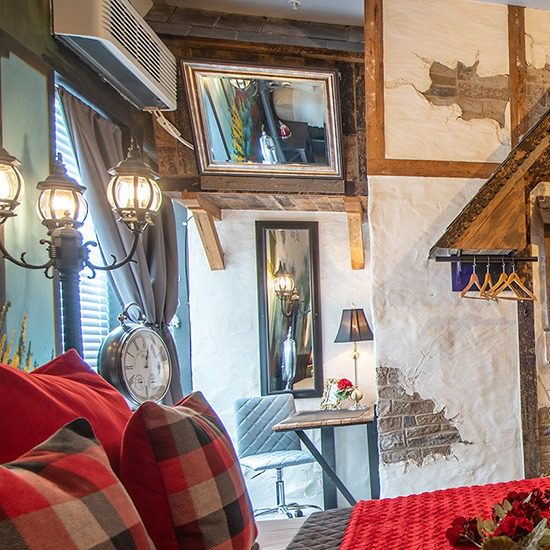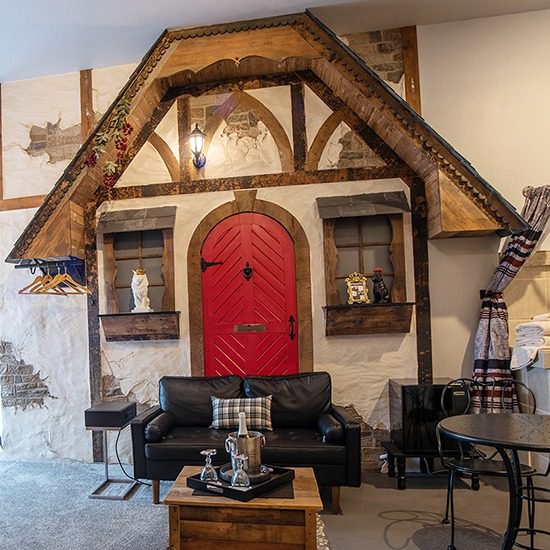 Today is our 55th anniversary and we are so pleased we got to spend it with you. The London Fog room is lovely–the bath so relaxing and the bed very comfy.
Ray & Star
We just spent our 25th anniversary night in the London Fog. Our children and grandchildren arranged it. We are blessed in many ways, and are so grateful for the simple things. This room is beautiful. We've not been to London, but we got a taste of it here! The staff has been amazing and breakfast was delicious.
Dennis & Gretchen
35th anniversary. We had such a fun and relaxing time. It's so nice to get away from this crazy world for even one night. We enjoyed playing Ticket to Ride. Hope to come back soon!
Darin & Dawn
My girlfriend and I stayed here for the last night of a week-long road trip. It was amusing to note how most people come here for a romantic getaway while we were just passing through. Even still, the romanticism stole us away and gave us the best stay we could ask for. Especially the tub – Oh man how I miss the tubs – made the stay for us. My thanks to the lovely (and helpful) folks at the desk, the kitchen, and all the others. I can feel another stay in the future. Thank you all.
John Welch
Came to Boise for a concert and decided to spend the night rather than drive home to Twin Falls—so glad we did! What a fun surprise to open the door and encounter a Downton Abbey village! The big soaking tub was just what we needed, and breakfast the next morning was really good. After 35 years it was awesome to rekindle some romance—great stay!
Troy & Lori
Join Our Email List
Sign up to join our email list and receive Anniversary Inn news and specials directly in your inbox. Sign up today!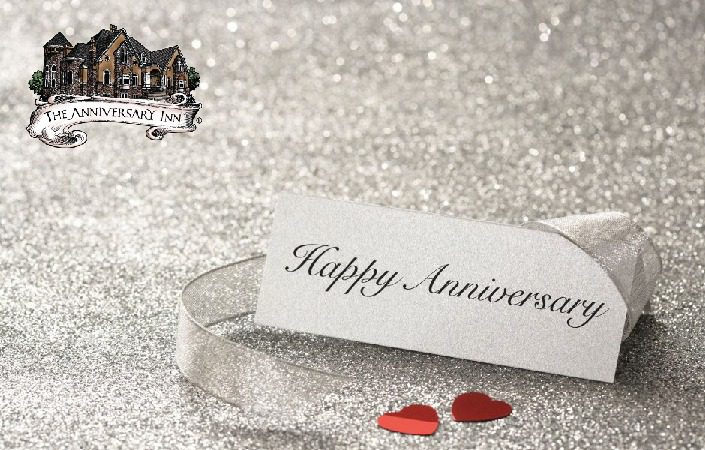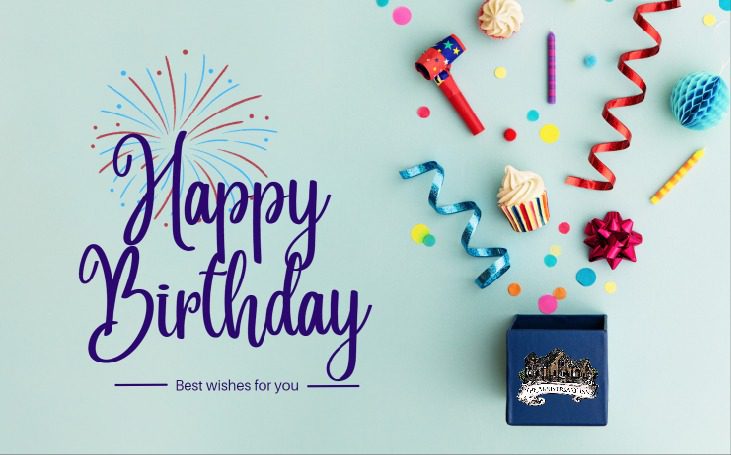 Special promotion codes for Anniversary and Birthday gifts will be emailed to you 1-4 weeks before the dates you have given us. Be sure to sign up today so you don't miss out.
Other Suites You May Like
And along with its many landmarks, the city of London offers the right blend of beauty, intimacy, and once-in-a-lifetime experiences to make for a truly memorable trip.  
Fog is a cloud kissing the ground.
Sometimes, we feel like we've lost our way in the fog. However, if we keep pushing, we just might discover the most beautiful place.
― Mehmet Murat Ildan
Disclaimer: The photos as well as the amenities and characteristics of the suite as described on this page (such as type of tub, size of television screen, bed, etc.) may vary from what is in your suite at the time of your stay due to repairs and updates. If you require a specific type of tub or TV screen or other room characteristics during your stay, please call us and verify this with us on the phone to verify that we will be able to accommodate your needs. Otherwise, no refunds or discounts after your stay can be given due to minor variations in suite layout or characteristics such as these.
BOISE, IDAHO
1575 South Lusk Place
Boise, ID 83706
208-387-4900
1-800-324-4152
INN KEEPER
Galen Bechtel
[email protected]