Hawaiian Paradise
Logan, Utah
Suite Details
King-size bed
43″ TV in bedroom
32″ TV in bathroom
Jetted tub
Separate shower
Separate dining area in the sunroom
DVD player
Full breakfast included
Sparkling cider included
Snacks, DVD's and other lovely options available.
Located on the first floor.
Wheelchair accessible – ramp and assigned parking.
Aloha!
Taking a trip to the most romantic island of Hawaii has never been easier! Your island paradise starts when you step into the beautiful sunroom, but watch out for the geckos basking in this tropical paradise! Find leisure in the jetted tub while you and your island princess relax in the dormant volcano surrounded by lava rock. Enjoy the magnificent view of the Hawaiian sunset complete with palm trees and torches while you enjoy our complimentary chilled cider.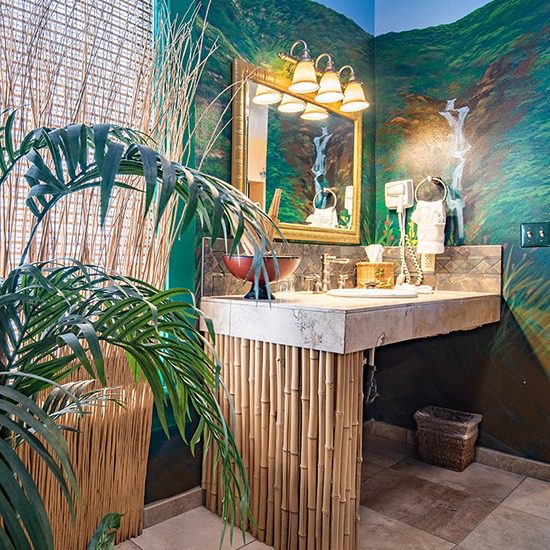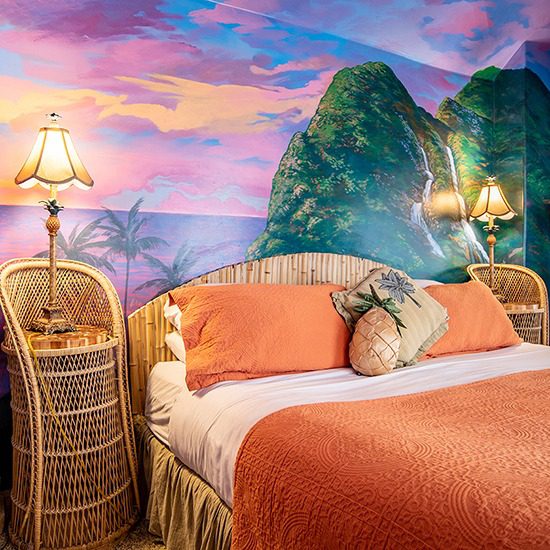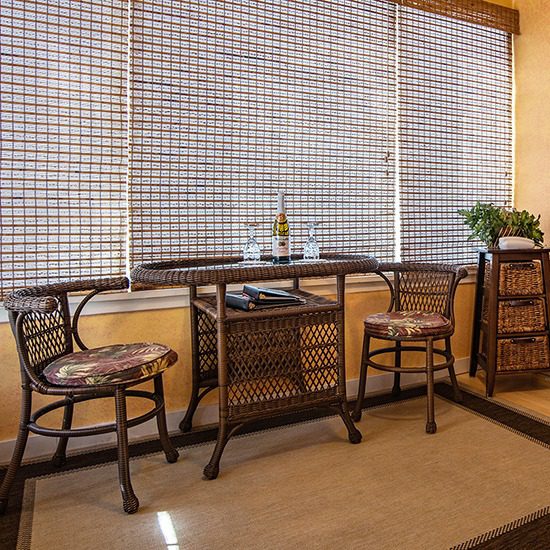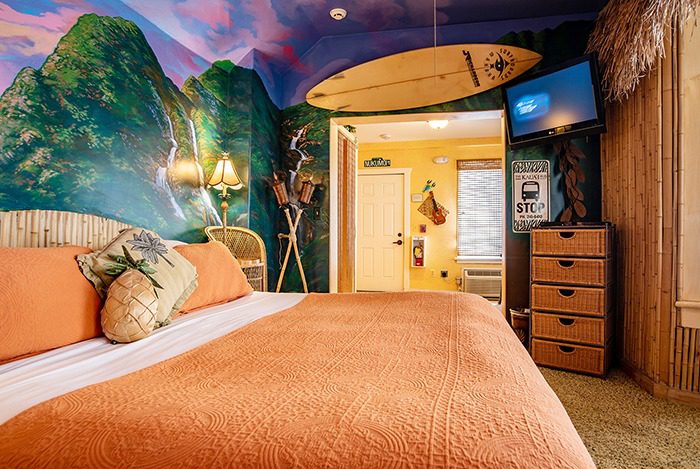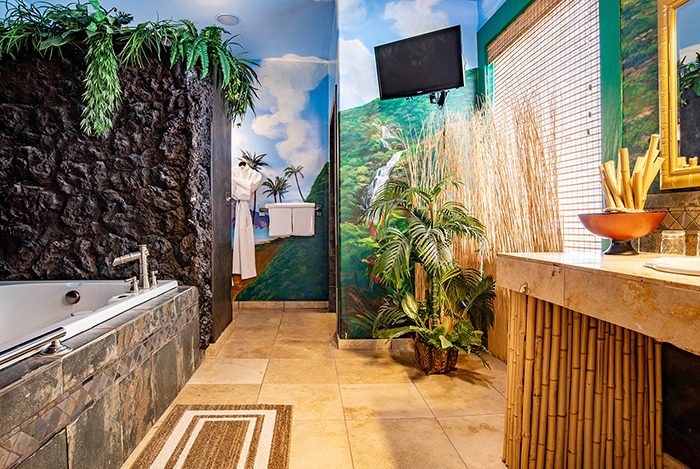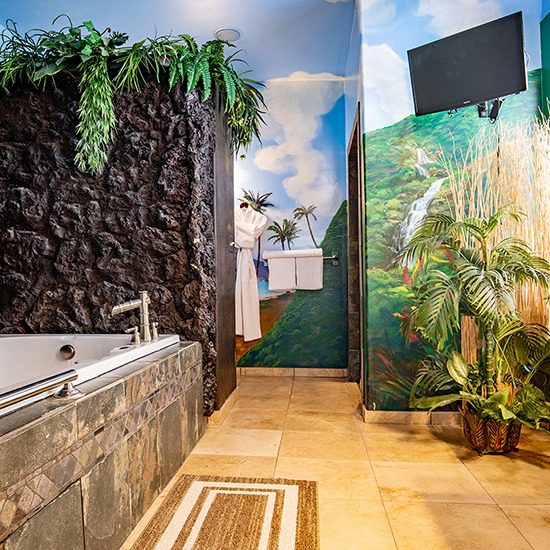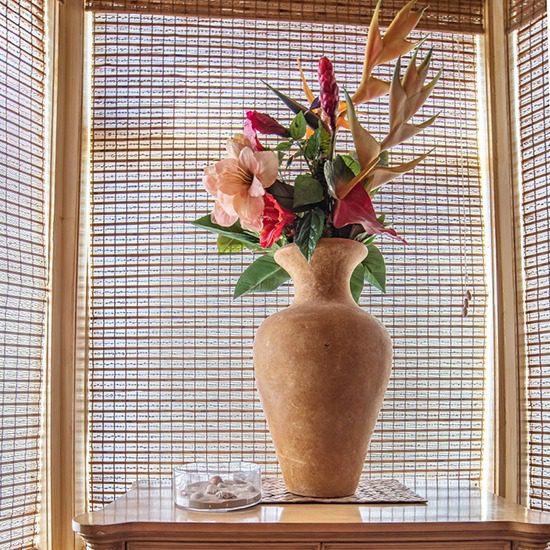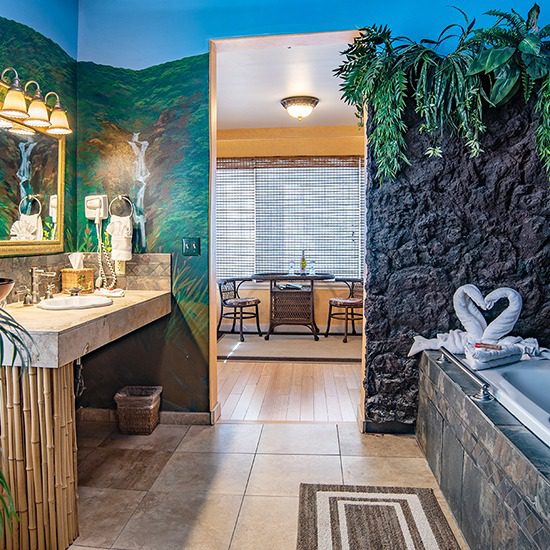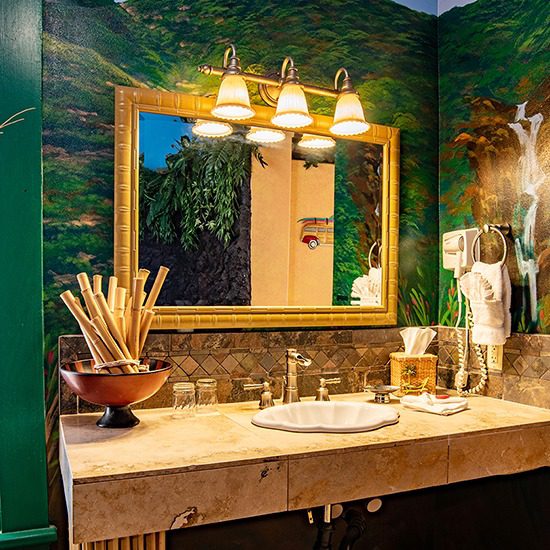 We miss Hawaii. The room helped. The paintings on the wall are awesome. It feels like an actual condo we would stay in in Hawaii. Wish there really was a beach and ocean outside instead of 8 deegrees. Thanks for the night away from reality.
K & LM
This room was a little piece of Hawaii! It was relaxing to spend our 3rd anniversary together in this fun decorated room.
The Foisy's
We were married 46 years ago today. A lot of memories to celebrate. This was a fun getaway. This room was great. Looking forward to many more years together.
The Rupps
We celebrated our 6th year anniversary here and it was amazing. We come to the Anniversary Inn every year in SLC but decided to do a getaway in Logan. Everything was so great! The tub and shower were so nice, and the staff was great.
The Youngs
We just celebrated 45 years of marriage and we have been in this wonderful room several times. We just love it. So many great memories. Thanks Anniversary Inn for always doing such a nice job.
John & Margo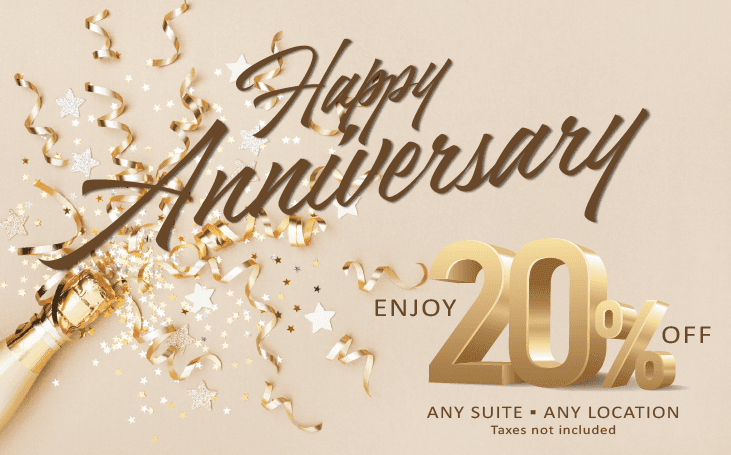 Sign up for our email list and receive Anniversary Inn news and specials directly in your inbox. Sign up today!
Other Suites You May Like
New York City is the most populous city in the United States, with an estimated population of 8.3 million people. But you can enjoy the big apple with just the two of you.  
The City of Tall Sky Scrapers
Overlook the city below as you snuggle in your cozy bed under the deep blue starry sky. 
As many as 800 languages are spoken in New York, making it the most linguistically diverse city in the world. But when you close the door, the only language you will need is the language of love.
Disclaimer: The photos as well as the amenities and characteristics of the suite as described on this page (such as type of tub, size of television screen, bed, etc.) may vary from what is in your suite at the time of your stay due to repairs and updates. If you require a specific type of tub or TV screen or other room characteristics during your stay, please call us and verify this with us on the phone to verify that we will be able to accommodate your needs. Otherwise, no refunds or discounts after your stay can be given due to minor variations in suite layout or characteristics such as these.
LOGAN, UTAH
169 East Center Street
Logan, UT 84321
435-752-3443
1-800-324-4152
INN KEEPER
Molly Winborg
[email protected]