Country Garden
5th South, Salt Lake City, Utah
Suite Details
Round Queen bed
43″ TV
Oval jetted tub with waterfall shower
DVD player

Full breakfast included

Sparkling cider included
Snacks, DVD's and other lovely options available.
Stairs to tub.
Located on the second floor.
Love & Flowers: The 
Perfect Match
Imagine sleeping in lush outdoor gardens, with rock walls, climbing vines, and vibrant flowers. A bed surrounded by a gazebo and a private "patio" jetted tub completes this garden experience.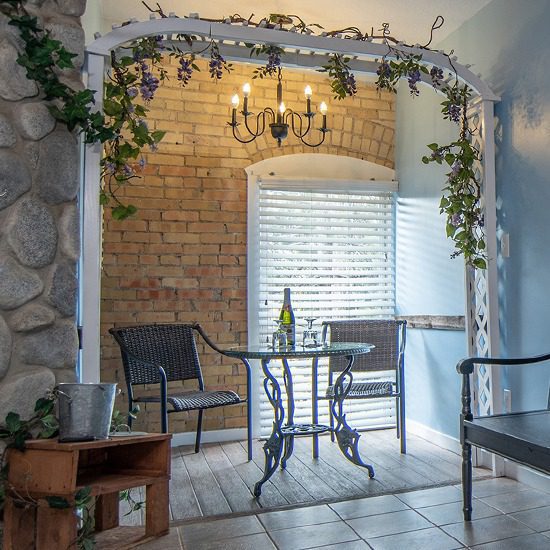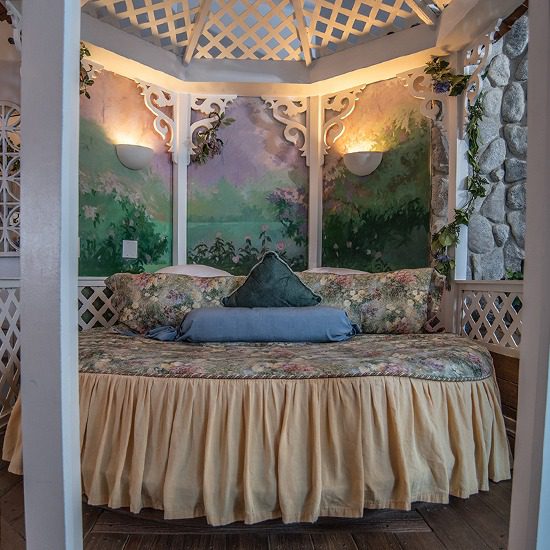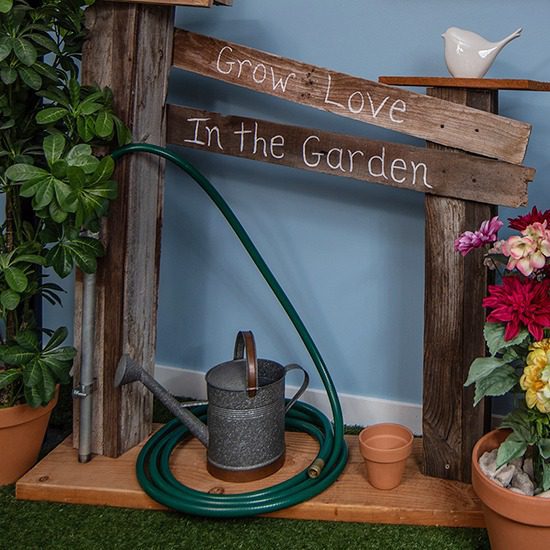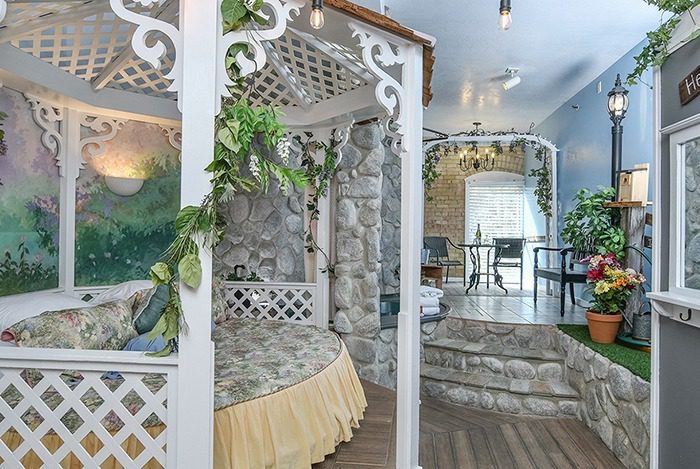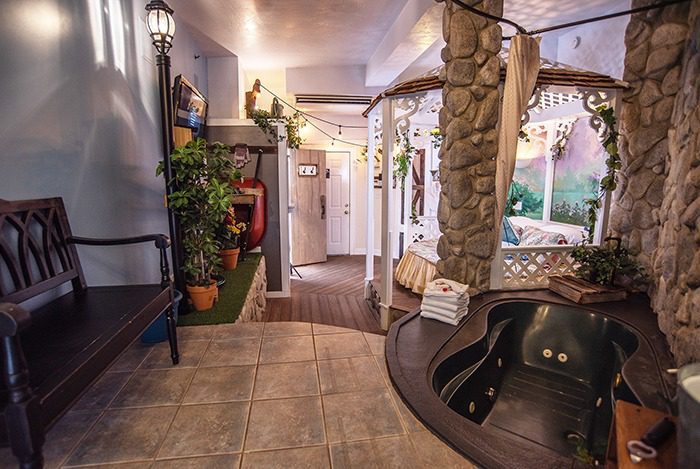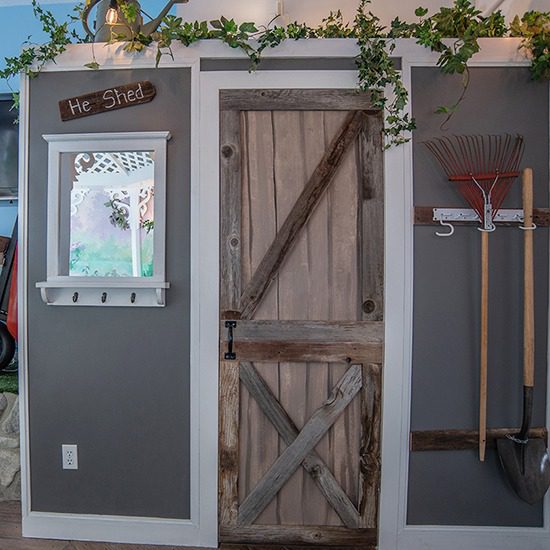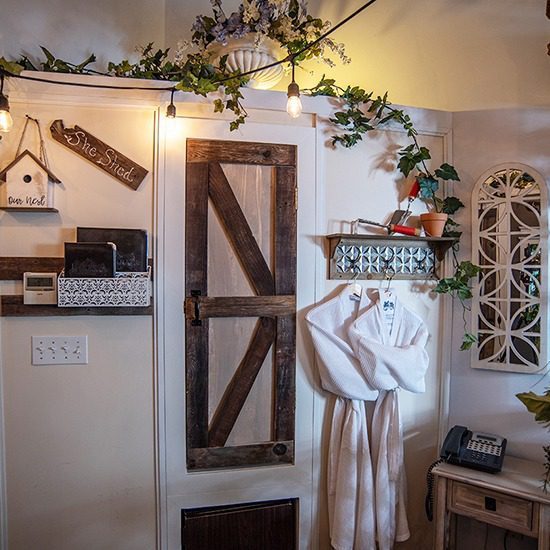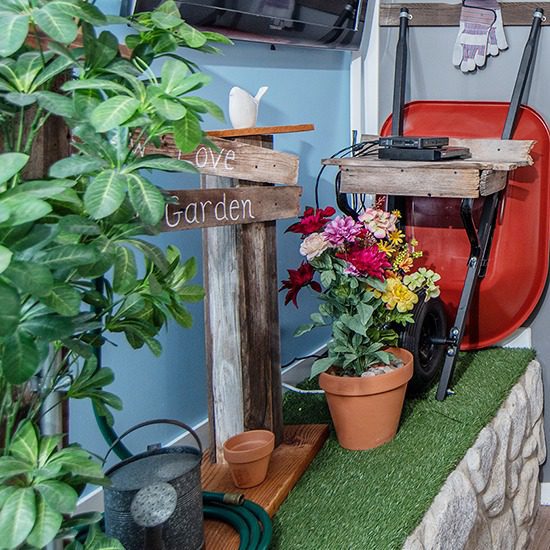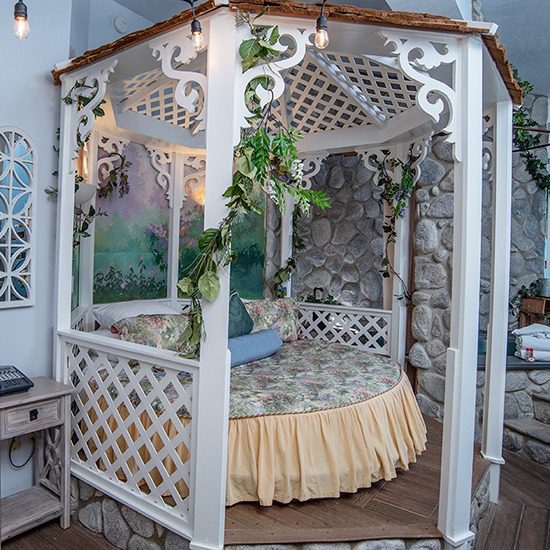 What a fun suite to stay the night in! We celebrated our one year anniversary here and were pleasantly surprised. The suite was cozy and made you happy! The tub was fun to use and sleeping on a round bed is an experience itself. We would surely come again!
Kayli & Tanner
My husband and I came here for our 11th wedding anniversary. It was our first time here and we loved it. The suite was magical. We'll be back!!
Ashley & Casey Crowley
Wedding night was a lovely visit. We enjoyed the suite and all of the beautiful ambiance. Very relaxing and comfortable. Will definitely be back again.
Honeymooners
My husband and I stayed here for my birthday weekend. This was our second time staying here. Breakfast was wonderful, we love the cute round bed and the décor and will be back to experience the other suites!
Second timers
My husband and I came here for our pre honeymoon and thought it was the most magical experience staying here and had the most wonderful time feeling like we were alone in the world. Make sure you watch "Shrek" to make it more of a fairytale experience! Thanks, Anniversary Inn! Can't wait to try other suites out!
Shrek fans
Join Our Email List
Sign up to join our email list and receive Anniversary Inn news and specials directly in your inbox. Sign up today!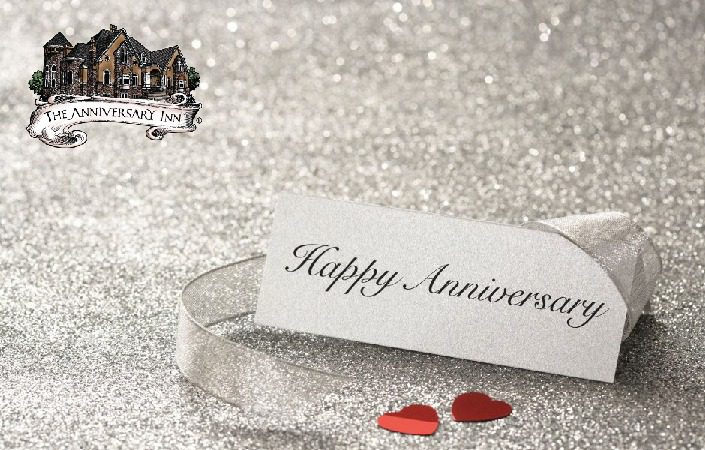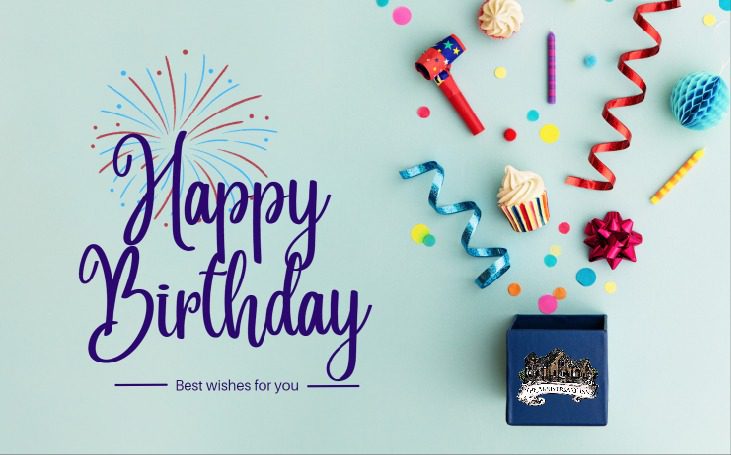 Special promotion codes for Anniversary and Birthday gifts will be emailed to you 1-4 weeks before the dates you have given us. Be sure to sign up today so you don't miss out.
Other Suites You May Like
This suite is sure to have something both he and she will enjoy. Your imagination is the limit!
Whether it's a simple shade tree or a beautiful bed of roses, encouraging romance and connection doesn't have to be complicated. Relax and fall in love all over again.
A closed-door romance is a term used to describe a romance novel where the intimate moments between the characters happen "behind closed doors," meaning the reader does not get to witness them. This is your closed door romance. Let the moment sweep you away.
Disclaimer: The photos as well as the amenities and characteristics of the suite as described on this page (such as type of tub, size of television screen, bed, etc.) may vary from what is in your suite at the time of your stay due to repairs and updates. If you require a specific type of tub or TV screen or other room characteristics during your stay, please call us and verify this with us on the phone to verify that we will be able to accommodate your needs. Otherwise, no refunds or discounts after your stay can be given due to minor variations in suite layout or characteristics such as these.
SALT LAKE CITY
5TH SOUTH
460 South 1000 East
Salt Lake City, UT 84102
801-363-4900
1-800-324-4152
INN KEEPER
Kristen Blea
[email protected]