Log Cabin
5th South, Salt Lake City, Utah
Suite Details
Queen bed
43″ TV
Oval jetted tub with waterfall shower
DVD player
Fireplace

Full breakfast included

Sparkling cider included
Snacks, DVD's and other lovely options available.
Stairs to enter bed.
Located on the second floor.
The Little Cozy Cabin
Traveling to the mountains to a traditional style logged cabin doesn't get more romantic. Nestle in and imagine nature surrounding you and perhaps watch a mountain themed movie. Enjoy the over-sized jetted tub and waterfall. Cozy up in the log bed. One of the best things about it is you don't need four-wheel drive to get to this charming retreat. Imagine yourself high up in the snowy Rockies while enjoying the advantages of new technology – running water, no outhouses, big screen flat TV, DVD, over-sized jetted tub, room service, WiFi…and the list goes on. It is charming and just what you need to reconnect with your sweetheart. Breathe deep, smell the fresh mountain air, relax and have fun. You deserve the simple life, with benefits.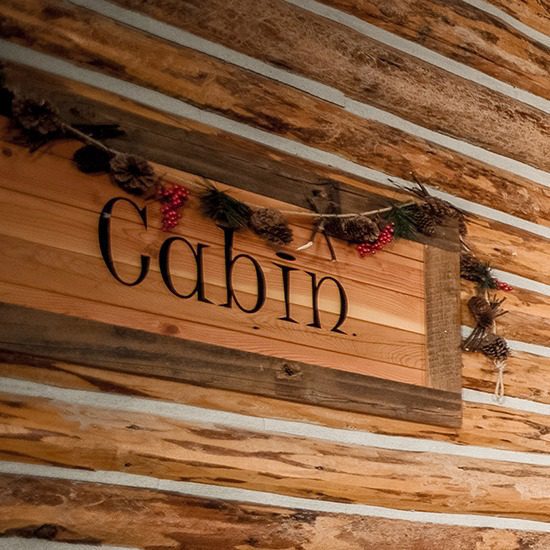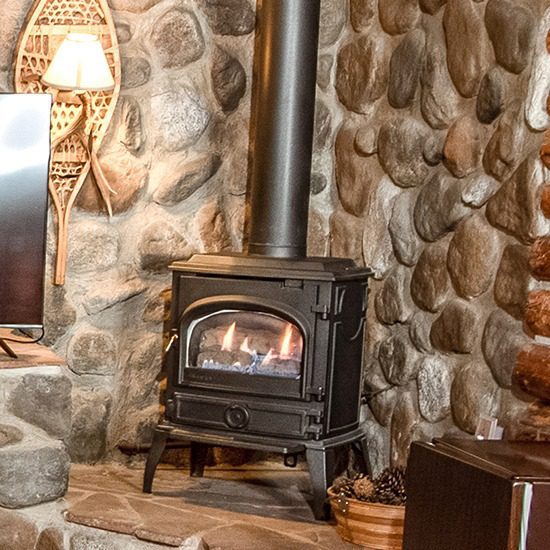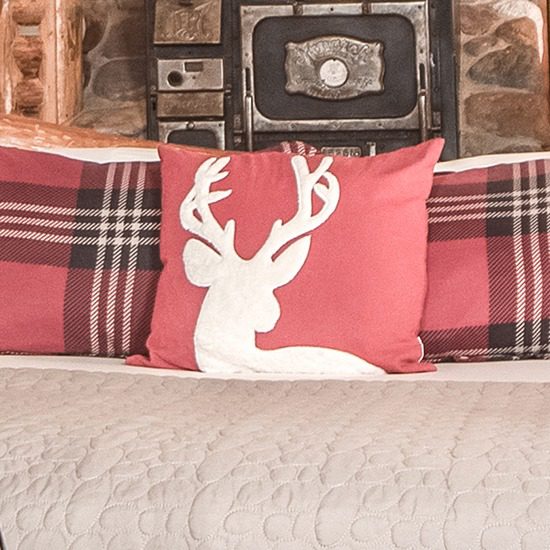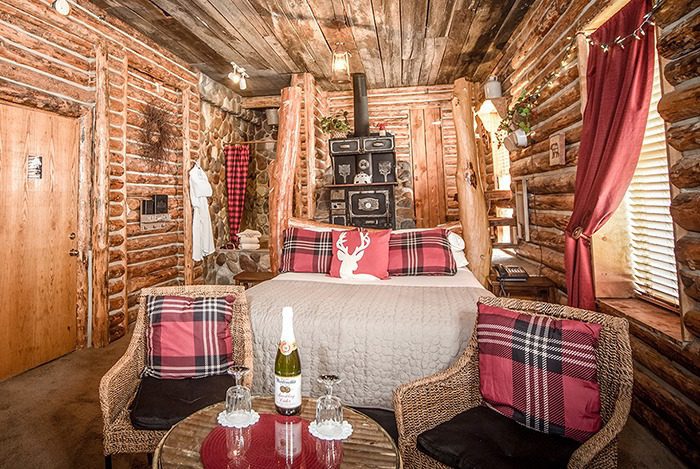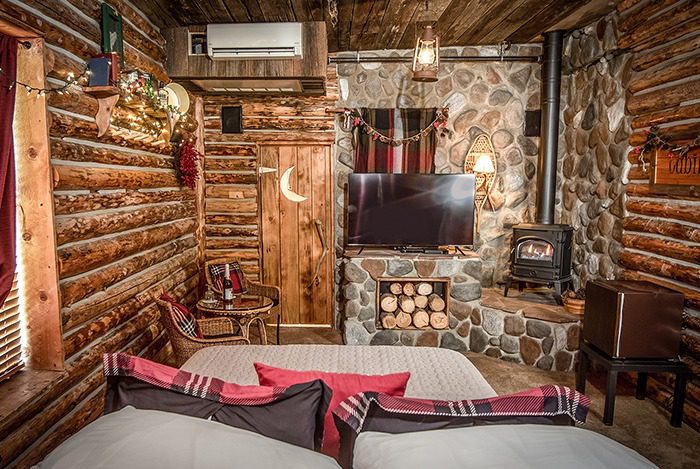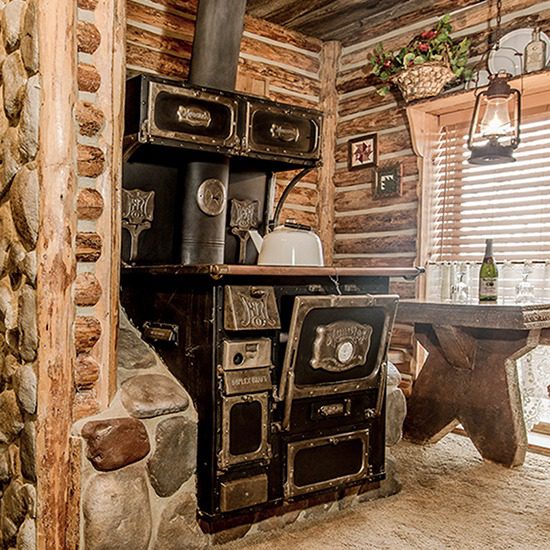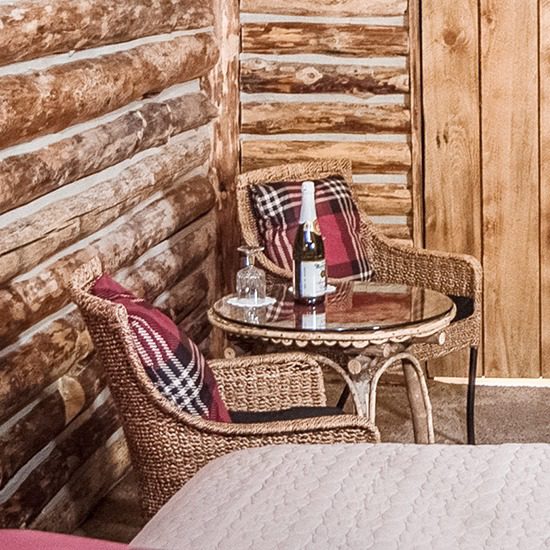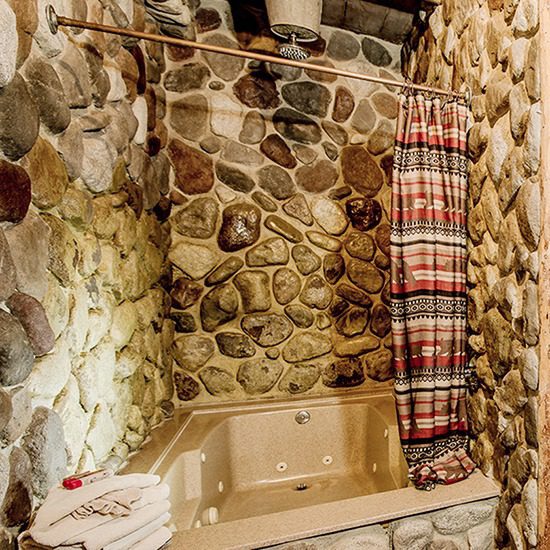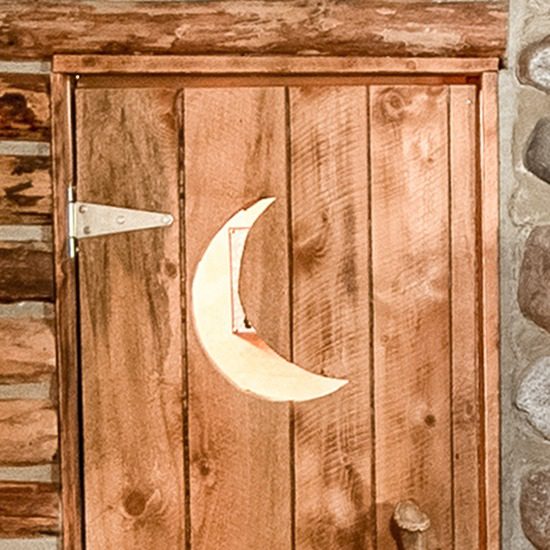 I surprised my husband with tickets to a country music concert and a night here for his birthday back in March. The suite was so cute and the food was delicious. This was our first stay at the Anniversary Inn and we will definitely be back again!
Country music lovers
We came here for our 38th anniversary. Loved the suite! The service was great. Everyone here was so friendly and professional. Loved having breakfast brought to our suite. And the shower was awesome! Thank you Anniversary Inn. We will definitely be back!
Happy guests
We came here on the bus after we got married. We both love the outdoors, camping/fishing, so we picked this suite. It did not disappoint. The mattress was a bit harder than we are used to but we had a great time. We will be back for sure. It was a nice getaway.
Outdoor lovers
Brought my wife for her 29th birthday, for our sixth stay. We love this place. Fun suite shower and bath are very nice! We will be back again.
Six timers
Stay #28 in the books!! Thanks Anniversary Inn, you have never disappointed us. Great to get away and be us again. Fun suite with great details. See you next year!
Veteran guests
Join Our Email List
Sign up to join our email list and receive Anniversary Inn news and specials directly in your inbox. Sign up today!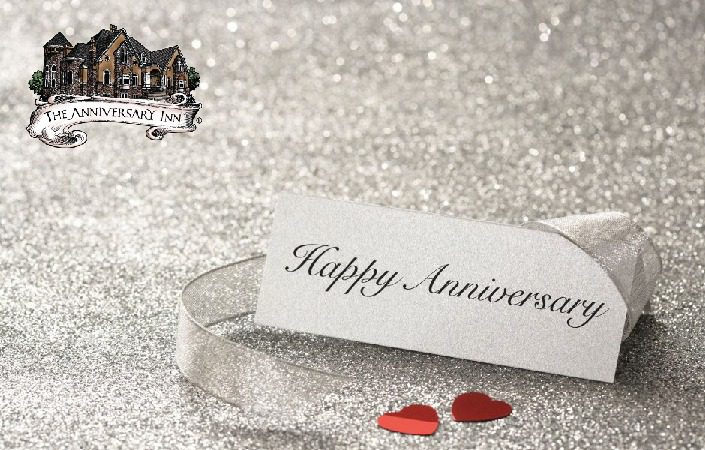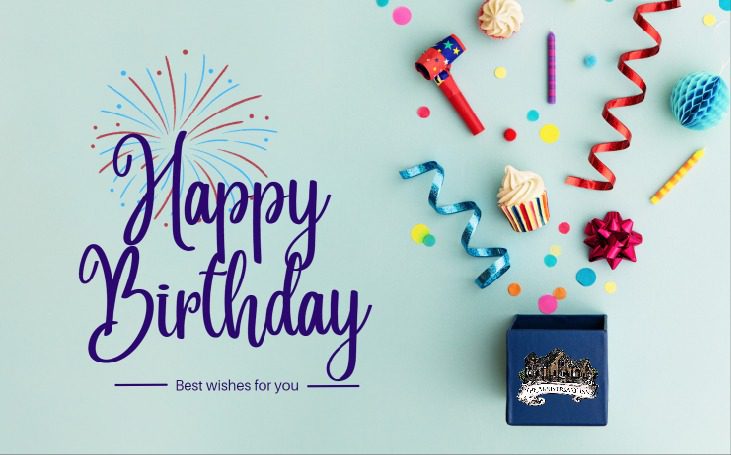 Special promotion codes for Anniversary and Birthday gifts will be emailed to you 1-4 weeks before the dates you have given us. Be sure to sign up today so you don't miss out.
Other Suites You May Like
Take a long nap
Read a book
Sit around the campfire
Just be yourself
Wish upon a star
Become one with nature
Breathe
Unplug
Relax
Enjoy the outdoors
Remove your shoes before entering
Hey, it's good to be back home again, yes, it is
Sometimes this old farm feels like a long-lost friend
Yes, and hey, it's good to be back home again
And all the time that I can lay this tired old body down
To feel your fingers feather soft upon me
The kisses that I live for, the love that lights my way
The happiness that living with you brings me
It's the sweetest thing I know of
Just spending time with you
It's the little things that make a house a home
Like a fire softly burning
Supper on the stove
The light in your eyes, it makes me warm
— John Denver
Country roads, take me home
To the place I belong
West Virginia, Mountain Mama
Take me home, country roads
— John Denver
Disclaimer: The photos as well as the amenities and characteristics of the suite as described on this page (such as type of tub, size of television screen, bed, etc.) may vary from what is in your suite at the time of your stay due to repairs and updates. If you require a specific type of tub or TV screen or other room characteristics during your stay, please call us and verify this with us on the phone to verify that we will be able to accommodate your needs. Otherwise, no refunds or discounts after your stay can be given due to minor variations in suite layout or characteristics such as these.
SALT LAKE CITY
5TH SOUTH
460 South 1000 East
Salt Lake City, UT 84102
801-363-4900
1-800-324-4152
INN KEEPER
Kristen Blea
[email protected]