Sleeping Beauty's Castle
(Suite #33)
Boise, Idaho
Sleeping Beauty's Castle
(Suite #33)
Suite Details
84″ round queen-sized bed
50″ plasma TV
Jetted tub with waterfall shower
Blu-ray player
Separate dining area

Full breakfast included

Sparkling cider included
Snacks, DVD's and other lovely options available.
Located on the second floor. Multi-level suite.
Once Upon a Time
Let your imagination take you once upon a time and far, far away to this spacious two story suite. You can feel the mystery and romance awaiting you as the grand castle entrance looms above, hopefully you are brave enough to cross the draw bridge over the moat, there might be an alligator keeping close watch underneath! Once you have completed your safe passage you will find yourself in the main hall. Visions of grand balls, dancing and music sweep you away until you retire in your tower for the evening . View a movie on your 50″ flat screen, call in for a late night snack, or simply relax. Soon you will find yourself falling into a deep sleep in this queen-sized round bed. Peaceful enough to only wake from true love's kiss. Should you need rejuvenation after a long night at the ball, dip into your jetted tub and soak in the waterfall shower.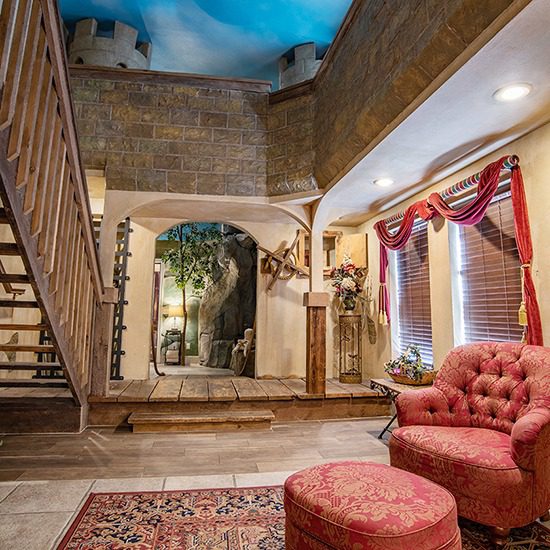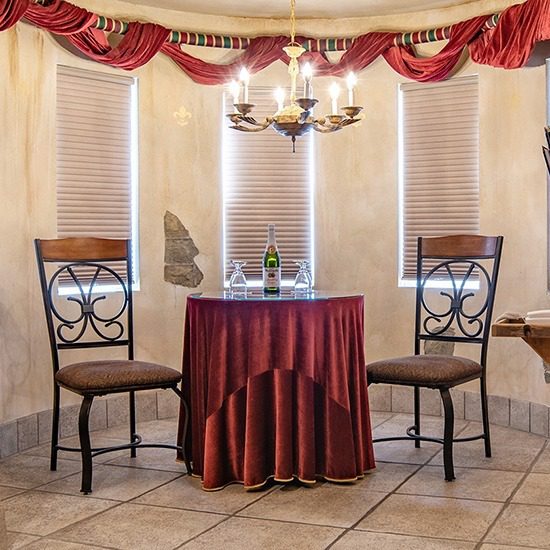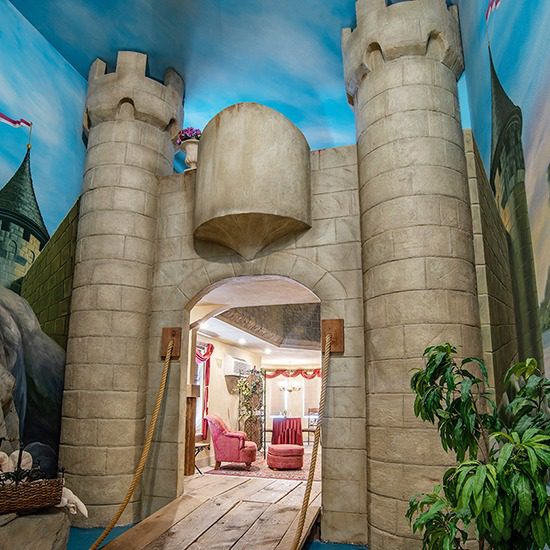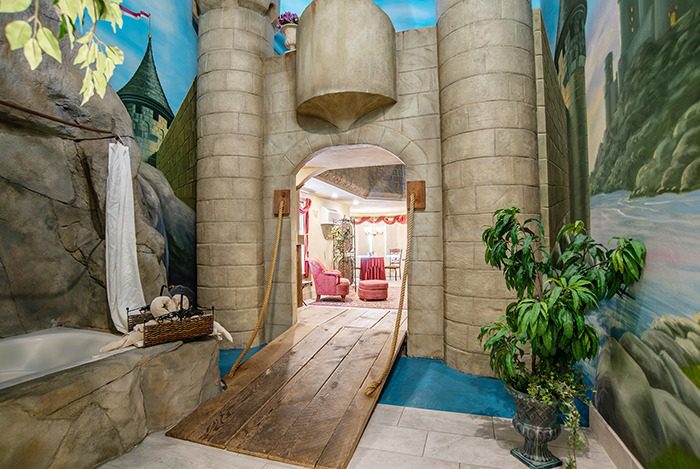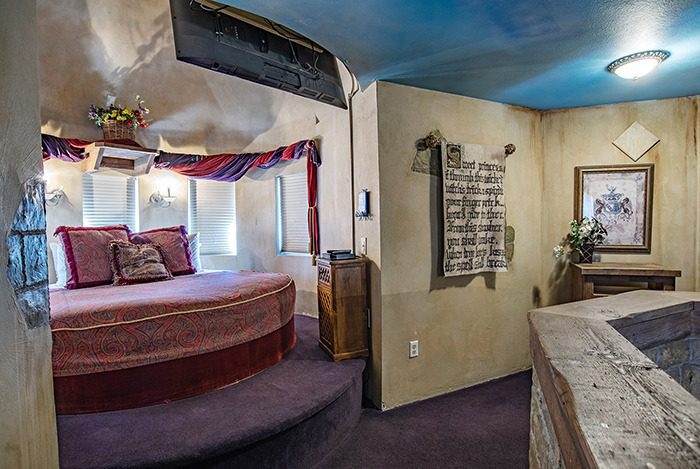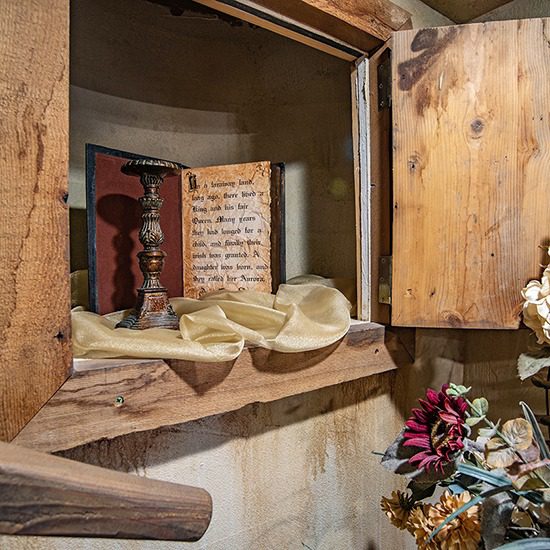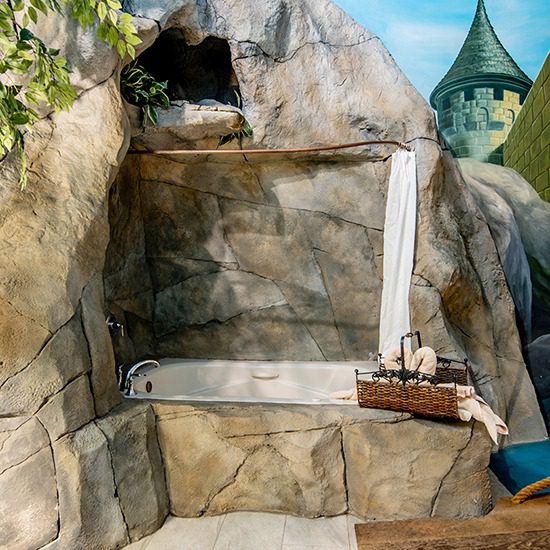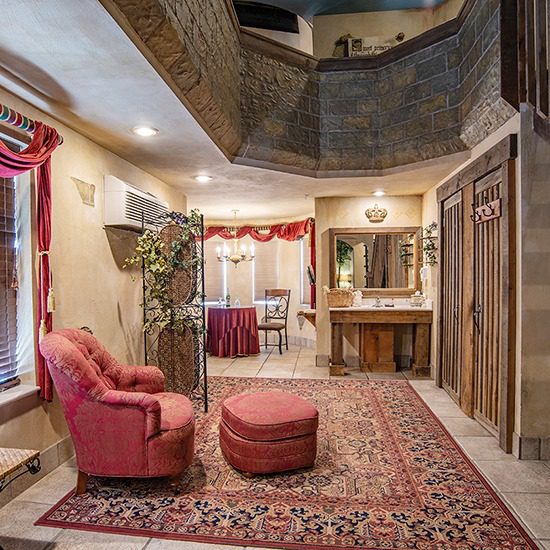 Taking every moment to get away from the real world to spend it with her. Here is the most amazing experience. This place offers some decompression for us and we love every second of it. As great as this place is, it's only as great as the person you stay here with. Needless to say, my stay has been beyond amazing, all four times and many more to come.
S & K
My husband surprised me with Sleeping Beauty's Castle for our five-year anniversary! He is not a typical romantic, but this room was the best way to share our one-on-one time! We also purchased the Crazy for You package so we got to take some souvenirs home including some of these wonderful robes! Excited to come back soon!
Nikelle & Tavis
This room was simply breathtaking. The only thing that was more breathtaking was seeing my man under that waterfall shower! That shower was amazing! It took us far away from everyday life, and let us enjoy the short time we have together during his leave from the Navy. I couldn't have asked for a better night in a wonderful establishment. I love you Adriane, our 3 years together have been absolutely worth it all. Can't wait to road trip!
A & T
My husband and I spent our one-year anniversary here. Such a beautiful room for a great quick getaway. We surely loved it!
The Barkes
Best friends retreat in Boy-see! Thank you for a beautiful stay and treating us like princesses all weekend. Having a blast and hope to visit again too!
Carolyn & Emileeeey
Join Our Email List
Sign up to join our email list and receive Anniversary Inn news and specials directly in your inbox. Sign up today!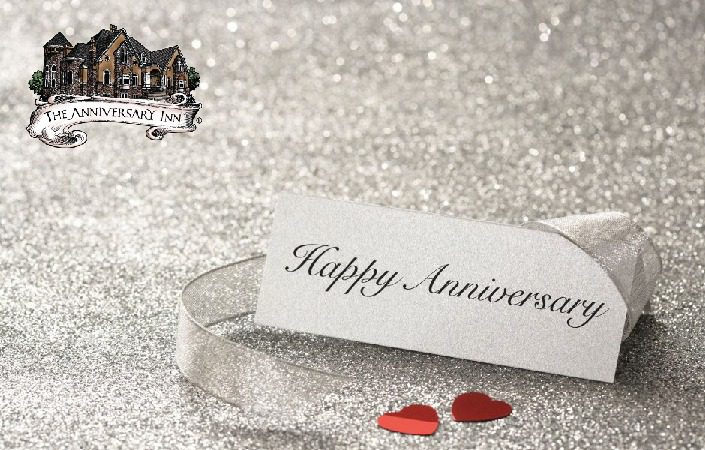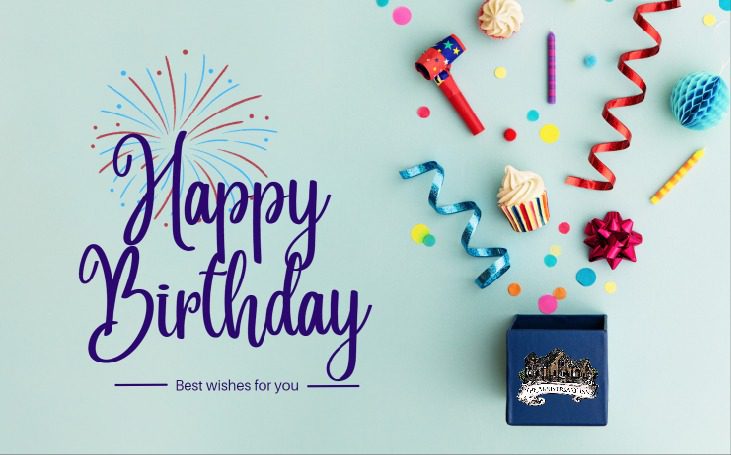 Special promotion codes for Anniversary and Birthday gifts will be emailed to you 1-4 weeks before the dates you have given us. Be sure to sign up today so you don't miss out.
Other Suites You May Like
'Love doesn't need to be perfect. It needs to be true.'
― Moosa Rahat
"But they say if you dream a thing more than once, it's sure to come true."
― Walt Disney Company, 12 Princess Stories
'I know you, I walked with you once upon a dream.' 
― Once Upon a Dream, Disney's Sleeping Beauty
Disclaimer: The photos as well as the amenities and characteristics of the suite as described on this page (such as type of tub, size of television screen, bed, etc.) may vary from what is in your suite at the time of your stay due to repairs and updates. If you require a specific type of tub or TV screen or other room characteristics during your stay, please call us and verify this with us on the phone to verify that we will be able to accommodate your needs. Otherwise, no refunds or discounts after your stay can be given due to minor variations in suite layout or characteristics such as these.
BOISE, IDAHO
1575 South Lusk Place
Boise, ID 83706
208-387-4900
1-800-324-4152
INN KEEPER
Galen Bechtel
[email protected]