Rio Grande
5th South, Salt Lake City, Utah
Suite Details
Queen bed
43″ TV
Jetted tub with waterfall shower
DVD player

Loveseat

Full breakfast included

Sparkling cider included
Snacks, DVD's and other lovely options available.
Stairs to enter bed and tub.
Located on the second floor.
All Aboard!
Reserve your seat as you take the fast track to romance and relaxation in an old-fashioned train car. Your ride will not be complete until you venture in to the train tunnel complete with a waterfall and Jacuzzi tub. All Aboard!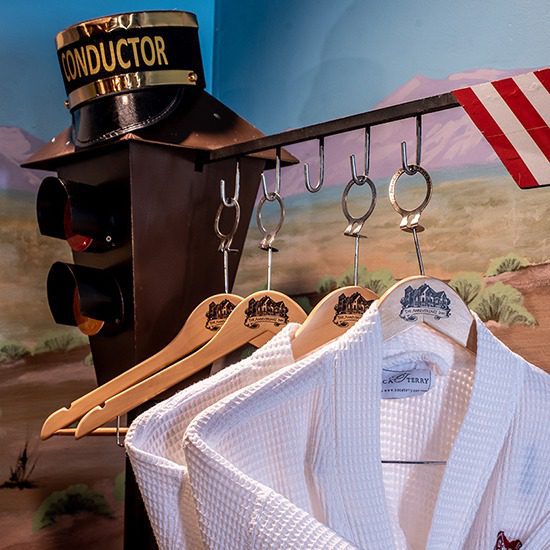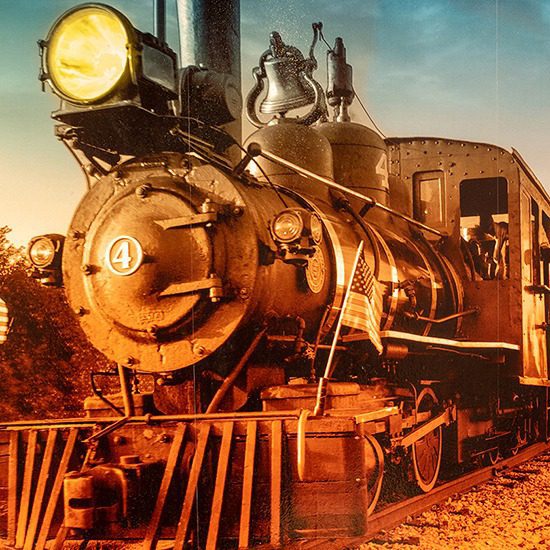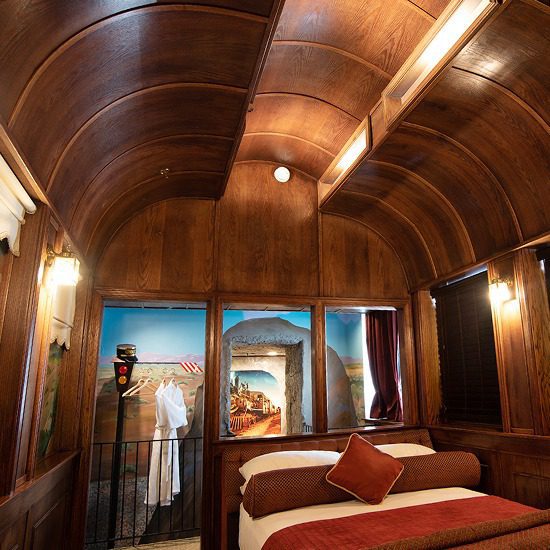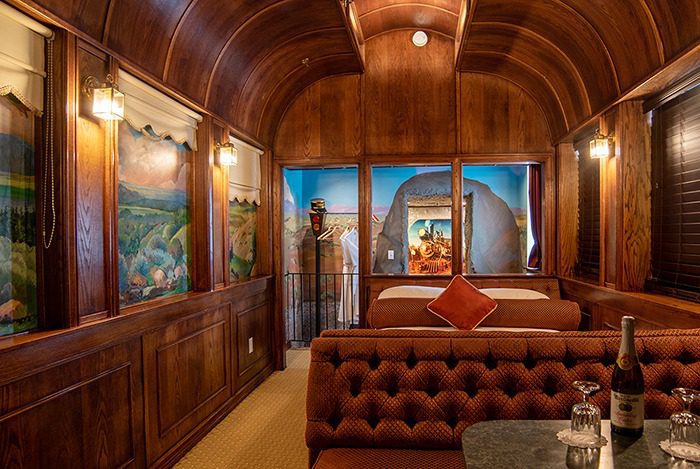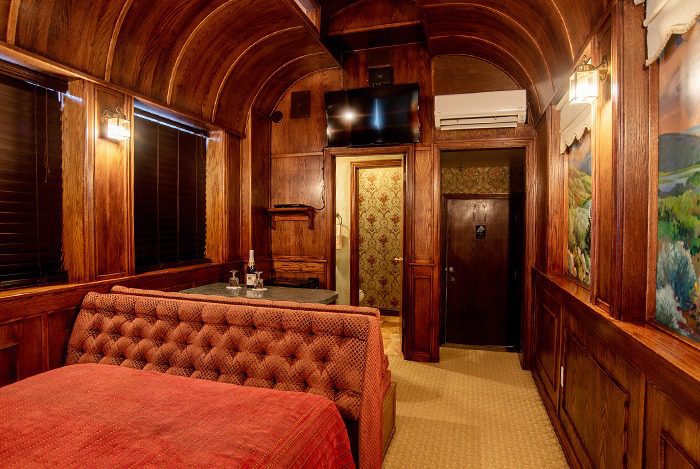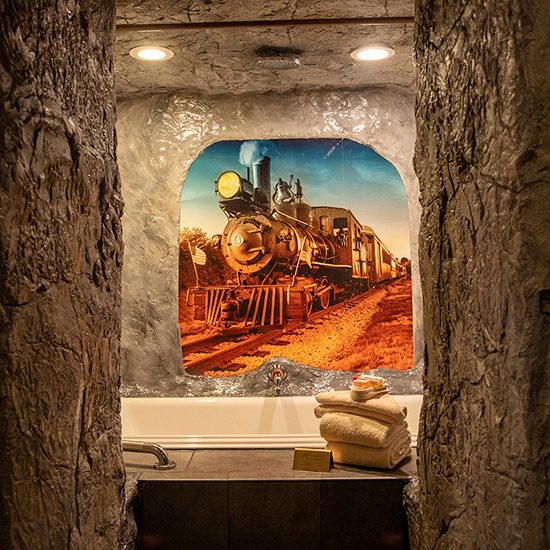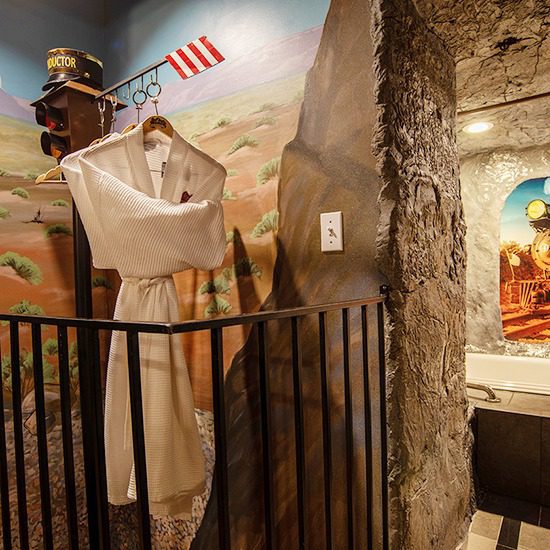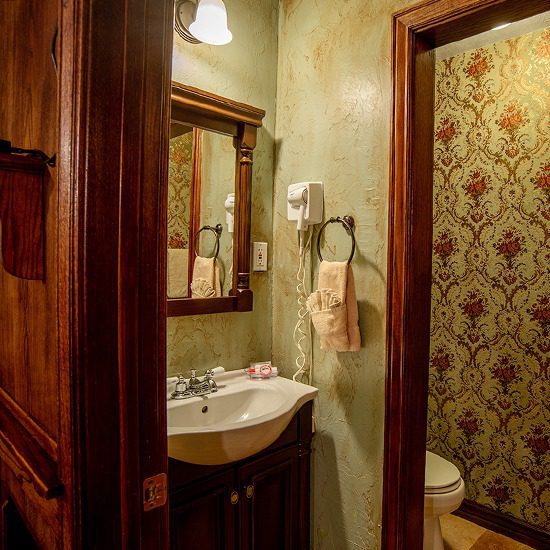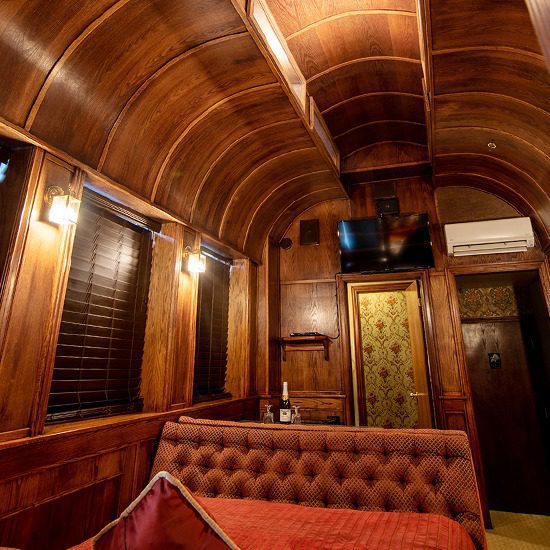 This was such a great getaway. We have never stayed here, but can't wait to come back. This suite was so cute! Having the noise from Trax added to the experience. Absolutely loved the tub! I told hubby we definitely need to get one for the house. Breakfast was so yummy. Staff was so friendly. Thanks for a great time.
K&K
This suite is beautiful. It was a nice relaxing night before our new adventure of moving to another state. It was just the night we heeded to rest and remember how much we love each other.
The Wadsworth Team
Today is my 31st birthday! We stayed at the Anniversary Inn on South Temple for our wedding night back in 2013. This year will be our 11th year together and our 9th wedding anniversary. Trax added to the train atmosphere in a good way. We send everyone who spends the night here love and happiness. XOXO P.S. the mirror above the toilet makes for a good selfie on the right angle.
The Haywoods
Hello fellow travelers, my wife and I stayed here for our first wedding anniversary. We absolutely loved it! The photos online didn't do it justice. Just… Wow! We really loved the whole feel of being on a train. Our stay was so loved and perfect. Perfect sparkling cider and cold water. I hope you had as fun and relaxing time as we did.
S & R
We got to spend our wedding night here. It was beautiful! Thank you so much! The trax outside definitely adds to it in an amazing way!
New Honeymooners.
Join Our Email List
Sign up to join our email list and receive Anniversary Inn news and specials directly in your inbox. Sign up today!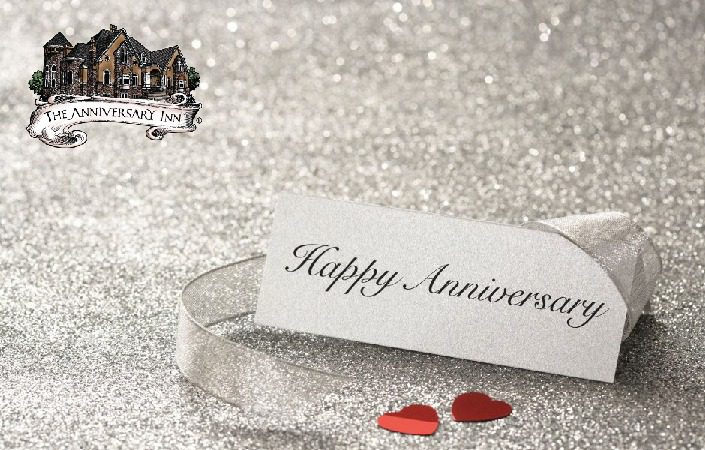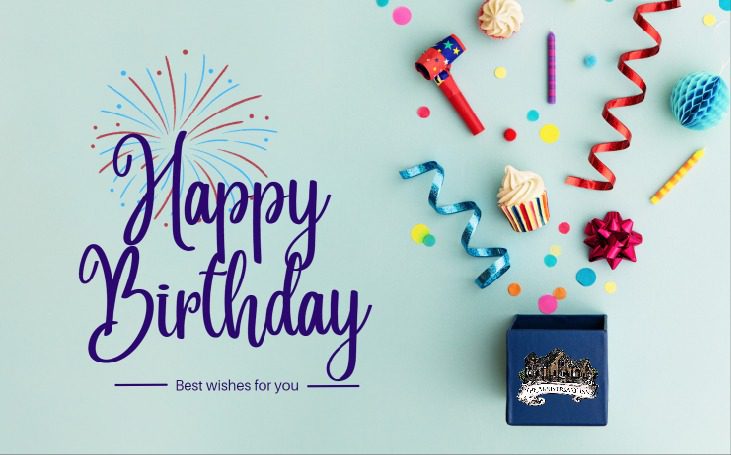 Special promotion codes for Anniversary and Birthday gifts will be emailed to you 1-4 weeks before the dates you have given us. Be sure to sign up today so you don't miss out.
Other Suites You May Like
People all over the world (everybody)
Join hands (join)
Start a love train, love train
People all over the world (all the world, now)
Join hands (love ride)
Start a love train (love ride), love train
— The O'Jays
Possibly the earliest example of a sleeping car, or bed carriage, was on the London and Birmingham and Grand Junction Railways between London and Lancashire, England. It was first made available to first-class passengers in 1838. Join our first-class guest list in your own private car, especially for two. It comes with modern amenities, sparkling cider and the fresh air of romance!
Relive the golden age of railroads and discover a world few get to see. The Rio Grande steam engine rides through breathtaking mountain valleys and passes on hundreds of miles of historic rail. Our leisure train makes great vacation and gift ideas departing daily from Salt Lake City to Dreams Beyond. The steam from our train will transport you to the heart of romance.
Disclaimer: The photos as well as the amenities and characteristics of the suite as described on this page (such as type of tub, size of television screen, bed, etc.) may vary from what is in your suite at the time of your stay due to repairs and updates. If you require a specific type of tub or TV screen or other room characteristics during your stay, please call us and verify this with us on the phone to verify that we will be able to accommodate your needs. Otherwise, no refunds or discounts after your stay can be given due to minor variations in suite layout or characteristics such as these.
SALT LAKE CITY
5TH SOUTH
460 South 1000 East
Salt Lake City, UT 84102
801-363-4900
1-800-324-4152
INN KEEPER
Kristen Blea
[email protected]