King Arthur's Castle
Logan, Utah
Suite Details
Queen-size bed
50″ TV visible from the bed
28″ TV visible from the tub
Jetted tub
Separate shower with dual shower heads
Fireplace above the tub (turned off from May 15-October 15)
DVD player
Full breakfast included
Sparkling cider included
Snacks, DVD's and other lovely options available.
Located on the second floor.
A Night in Shining Armor
(Or at least stone turrets.) Do you have the strength to pull the Sword from the Stone? Fulfill your destiny in King Arthur's Castle when you step through the rock tunnel and are transported through time. This royal suite, decorated in gray castle-rock turrets and marble statues, will turn you and your true love into a king and queen. This spacious suite is complete with a warm fireplace, large screen TV, and a Michelangelo-style painted ceiling. This exquisite room is sure to make your special someone feel like royalty and make for an unforgettable and romantic evening.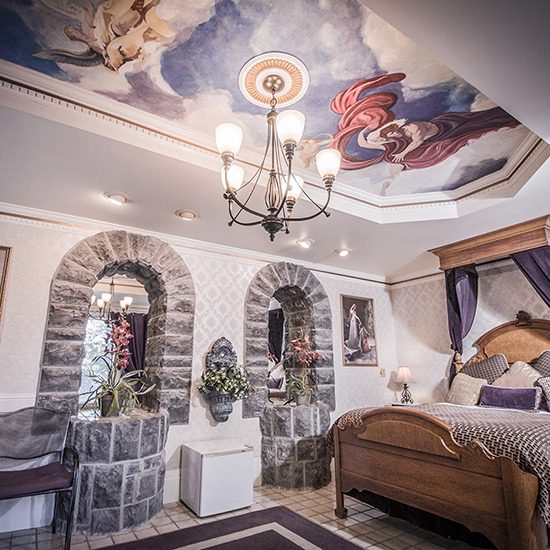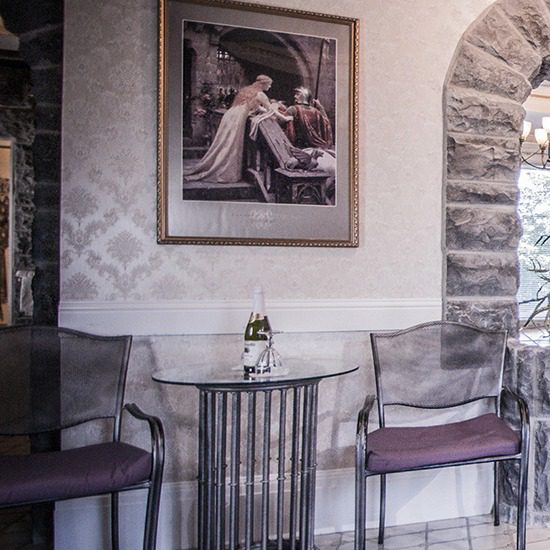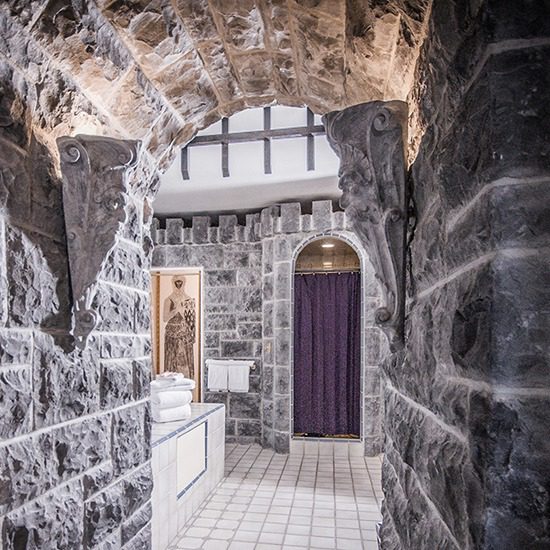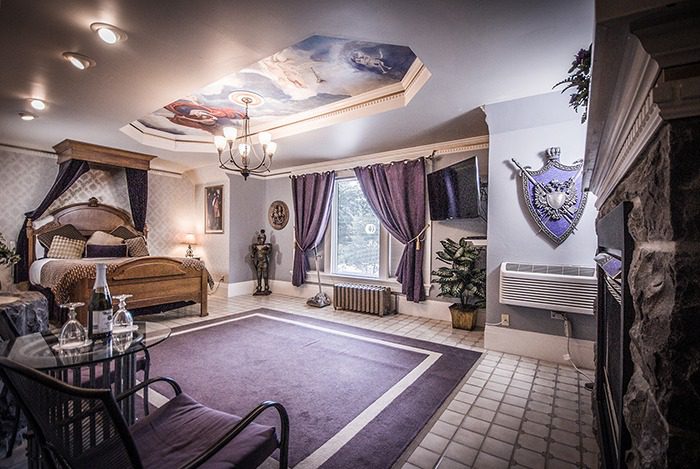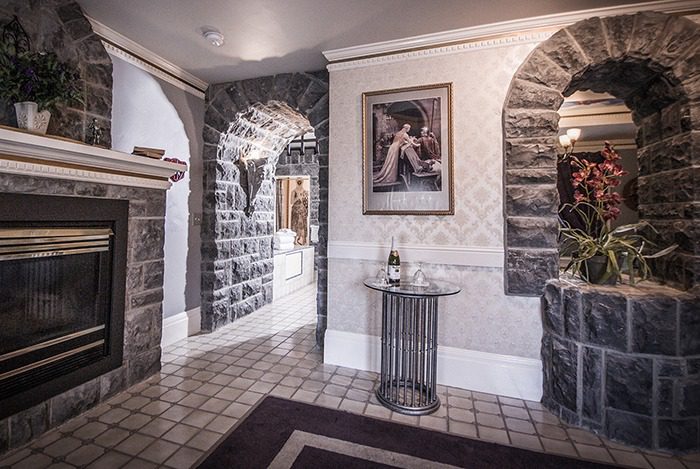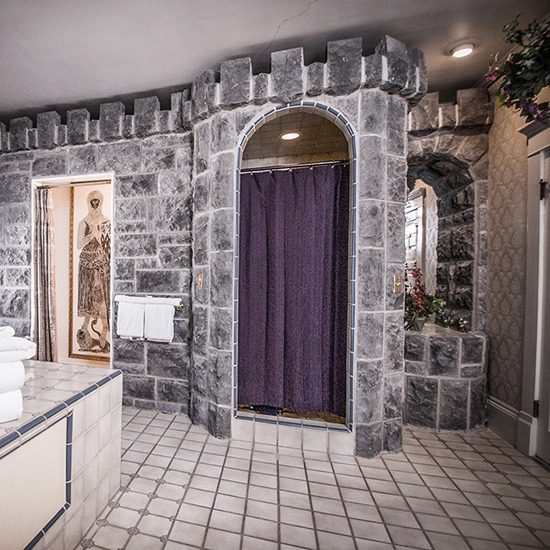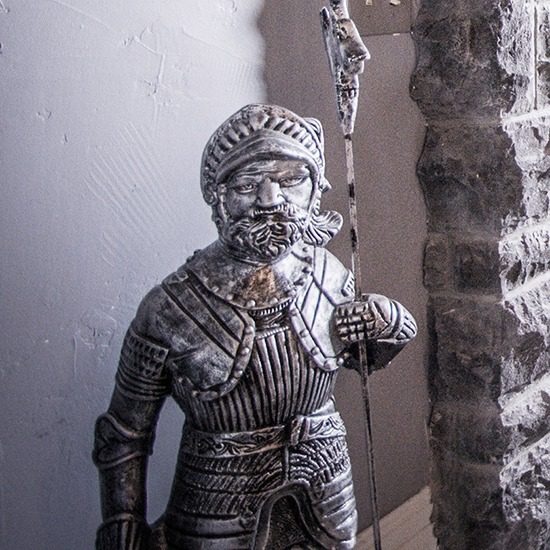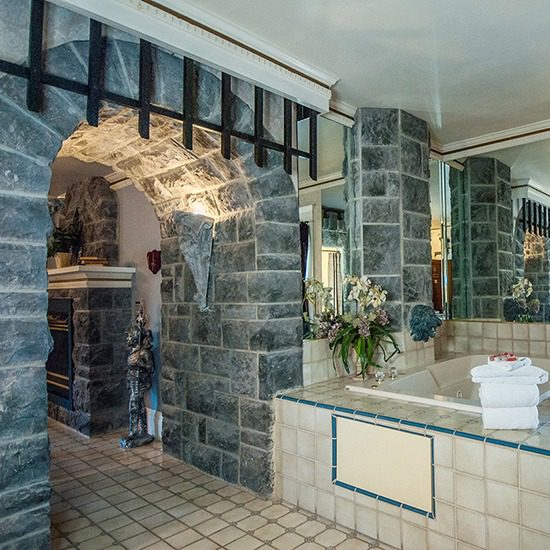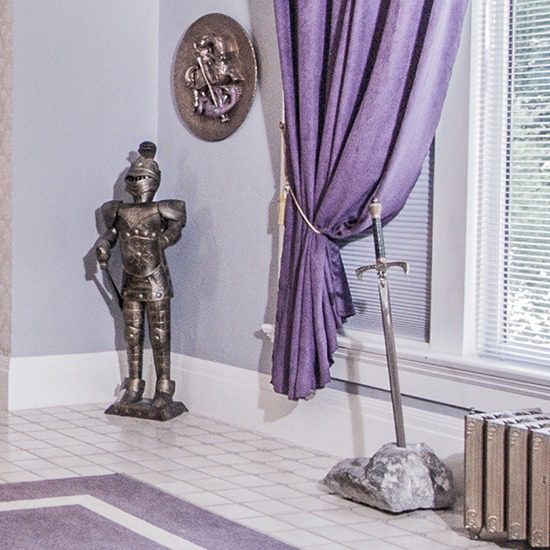 We are celebrating my birthday and our 34th anniversary. We have stayed in a different themed room every year for the same reason—we absolutely love this place! We keep coming back! I love the different themed rooms!
Paul & Michelle Price
What an amazing room! The staff was pleasant. The food was great! We will be trying the one in Boise, Idaho next. Thanks for a wonderful stay!
The Williams
We came to celebrate our 24th anniversary. We have never been to The Inn before. We booked this room because we are both huge fans of medieval décor and themes. We really loved all the décor and the archways. We really felt like we were in a castle. We booked a second night to try a different room. Well done. Staff and service were top notch. Thank you for making our nights such a special occasion.
The Tracys
My husband and I came for our 30th anniversary. Loved the theme/décor and the size of the room/tub/shower. Would definitely stay again and refer this place to all. Thank you!
The Matthews
Yesterday was our 4 year annniversary. This is our 2nd stay, but will not be the last. I am always impressed by how friendly the staff are. Can't wait to pick next years room and start another adventure
Sheri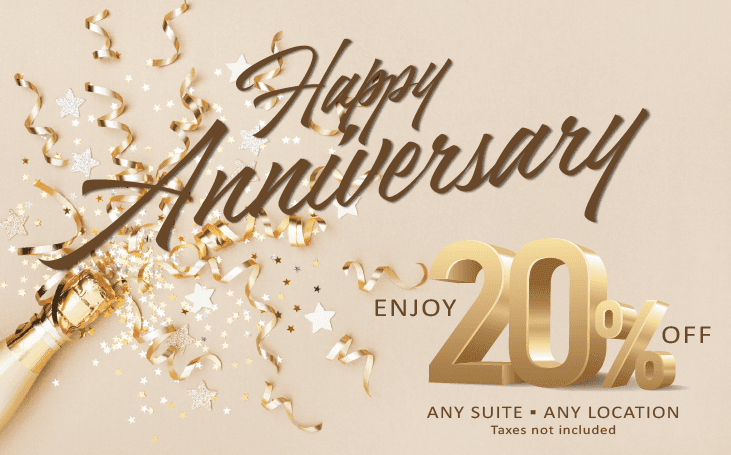 Sign up for our email list and receive Anniversary Inn news and specials directly in your inbox. Sign up today!
New York City is the most populous city in the United States, with an estimated population of 8.3 million people. But you can enjoy the big apple with just the two of you.  
The City of Tall Sky Scrapers
Overlook the city below as you snuggle in your cozy bed under the deep blue starry sky. 
As many as 800 languages are spoken in New York, making it the most linguistically diverse city in the world. But when you close the door, the only language you will need is the language of love.
Disclaimer: The photos as well as the amenities and characteristics of the suite as described on this page (such as type of tub, size of television screen, bed, etc.) may vary from what is in your suite at the time of your stay due to repairs and updates. If you require a specific type of tub or TV screen or other room characteristics during your stay, please call us and verify this with us on the phone to verify that we will be able to accommodate your needs. Otherwise, no refunds or discounts after your stay can be given due to minor variations in suite layout or characteristics such as these.
LOGAN, UTAH
169 East Center Street
Logan, UT 84321
435-752-3443
1-800-324-4152
INN KEEPER
Molly Winborg
[email protected]