Biker Roadhouse
Logan, Utah
Suite Details
King-size bed
48″ LCD TV
Jetted tub
Separate rain shower
Pinball machine
Billiards table
Life-sized motorcycle
Vintage fuel pump
Loveseat
DVD player
Soda fountain
Complimentary bucket of popcorn
Full breakfast included
Sparkling cider included
Snacks, DVD's and other lovely options available.
Located on the second floor.
Catch Your Ride
Take a trip down Route 66, get on your Harley, and take the off ramp onto a bygone era. Don't forget to fill 'er up at the old gas pump. The murals inside this magnificent suite will make you feel like you're on the road to yesteryear. Stop in and play a game of billiards or a rousing game of pinball on the Harley pinball machine. After a long adventurous evening, enjoy a soak in the jetted tub while sipping on our complimentary, chilled cider. Grab some popcorn and a cold soda and relax in the King-sized bed while enjoying your favorite show on the 48″LCD TV.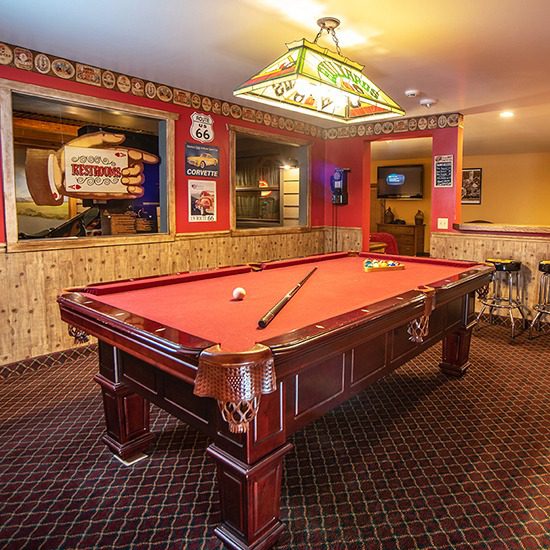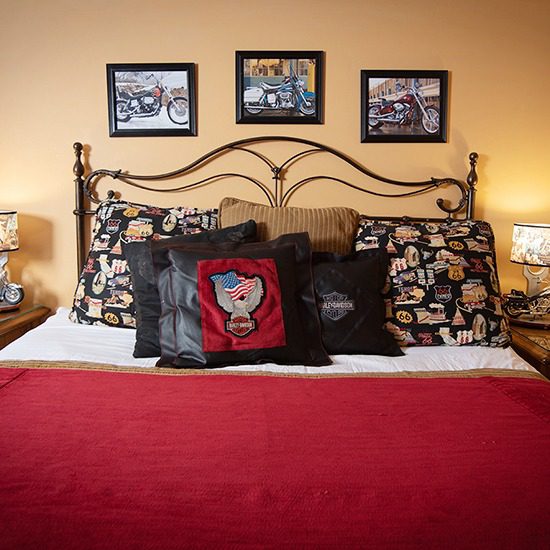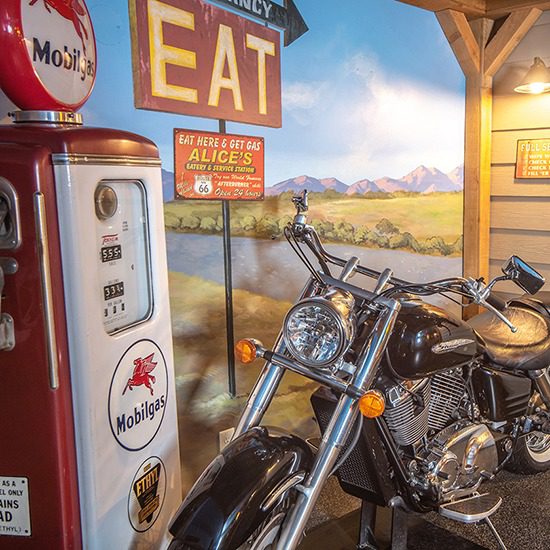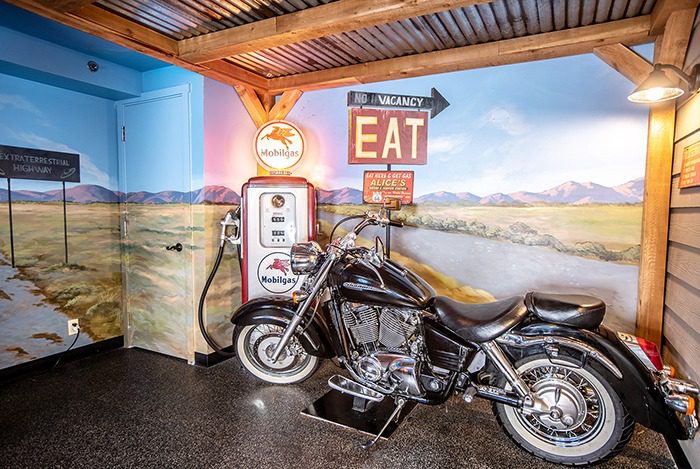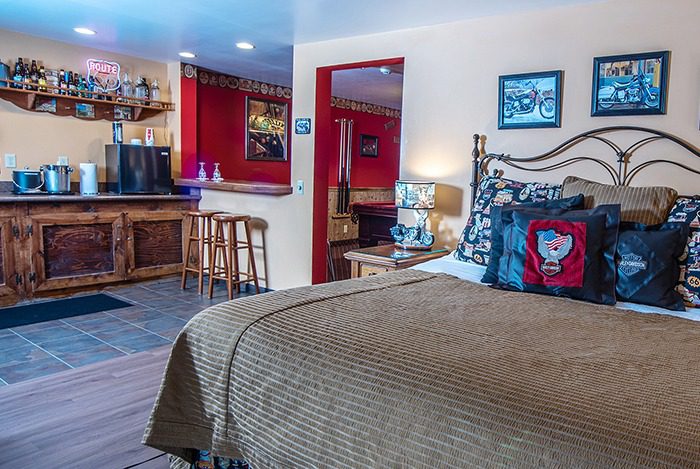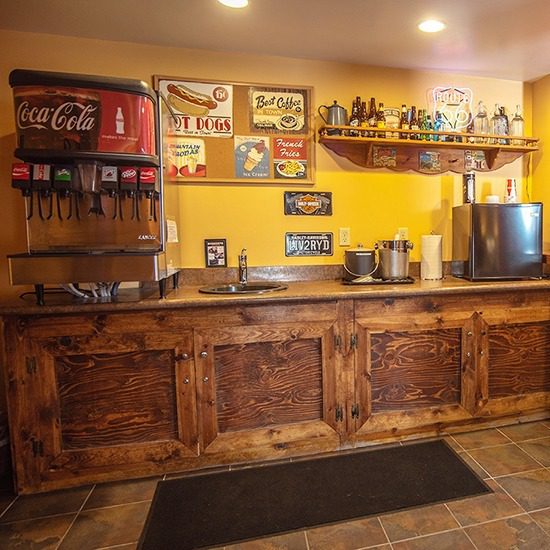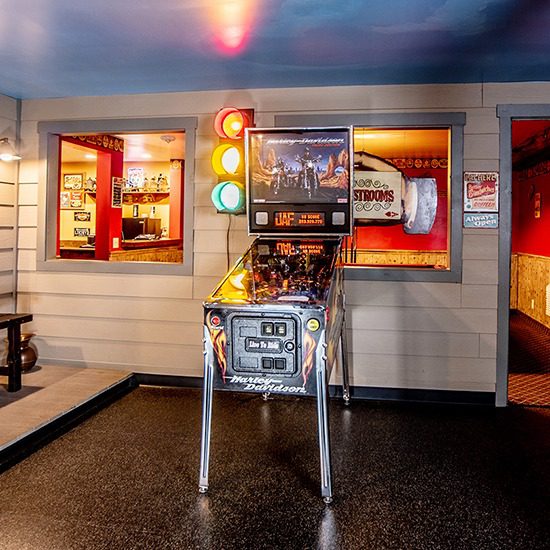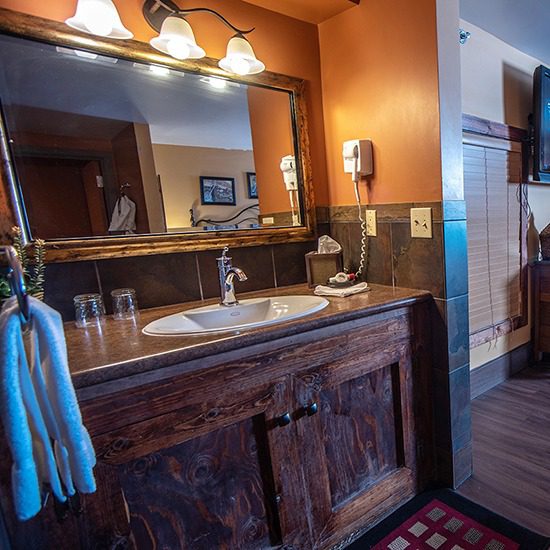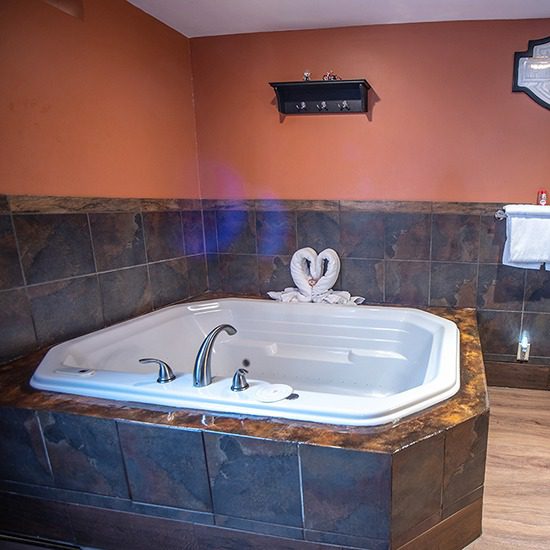 We loved the pinball machine and pool table. It brought out our competitive sides. Be sure to turn on the hit start x2 for 2 player game (pinball). We will definitely be back maybe to celebrate our 24th 🙂 GET THE COUPLE MASSAGES!!
D & M
Loved the room. So much fun playing pool and pinball! Such a fun room and a great getaway for us!
J & S
First time staying here and we were not disappointed! I loved the tub, and he loved the pinball machine. I want to check out other rooms now!
R & R
Loved the room. All time favorite so far. Would definitely stay again. Love having bathtub and shower separate had a blast with the cupcake bath bomb/bubbles.
Steph & Mike
We loved this room! The pool table was so fun to play, and my husband loved the soda. The popcorn was a lovely extra bonus. We are from Logan and just decided to stay local for our first anniversary.  🙂 Definitely coming back.
P & A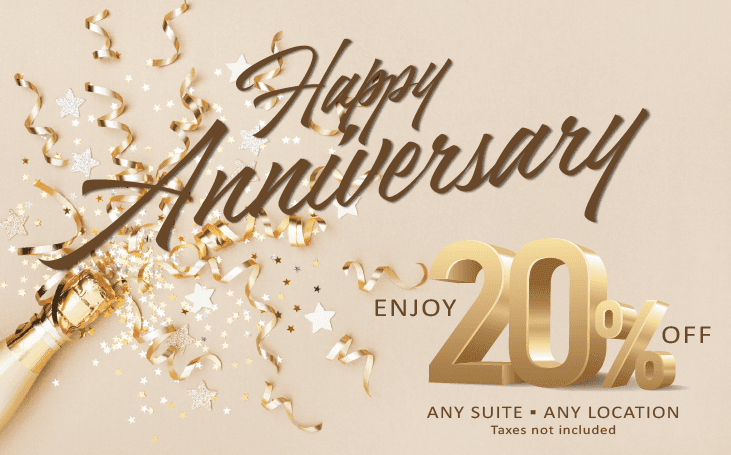 Sign up for our email list and receive Anniversary Inn news and specials directly in your inbox. Sign up today!
Other Suites You May Like
New York City is the most populous city in the United States, with an estimated population of 8.3 million people. But you can enjoy the big apple with just the two of you.  
The City of Tall Sky Scrapers
Overlook the city below as you snuggle in your cozy bed under the deep blue starry sky. 
As many as 800 languages are spoken in New York, making it the most linguistically diverse city in the world. But when you close the door, the only language you will need is the language of love.
Disclaimer: The photos as well as the amenities and characteristics of the suite as described on this page (such as type of tub, size of television screen, bed, etc.) may vary from what is in your suite at the time of your stay due to repairs and updates. If you require a specific type of tub or TV screen or other room characteristics during your stay, please call us and verify this with us on the phone to verify that we will be able to accommodate your needs. Otherwise, no refunds or discounts after your stay can be given due to minor variations in suite layout or characteristics such as these.
LOGAN, UTAH
169 East Center Street
Logan, UT 84321
435-752-3443
1-800-324-4152
INN KEEPER
Molly Winborg
[email protected]