Nefertiti's Court
Logan, Utah
Suite Details
Two room suite
King-size bed
46″ TV visible from the bed
26″ TV visible from the tub
Jetted tub
Separate shower
Marble reflecting pool
DVD player
Full breakfast included
Sparkling cider included
Snacks, DVD's and other lovely options available.
Located on the first floor.
The Beautiful One
Arrive in the mystical land of Egypt and float down the Nile to arrive inside Nefertiti's Court. Allow the stunning murals of this magnificent golden suite transport you into the Royal Palace of Nefertiti and Akhenaten. When you and your Queen enter this suite, you will know that "The Beautiful One Has Come." Enjoy the ancient wonders of Egypt you as you sit by the reflecting pool. Relax in your own private bedroom, worthy of a Queen (and King of course!). Soak in the jetted tub and enjoy the separate shower. This suite comes complete with a 46″LCD flat screen TV in the bedroom area and a 26″LCD flat screen TV by the tub for your personal leisure.
(Once inside the tour, click and drag your mouse to look around, or click on the circles to move around the suite.)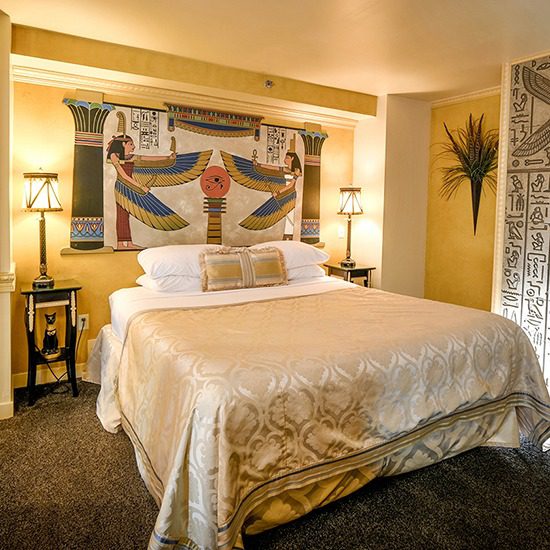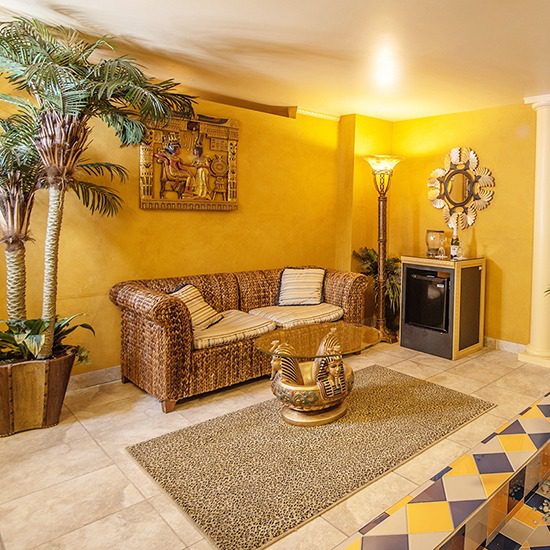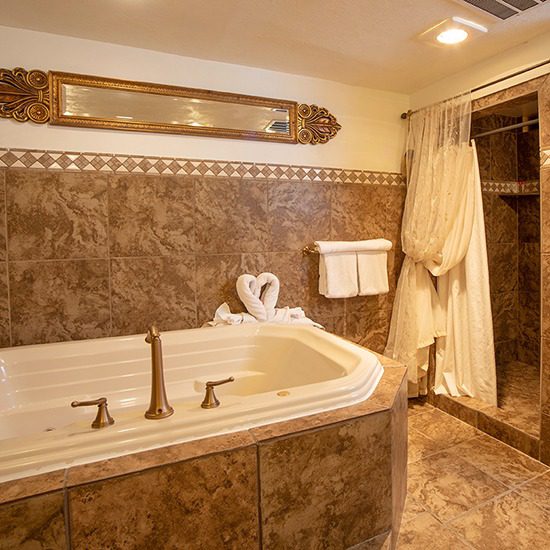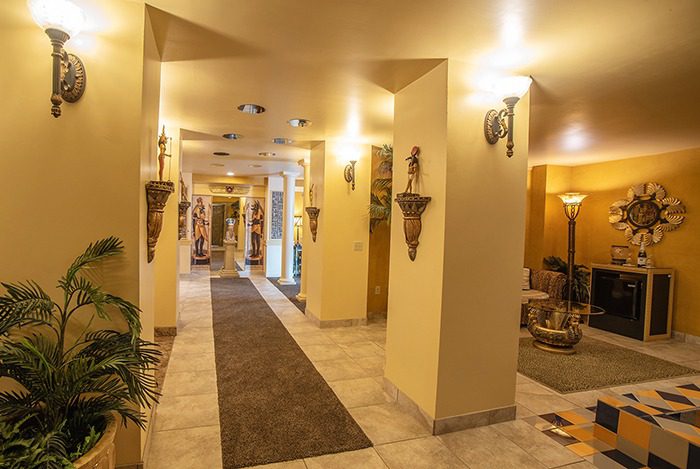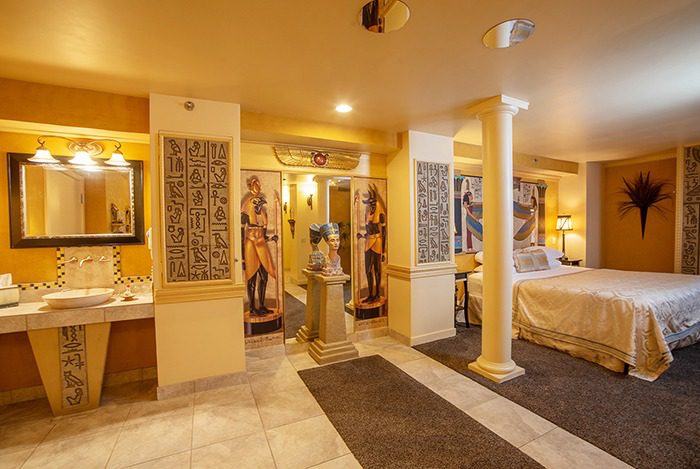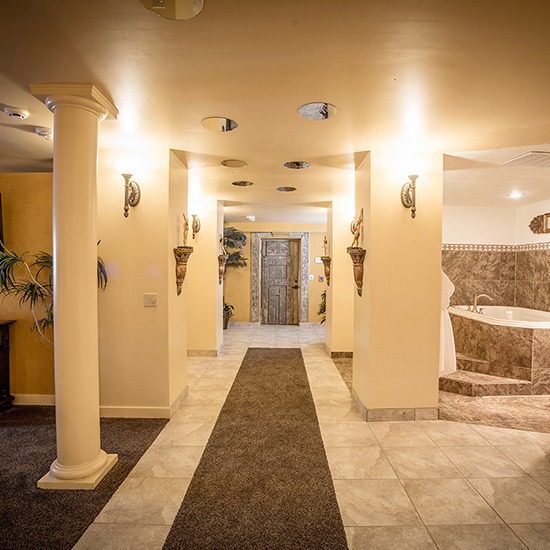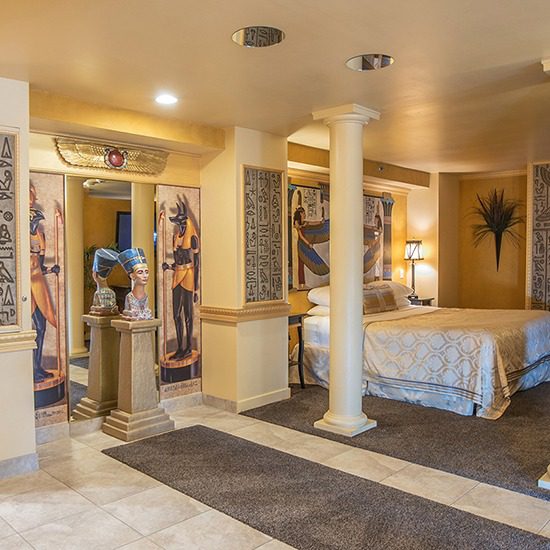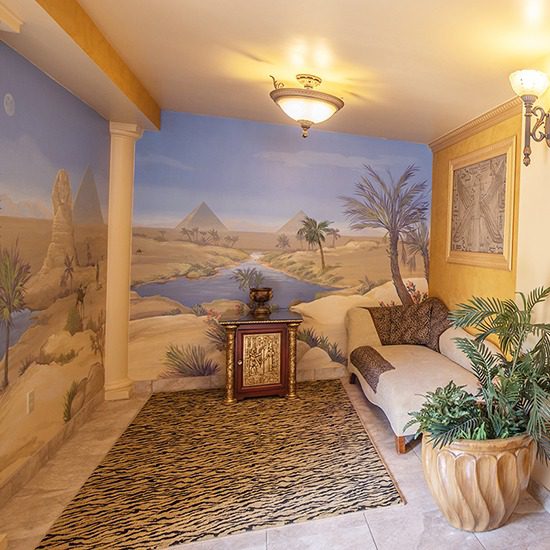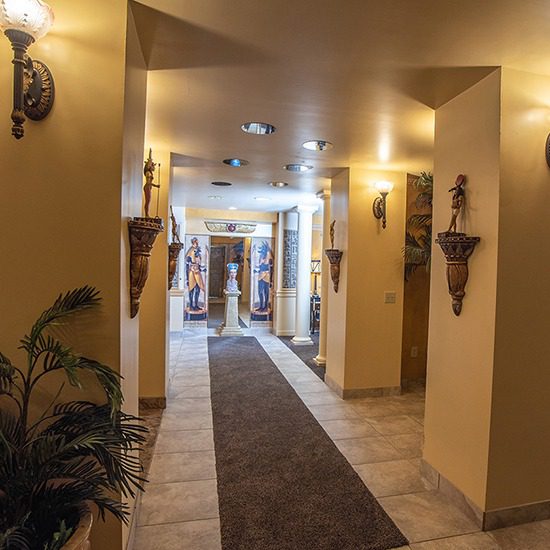 The staff and the room was wonderful. We came to relax, and it was a great little get away. We will come back in the future. Thank you Anniversary Inn. Our stay in Egypt was fun!
Mr. & Mrs. R
We came 20 years ago the first time when I won a night from my work! Today we are back celebrating 45 years, and it is still as fun as 20 years ago! Thanks for a fun anniversary!
Brent & Duane
Fourth anniversary celebration! We love it here. It was our first time staying at the Anniversary Inn and it has been incredibly relaxing and enjoyable. Can't wait to come back and try out another room theme! Thank you!
The Hawkins
This was our first time to any of The Anniversary Inns. So grateful that we came to Logan!!! The room is shockingly amazing, so creative and fun! The front desk was so kind and patient with all my questions, and guided us to the location of our room. They were also super helpful when renting movies. This is the perfect staycation, not too far from home. Rest, relaxation, and what our relationship needed! We've been married for 20 years. Thank you to all staff for making it an exceptional visit! We will be back! Breakfast was tasty too!
Mike & Steph
We had a ton of fun exploring all the cool details. LOVED the tub! Best wedding gift we got!
The Carters
Join Our Email List
Sign up to join our email list and receive Anniversary Inn news and specials directly in your inbox. Sign up today!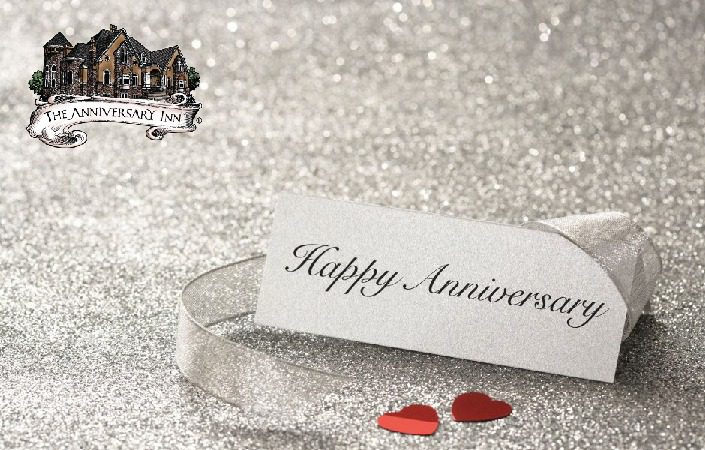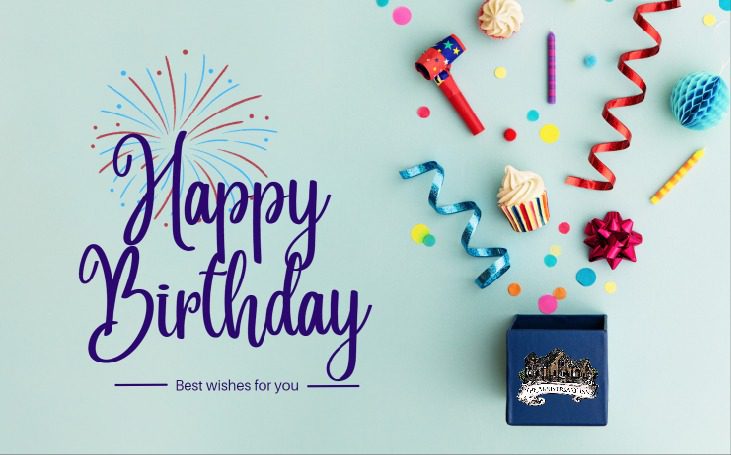 Special promotion codes for Anniversary and Birthday gifts will be emailed to you 1-4 weeks before the dates you have given us. Be sure to sign up today so you don't miss out.
Other Suites You May Like
My love is unique and none can rival her. Just by passing, she has already stolen away my heart.
— Michelle Moran, Nefertiti
We are travelers on a cosmic journey, stardust, swirling and dancing in the eddies and whirlpools of infinity. Life is eternal. We have stopped for a moment to encounter each other, to meet, to love, to share. This is a precious moment. It is a little parenthesis in eternity.
― Paulo Coelho, The Alchemist
I don't live in either my past or my future. I'm interested only in the present. If you can concentrate always on the present, you'll be a happy man. Life will be a party for you, a grand festival, because life is the moment we're living now.
― Paulo Coelho, The Alchemist
Disclaimer: The photos as well as the amenities and characteristics of the suite as described on this page (such as type of tub, size of television screen, bed, etc.) may vary from what is in your suite at the time of your stay due to repairs and updates. If you require a specific type of tub or TV screen or other room characteristics during your stay, please call us and verify this with us on the phone to verify that we will be able to accommodate your needs. Otherwise, no refunds or discounts after your stay can be given due to minor variations in suite layout or characteristics such as these.
LOGAN, UTAH
169 East Center Street
Logan, UT 84321
435-752-3443
1-800-324-4152
INN KEEPER
Molly Winborg
[email protected]