Treasure Island
(Suite #12)
5th South, Salt Lake City, Utah
Suite Details
King bed
50″ TV by bed, 55″ TV by tub

Jetted tub with waterfall shower

DVD player

Full breakfast included

Sparkling cider included
Snacks, DVD's and other lovely options available.
Stairs to upper level bed and eating area.
Located on the second floor.
A Night at Sea
You won't abandon this pirate ship as you sail away for a night in the Caribbean. Enjoy the ocean view and sea life as you soak in the Jacuzzi on deck. Step up to the Captain's quarters and spend a night under the stars.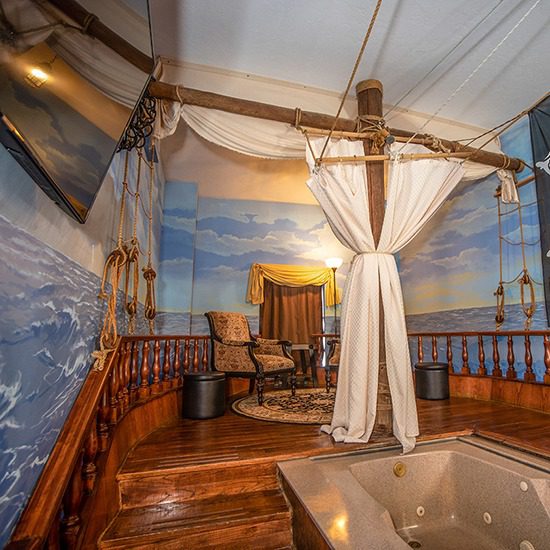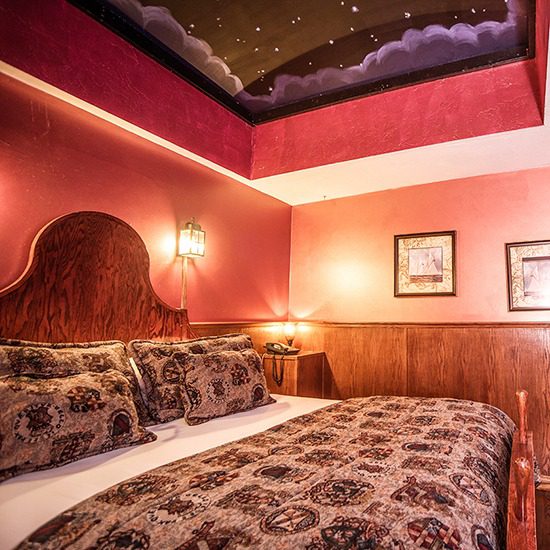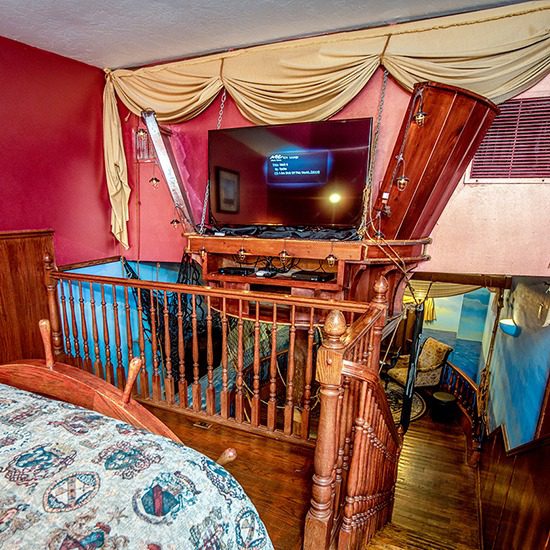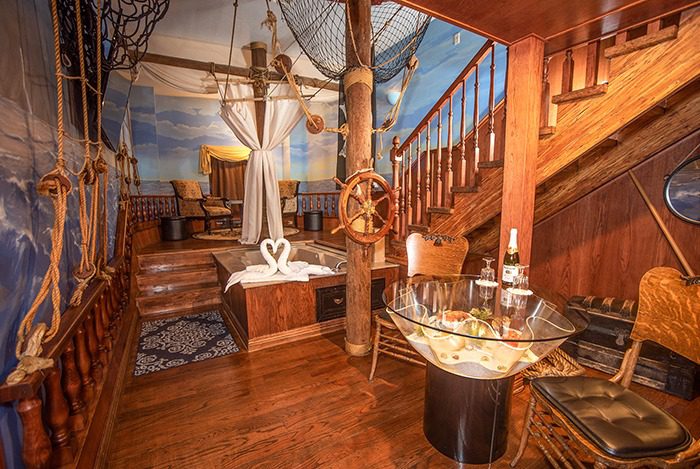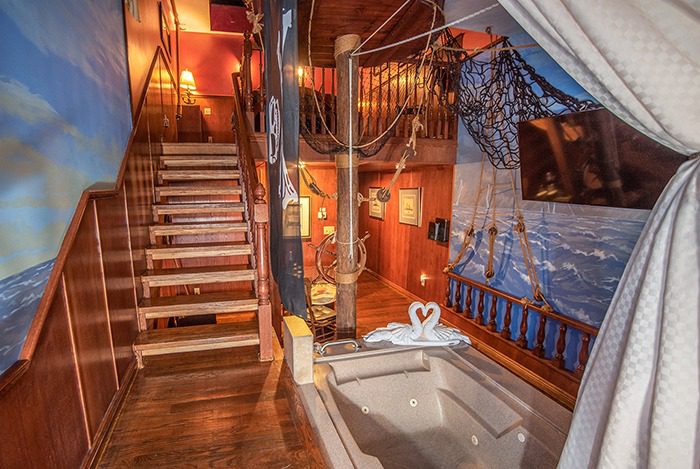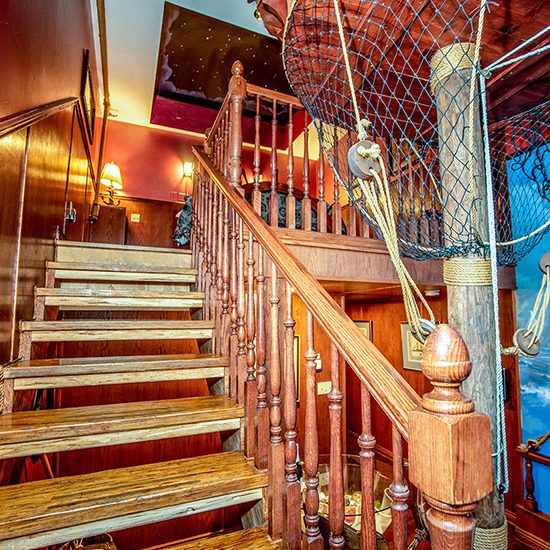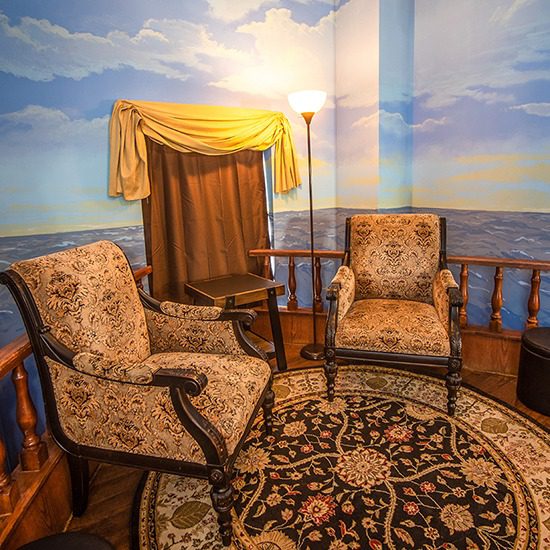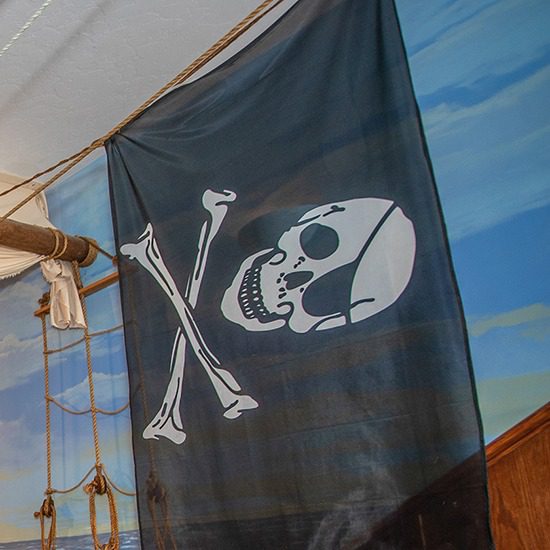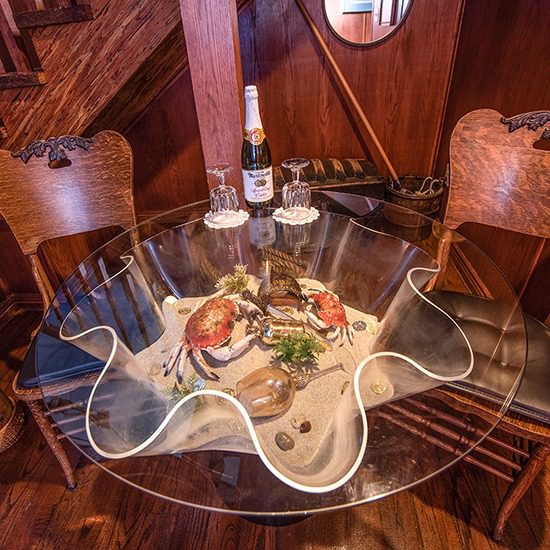 We are going to see the play Treasure Island at Hale Center Theater this evening. So we made it a themed trip. So fun! Love the mural on the wall, especially while in the tub! Appreciated the previous tips about how to get the shower curtain around the tub (pull rope by pole wheel) Dual TV system was cool. Wish there was a little more light for the shower, but we managed. We loved Anniversary Inn!
Dave & Sana
Argh, matie, we set sail for adventure and had a wonderful time, there was a small incident with a tropical storm (mind the shower) all in all an excellent adventure, keep adventuring.
The Captain
Ahoy matey! This ship is a jolly good one. We set sail on these roarin' waters, we even hit a mighty storm. Me and my matey sailed hard for our one year anniversary. Arrgh! Enjoy the waves, sailors! Eat lots of Vitamin C to avoid scurvy. [Just stay in the Citrus Crush room down the hall! -Management]
Happy sailors
Had a blast at our pirate ship getaway for our 8th wedding anniversary. On our honeymoon we stayed at the Hayloft suite and look at us now! Thank you!
Pirate lovers
My husband's parents were so nice to reserve this suite for us after we got married. We loved all of the small details of the large tub. Breakfast was good and being able to relax without being disturbed was and is a must! I'll never forget this experience! We'll be back!
Happy honeymooners
Join Our Email List
Sign up to join our email list and receive Anniversary Inn news and specials directly in your inbox. Sign up today!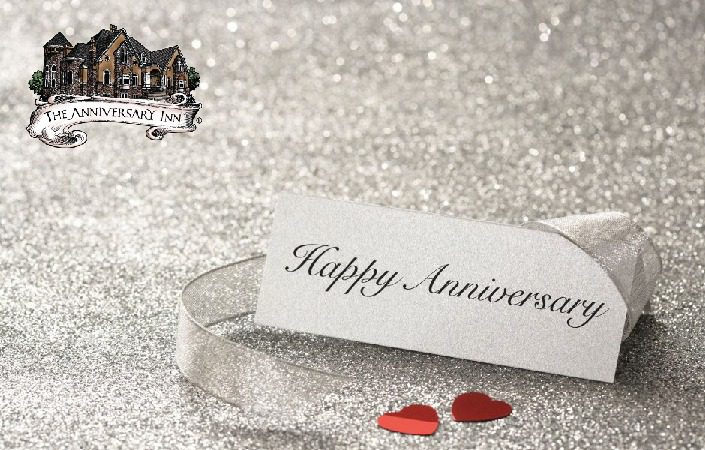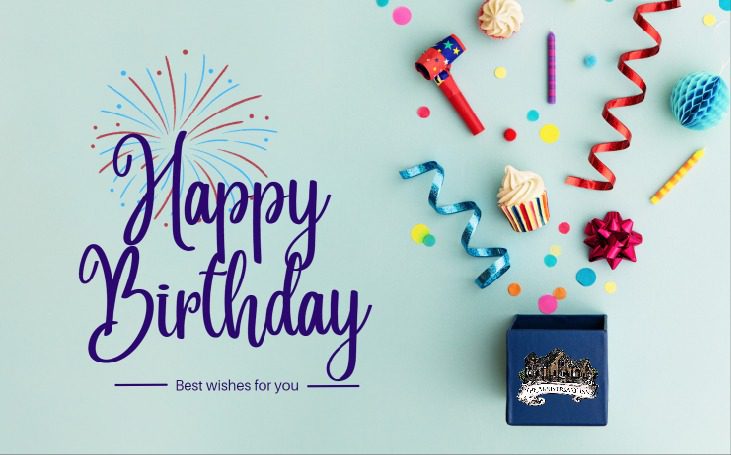 Special promotion codes for Anniversary and Birthday gifts will be emailed to you 1-4 weeks before the dates you have given us. Be sure to sign up today so you don't miss out.
Other Suites You May Like
New York City is the most populous city in the United States, with an estimated population of 8.3 million people. But you can enjoy the big apple with just the two of you.  
The City of Tall Sky Scrapers
Overlook the city below as you snuggle in your cozy bed under the deep blue starry sky. 
As many as 800 languages are spoken in New York, making it the most linguistically diverse city in the world. But when you close the door, the only language you will need is the language of love.
Disclaimer: The photos as well as the amenities and characteristics of the suite as described on this page (such as type of tub, size of television screen, bed, etc.) may vary from what is in your suite at the time of your stay due to repairs and updates. If you require a specific type of tub or TV screen or other room characteristics during your stay, please call us and verify this with us on the phone to verify that we will be able to accommodate your needs. Otherwise, no refunds or discounts after your stay can be given due to minor variations in suite layout or characteristics such as these.
SALT LAKE CITY
5TH SOUTH
460 South 1000 East
Salt Lake City, UT 84102
801-363-4900
1-800-324-4152
INN KEEPER
Kristen Blea
[email protected]