Caribbean Sea Cave
Logan, Utah
Suite Details
Queen-size bed (bed is a boat!)
60″ TV – visible from the bed
Jetted tub
Separate shower
Fireplace above the tub (turned off from May 15-October 15)
Love seat
DVD player
Full breakfast included
Sparkling cider included
Snacks, DVD's and other lovely options available.
Located on the first floor.
A Marine Dream
Take a dive into the depths of the Caribbean Sea Cave where you will swim alongside exotic marine life. The Caribbean Sea Cave comes complete with a Jacuzzi tub, a warm, cozy fireplace and a big, flat screen TV visible from the bed and sitting area. After a long trip to the Caribbean, find relaxation in the queen-sized bed inside of your own personal boat and let the ocean waves slowly drift away to dreamland.
(Once inside the tour, click and drag your mouse to look around, or click on the circles to move around the suite.)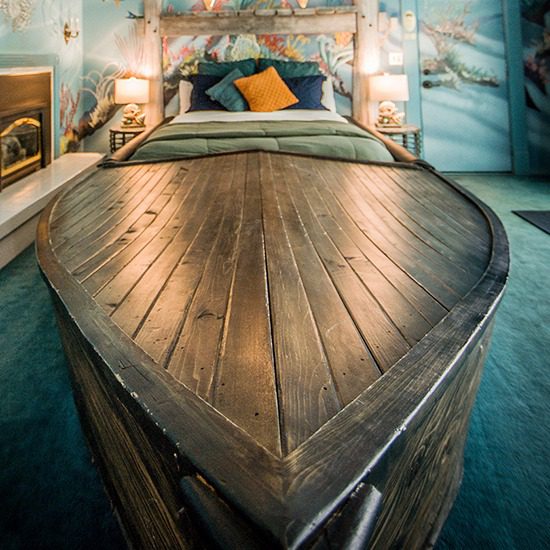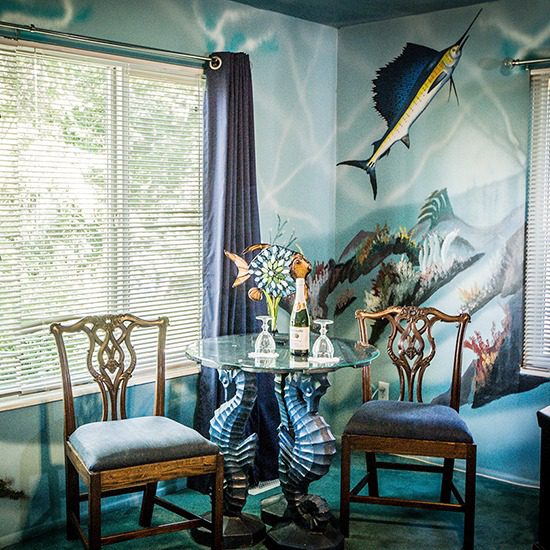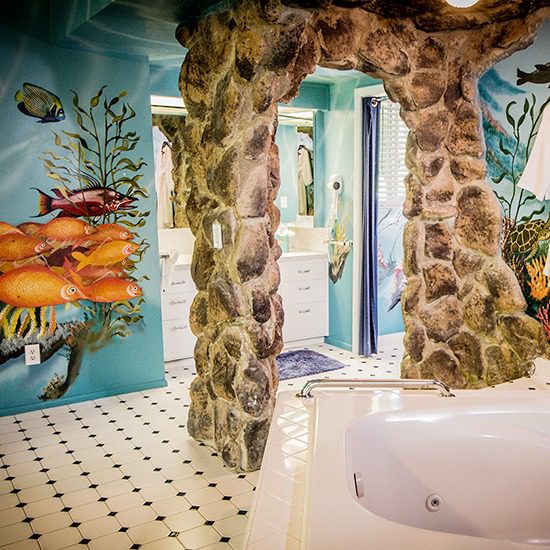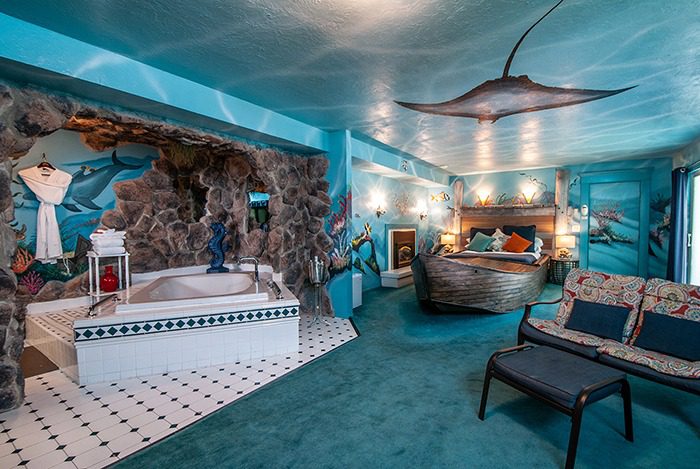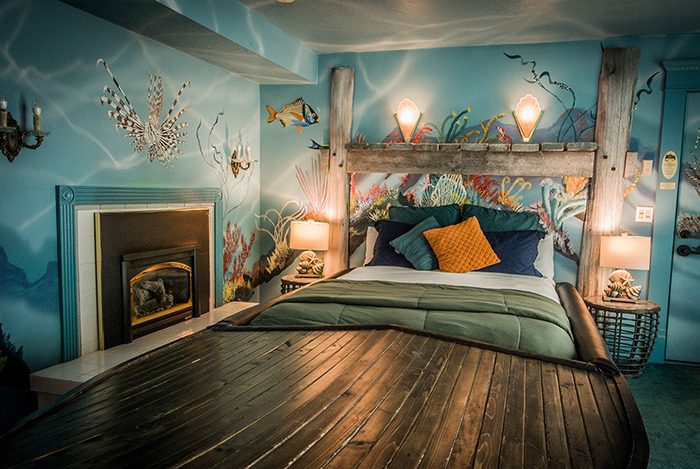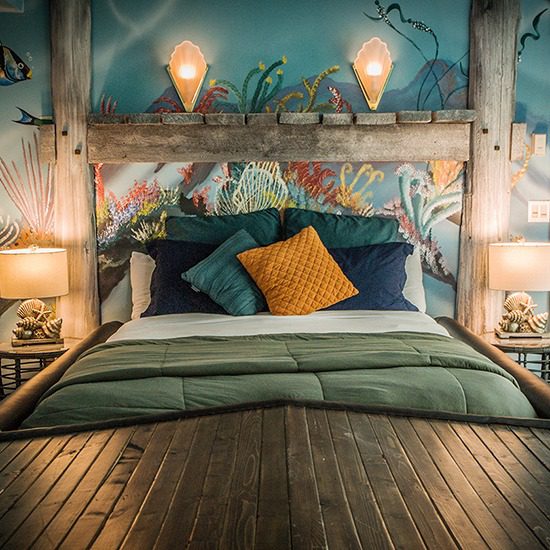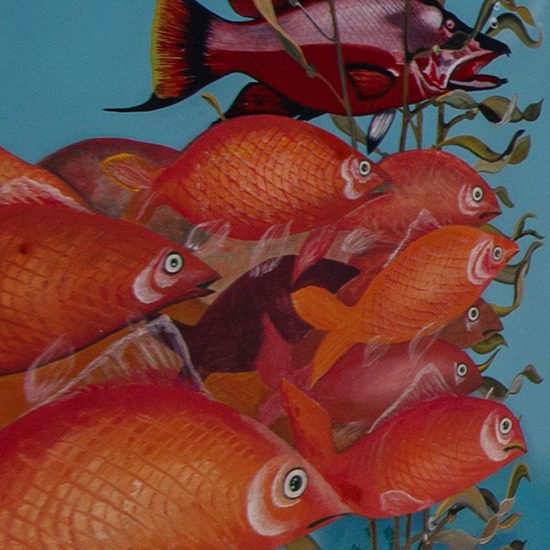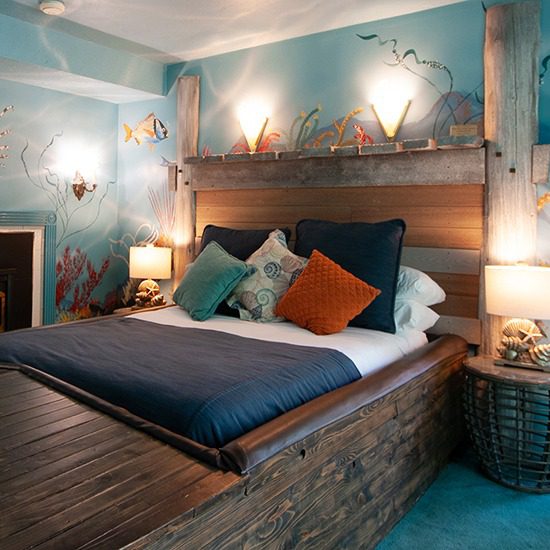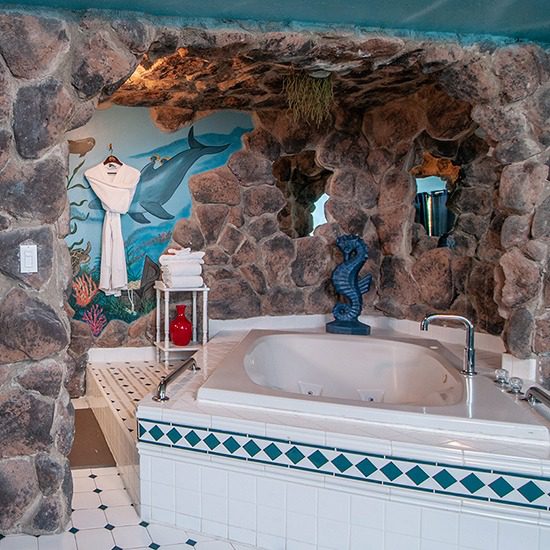 We are celebrating our 10 year anniversary. It was my husbands year to plan our anniversary. We have been to other hotels and inns with jetted tubs but not one this nice and amazing. We were able to sit side by side. It was so nice to be spoiled for a night. The bed is a lot more comfy then most places. The painting is so beautiful. I love the cave feel to the room. It has been the most fun I have had in a long time.
Melissa & Aaron
We are celebrating our 41st anniversary. It was a fun atmosphere to be "under the sea." They've done a great job with the artwork. It was nice to be here. The staff was great!
Glen & Robyn
We really liked this room. We've stayed in 13 of the rooms they're all great. But the round beds are kinda hard to sleep on — if your going to sleep that is.
Baker's Dozen
Here for our four year anniversary and a baby moon! The room was awesome, and the bathtub was our fav! Really pleasantly surprised at the great breakfast. This was our first visit and we will be coming back for sure!
Stewart & Rose
Husband and I came here for our 12 year anniversary! The room was beyond what I thought it would be! Every detail of this room was really mind blowing. My favorite has to be the boat bed. The shape of the bed and the look of it! Wow!
Boat Bliss
Join Our Email List
Sign up to join our email list and receive Anniversary Inn news and specials directly in your inbox. Sign up today!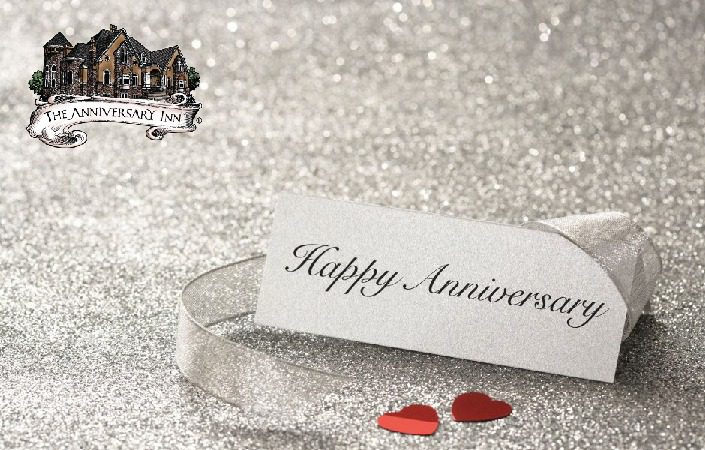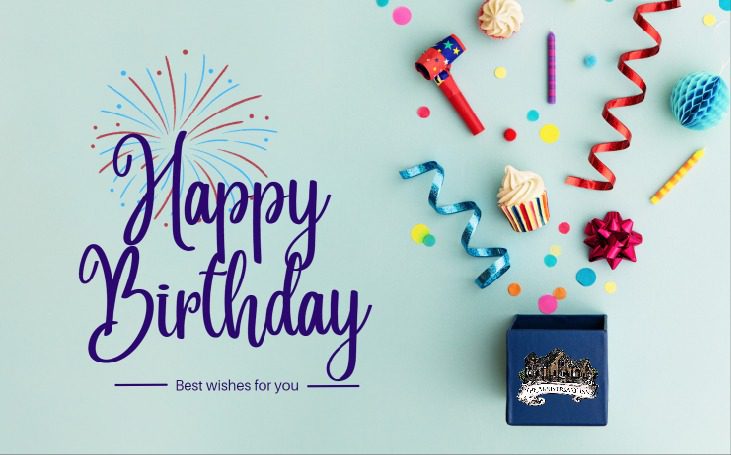 Special promotion codes for Anniversary and Birthday gifts will be emailed to you 1-4 weeks before the dates you have given us. Be sure to sign up today so you don't miss out.
Other Suites You May Like
I look at you, and I—and I'm home. Please, I don't want that to go away. I don't want to forget.
— Dori, Finding Nemo
Each morning seahorse couples dance together for several minutes before they part ways for the day. During the dance, they entwine their tails, change color and promenade along together. It's thought that this dance keeps them in touch with their partner.
I love you more than there are grains of sand on the beach, fish in the sea, and waves in the ocean.
Disclaimer: The photos as well as the amenities and characteristics of the suite as described on this page (such as type of tub, size of television screen, bed, etc.) may vary from what is in your suite at the time of your stay due to repairs and updates. If you require a specific type of tub or TV screen or other room characteristics during your stay, please call us and verify this with us on the phone to verify that we will be able to accommodate your needs. Otherwise, no refunds or discounts after your stay can be given due to minor variations in suite layout or characteristics such as these.
LOGAN, UTAH
169 East Center Street
Logan, UT 84321
435-752-3443
1-800-324-4152
INN KEEPER
Molly Winborg
[email protected]