Joanie's Diner
Logan, Utah
Suite Details
King-sized bed
43″ TV for bedroom
28″ TV for tub
Complimentary bucket of popcorn
Soda fountain
Jetted tub
Separate shower (wheelchair accessible)
Separate dining area in the diner
Display Jukebox

Loveseat

DVD player
Personal parking space
Full breakfast included
Sparkling cider included
Snacks, DVD's and other lovely options available.
Located on the first floor.
Wheelchair accessible – ramp and assigned parking.
Happy Days Are Here Again
Lose yourself in the fun of the fabulous 50's as you enter this retro suite. This two-room suite takes you back to the ponytails and bubblegum era of cold soda and bar stools. Bee-bop into the diner where you can enjoy complimentary cold soda from the soda machine and buttery popcorn. The red and black checkered floor, and a bubbler jukebox (display only) is sure to bring the 50's back to life. Retire for the evening in the bedroom suite which includes a large flat screen TV, loveseat, and king-sized bed with chenille accents and antique furnishings.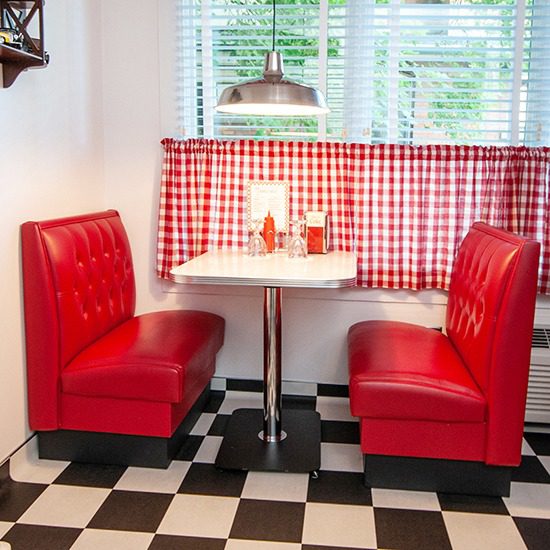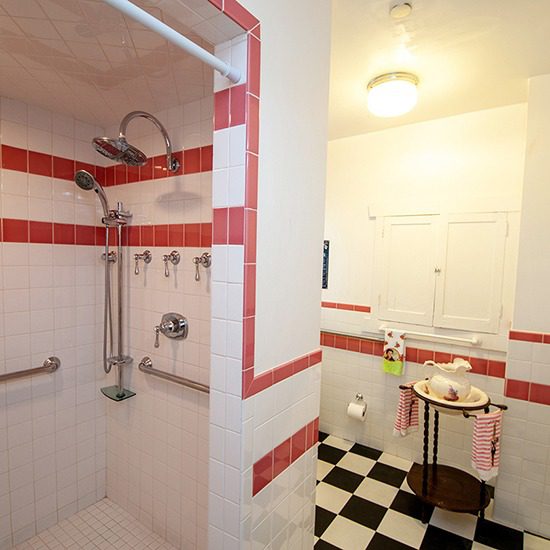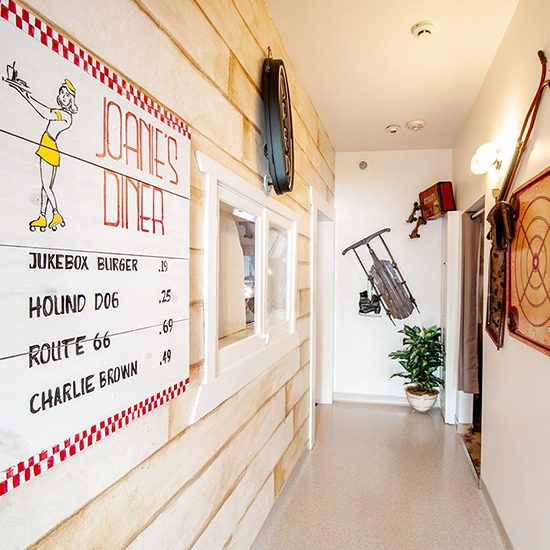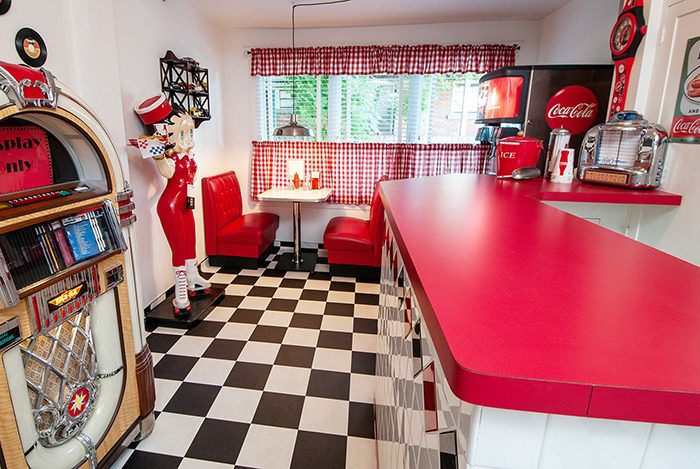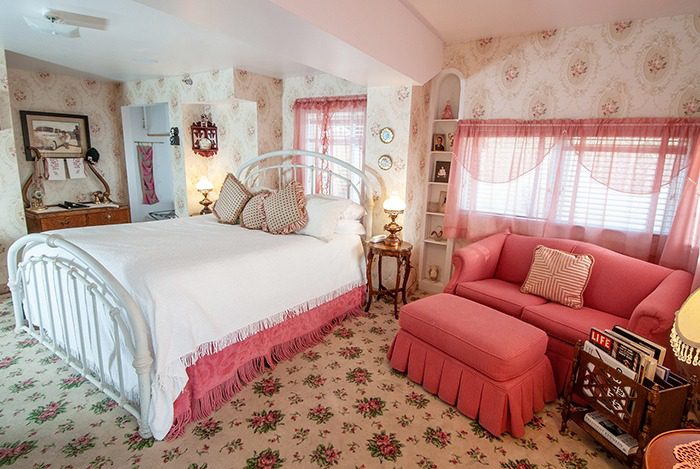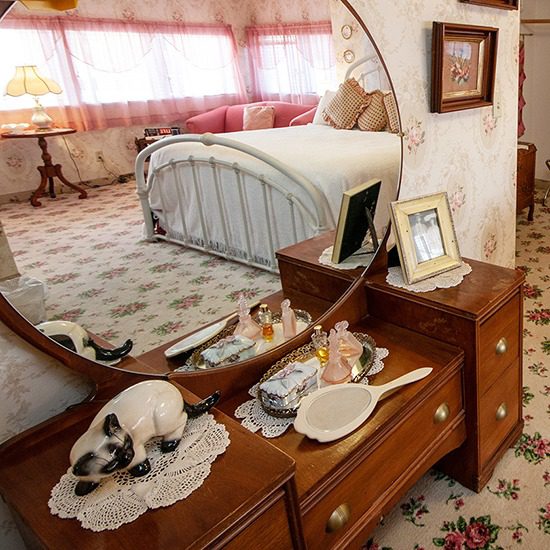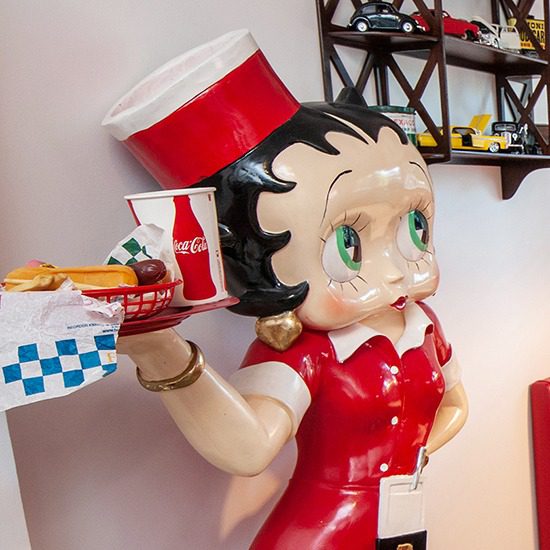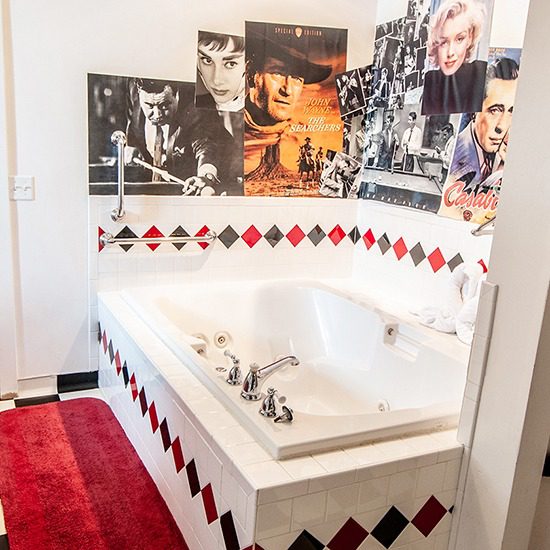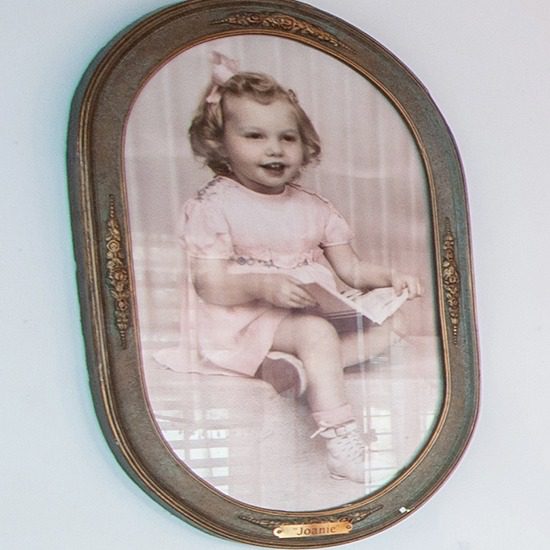 We celebrated Wayne's 66th birthday. We stayed 2 nights, and it was fantastic! This room is so great with the wallpaper and carpet. I'm afraid I'll get it dirty. You do a fantastic job. Thanks for letting us hangout with everybody in the big house. It was fun to bring up my dad's car. 1950 Desoto. It just matched Joanie's dinner theme. P.S. Loved the cat lamp! and fed the bird.
Kelly & Wayne
Happy 24th anniversary to us. The room was fun. We love coming up to Logan to celebrate the day we were married. Thanks!
Tim and Melissa
Happy 7th anniversary to us! We were skeptical about this room, but it was still pretty good. The big tub is nice. I love the pattern carpet and the vintage magazines and the decorations. I love looking back at things from the past. It would be kind of cool if the bird in the cage would move and tweet, heehee! Anyway this is our 9th time at the Anniversary Inn! Our goal is to go to each room and I always recommend to couples and newlyweds to go to the Aanniversary Inn!
The Fuertes
We have stayed here 2 times now and we love it! Thank you for everything.
Honeymooners
Loved the room, shower and tub. Loved the soda and popcorn.
Two in love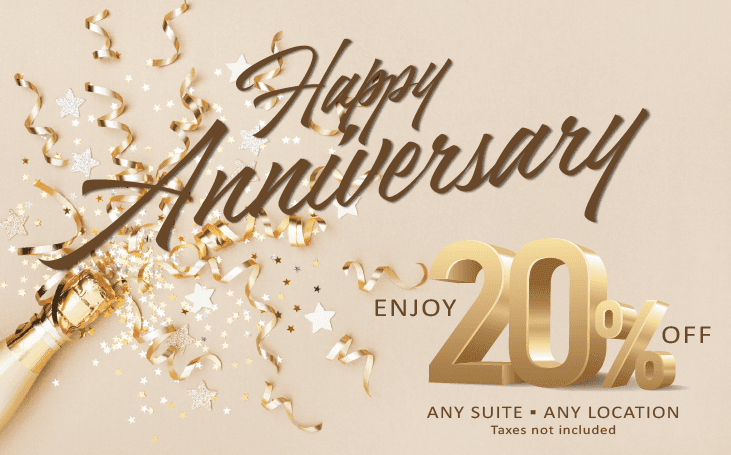 Sign up for our email list and receive Anniversary Inn news and specials directly in your inbox. Sign up today!
Other Suites You May Like
New York City is the most populous city in the United States, with an estimated population of 8.3 million people. But you can enjoy the big apple with just the two of you.  
The City of Tall Sky Scrapers
Overlook the city below as you snuggle in your cozy bed under the deep blue starry sky. 
As many as 800 languages are spoken in New York, making it the most linguistically diverse city in the world. But when you close the door, the only language you will need is the language of love.
Disclaimer: The photos as well as the amenities and characteristics of the suite as described on this page (such as type of tub, size of television screen, bed, etc.) may vary from what is in your suite at the time of your stay due to repairs and updates. If you require a specific type of tub or TV screen or other room characteristics during your stay, please call us and verify this with us on the phone to verify that we will be able to accommodate your needs. Otherwise, no refunds or discounts after your stay can be given due to minor variations in suite layout or characteristics such as these.
LOGAN, UTAH
169 East Center Street
Logan, UT 84321
435-752-3443
1-800-324-4152
INN KEEPER
Molly Winborg
[email protected]