Treasure Island
(Suite #31)
Boise, Idaho
Treasure Island
(Suite #31)
Suite Tier: Diamond
Suite Details
King-sized bed
42″ TV
Jetted tub with shower
Blu-ray player

Private Balcony

Loveseat

Full breakfast included

Sparkling cider included
Snacks, DVD's and other lovely options available.
Located on the second floor. Multi-level suite.
Tropical Paradise
This room features many treasures waiting just for you! Step onto the deck of this vast ship to take the helm of your adventure on the high seas for the night. Your Captain's Quarters include a king-sized bed, Blu-Ray player, and a 40″ TV. Make sure you march down the stairs and walk the plank to your private island featuring a jetted tub and a coconut shower — just the things to relax your sea legs. If you be feeling homesick for land, step out onto your private balcony and view the beautiful Boise scenery.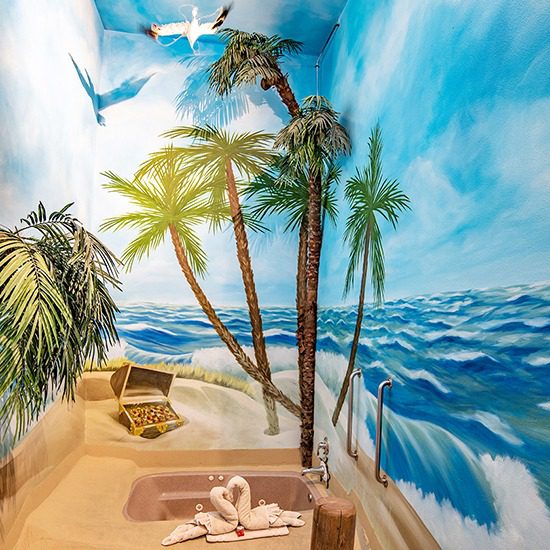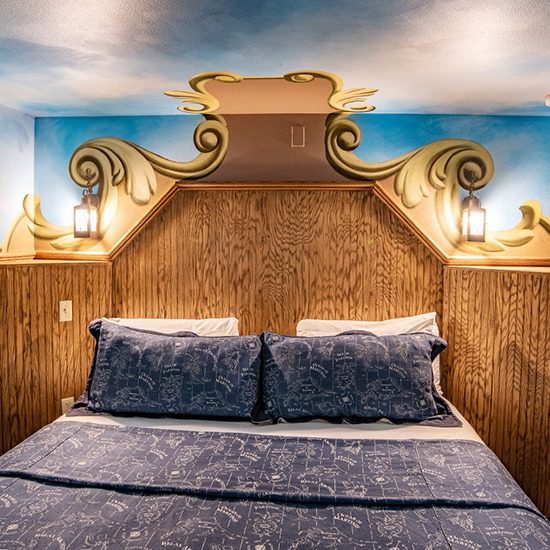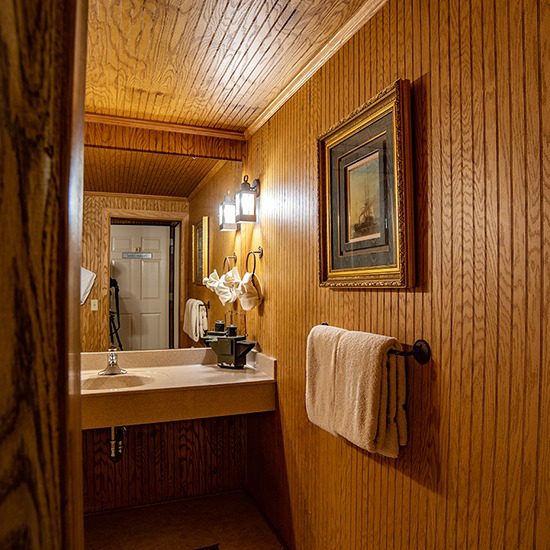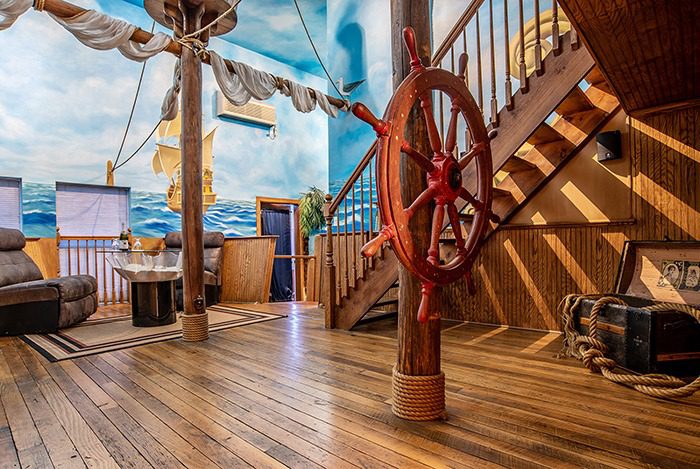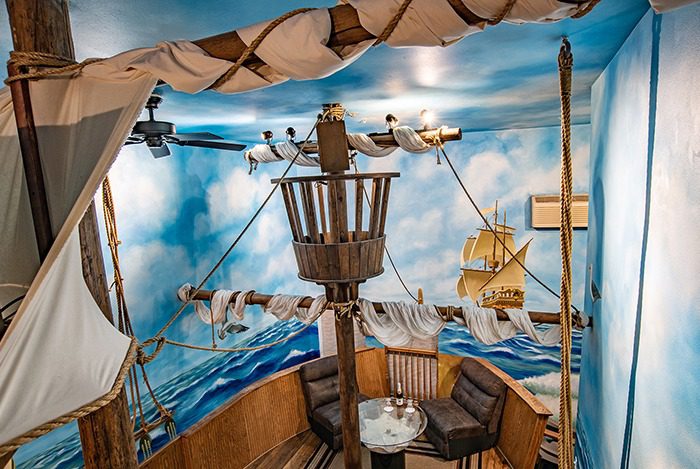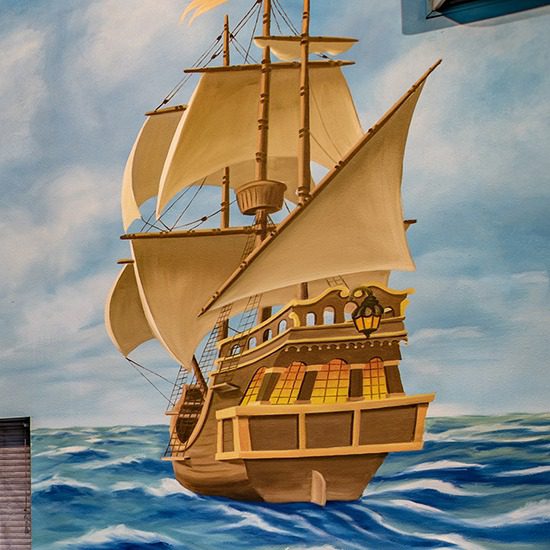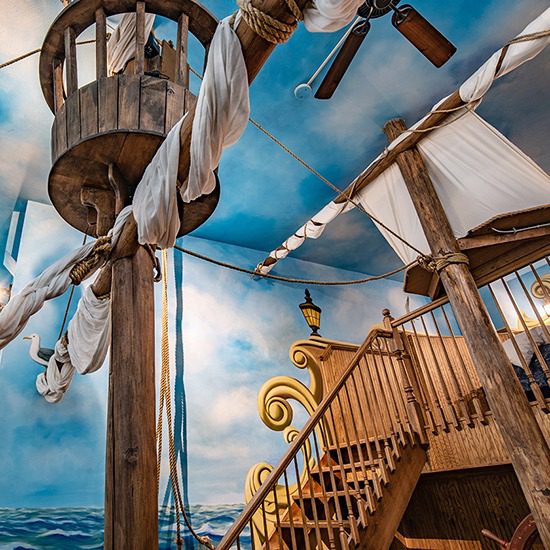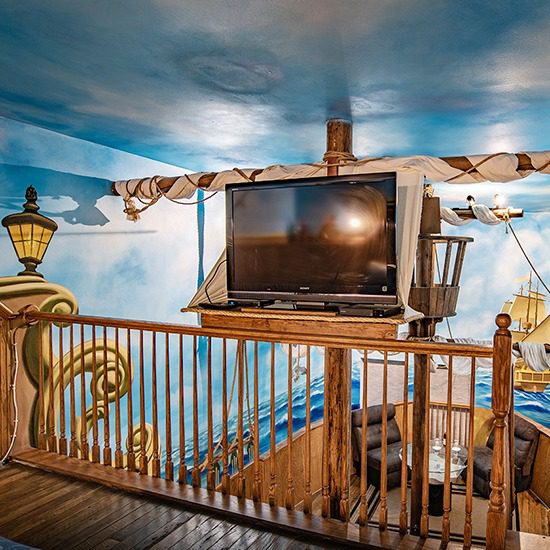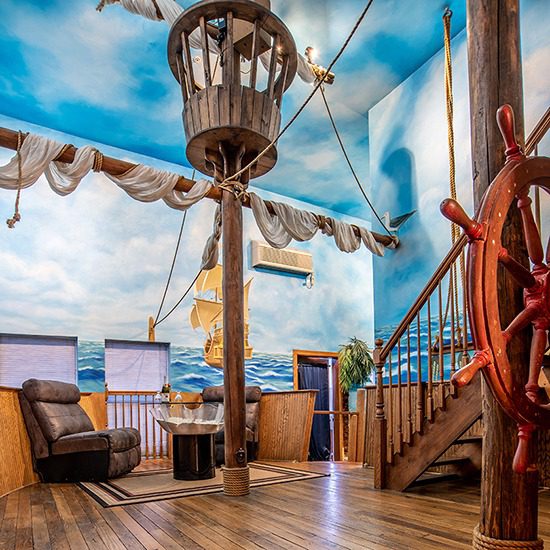 Captain's Log: 32 years of marriage. Some calm sailing and few rough seas. A wonderful getaway.
Dana & Brian
While anchored off Treasure Island, I saw a mermaid reclining at the edge of the lagoon. We spoke at length about our different lives; she had never spoken to a human before. I helped her on to my ship and gave her champagne to drink. She said it made bubbles inside her, like sea-foam. I hadn't known this, but after a while on land a mermaid's tale turns magically into legs. We spent some enjoyable time together in my quarters. Then she dove over the side and disappeared. It was a delightful way to mark 15 years of sailing the seas. 
Jason C.
Another beautiful day has come and gone marking 13 years at sea. We've seen calm seas and weathered many storms and the ship still seems to be holding up. We've acquired 2 crew members along the way. (They don't quite have their sea legs yet.) We hope that you enjoy your adventure as much as we have!
S & J
10 years, 4 babies and an eternity to come. I'm grateful for this time together to reflect on our life for the past 10 years. I wouldn't want to sail this ship with anyone else. It has been a beautiful journey full of rocky waves, calm seas, and beautiful sunsets that take your breath away. I hope you enjoy your journey as much as we have.
N & R
New York New York | SLC – 5th South
August 17, 2017
Love it like the ocean, unpredictable with stormy weather, but it will never stop being beautiful. There's things in life that happen but for whatever reason we're still here, together on this boat…sailing the waves of the ocean. Not knowing how the sea is going to take us, but we're in it for a ride. Whatever, wherever, however, I'll be here for you.
Beautiful Sailing
Join Our Email List
Sign up to join our email list and receive Anniversary Inn news and specials directly in your inbox. Sign up today!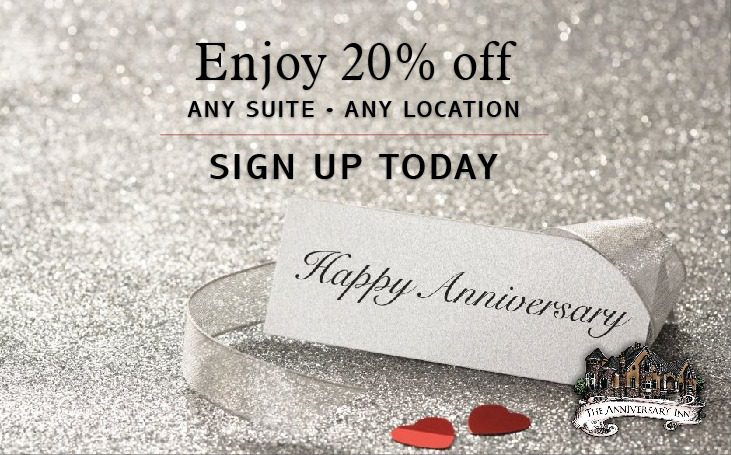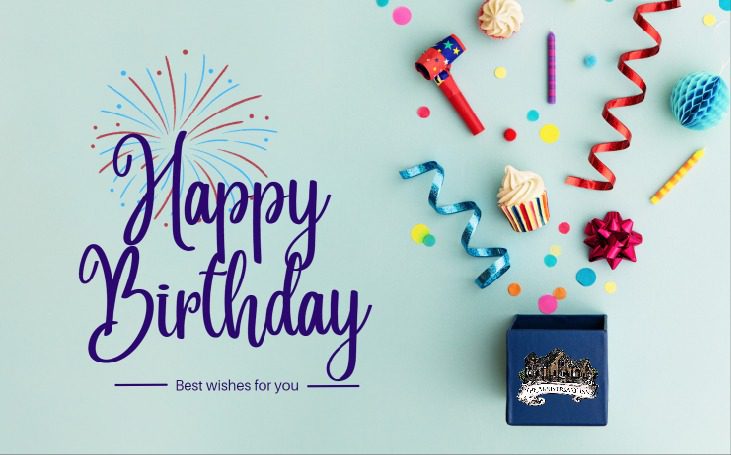 Special promotion codes for Anniversary and Birthday gifts will be emailed to you shortly before the dates you have given us. Be sure to sign up today so you don't miss out.
Other Suites You May Like
We must go on, because we can't turn back.
― Robert Louis Stevenson, Treasure Island
The treasure you seek can always be found in each other, when you spend time together on your own personal island.
– Skye Scott
Dear Ocean, thank you for making us feel tiny, humble, inspired and salty.. All at once.
Disclaimer: The photos as well as the amenities and characteristics of the suite as described on this page (such as type of tub, size of television screen, bed, etc.) may vary from what is in your suite at the time of your stay due to repairs and updates. If you require a specific type of tub or TV screen or other room characteristics during your stay, please call us and verify this with us on the phone to verify that we will be able to accommodate your needs. Otherwise, no refunds or discounts after your stay can be given due to minor variations in suite layout or characteristics such as these.
BOISE, IDAHO
1575 South Lusk Place
Boise, ID 83706
208-387-4900
1-800-324-4152
INN KEEPER
Galen Bechtel
[email protected]