Suite Details
King-sized bed
52″ TV
Jetted tub with shower
Blu-ray player
Fireplace (turned off from May 1 – October 15)
Glass dining table with chairs
Full breakfast included
Sparkling cider included
Snacks, DVD's and other lovely options available.
Located on the second floor.
The Royal Treatment
Antiqued gold elegance complimented by rich colors and marble are just the first things you will notice when you walk into The Palace suite. The sixteen foot ceilings will make you feel like the suite was made for royalty. The secret is, they were made for royalty…you! Tuck yourselves into lavish comfort with a complimentary DVD on the 52″ TV with a welcoming lit fireplace at your feet. After, that is, you finish your soak in the jetted tub surrounded by marble.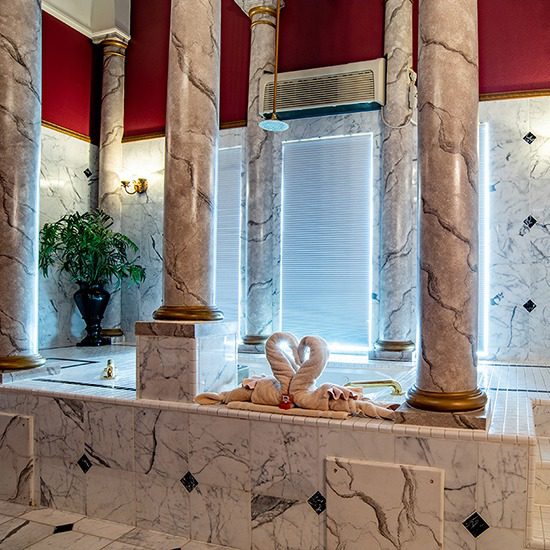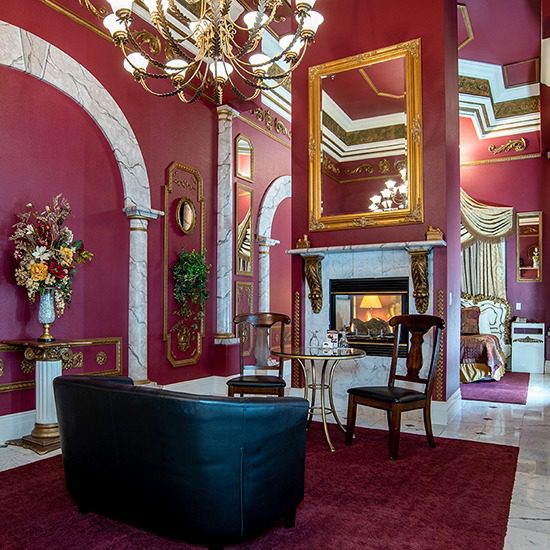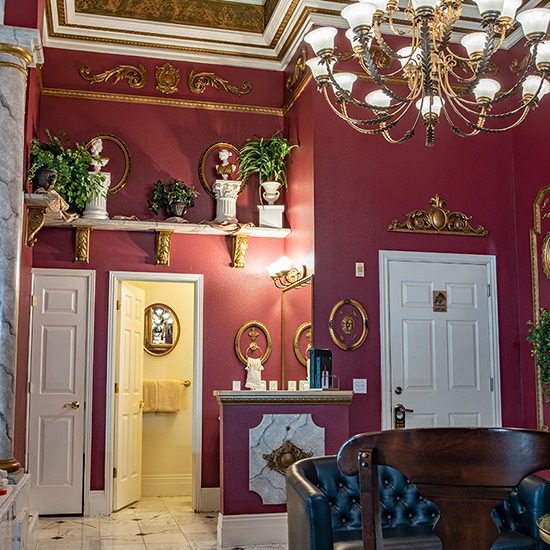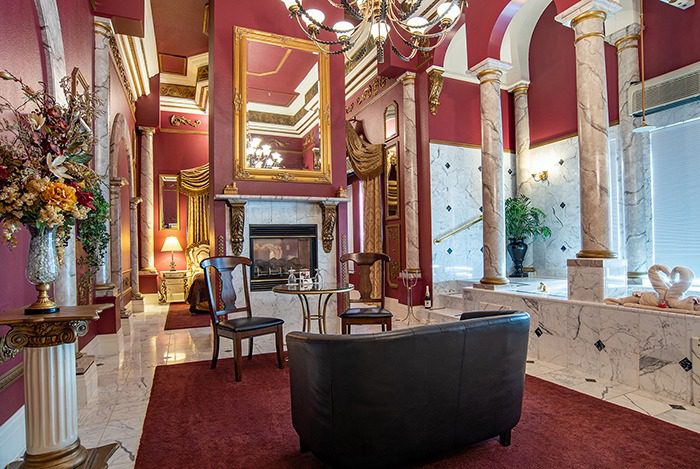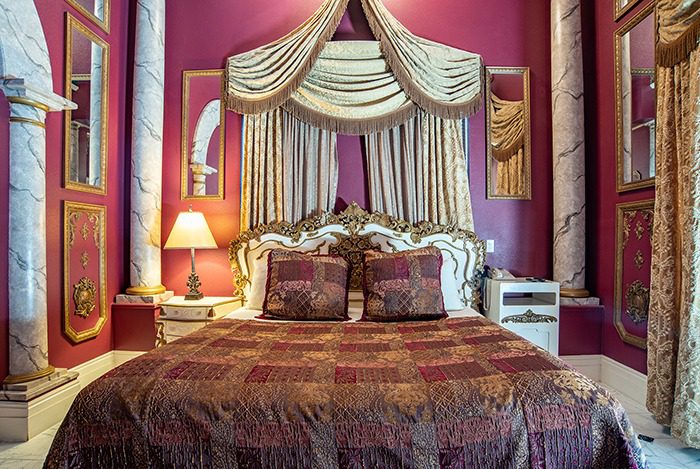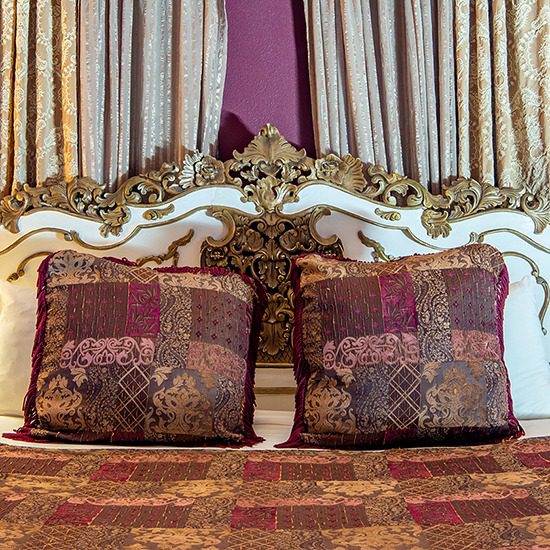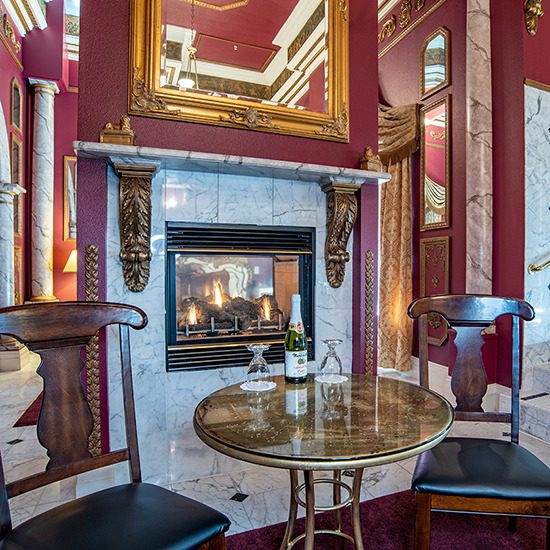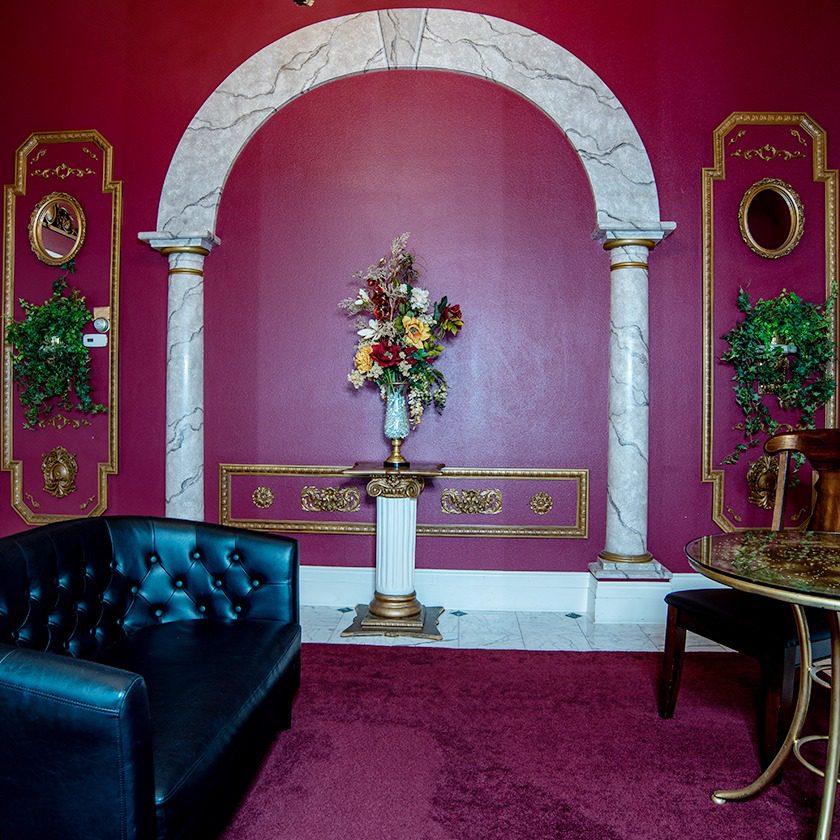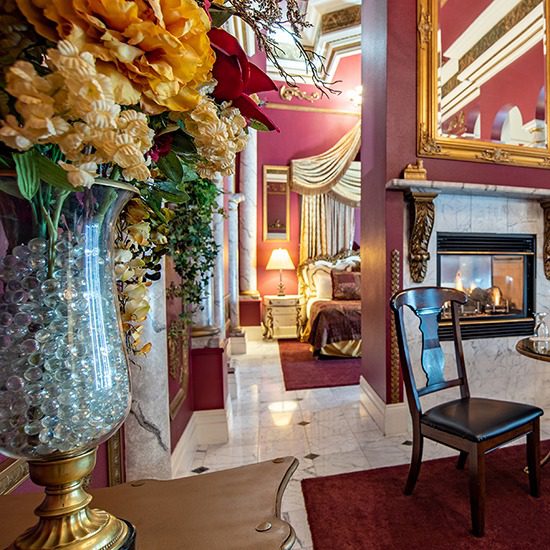 For our 28th anniversary my wife and I came to this place knowing that the atmosphere is so nice and great but we found out that the room (the Palace) is one of the most beautiful ones. Definitely we will come more here and enjoy time together. Everything is so pleasant from the employees to food and rooms. Customer service is of the highest level in my opinion. Keep up the good work!
Happy Couple
We stayed at the Palace room and was immediately awed by the presentation of the room. We ordered the lovers package with rose petals and it set the mood perfect! So romantic and we will definitely come back. Today we reignited our 23 years of marriage. Thank you Anniversary Inn for being fantastic.
The Carretos
We are celebrating living an intentional life! We had an amazing time reconnecting and finding joy in the present moment. Life doesn't happen spontaneously, but intentionally. Thanks for the memories!
Kim & Greg
It's more than just the dates, holding hands, and kissing. It's about accepting each other's weirdness and flaws. It's about being yourself and finding happiness together. It's about seeing an imperfect person perfectly. And remember to always live in the moment, that the little things are more important than anything–the way her hair falls, the sound of her voice when she calls for you or the way she reaches for you–those are the little things that really matter!!
Perfectly Imperfect Couple
What an amazing room. There is a reason this is the crème de la crème of the Inn. The high rise ceiling makes for a great soundboard of echoes, you'll really feel like royalty staying here. My husband and I roomed here for our seventh and drove from Utah to do so. And what an amazing night we had. I would definitely recommend using a bath bomb (we used Frankincense and Myrrh). We loved our stay!
T & D
Join Our Email List
Sign up to join our email list and receive Anniversary Inn news and specials directly in your inbox. Sign up today!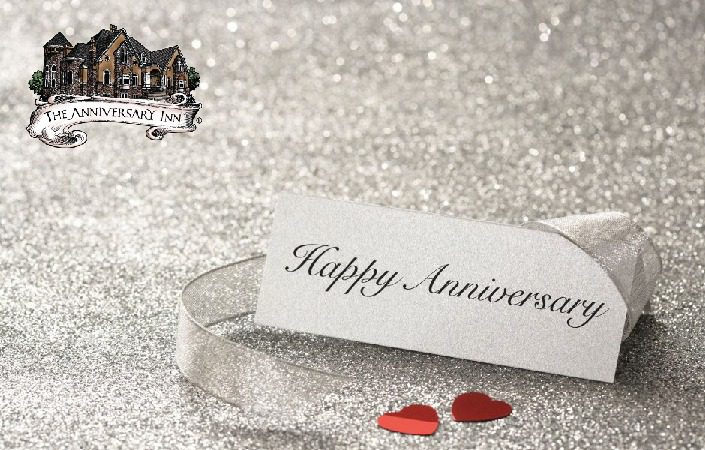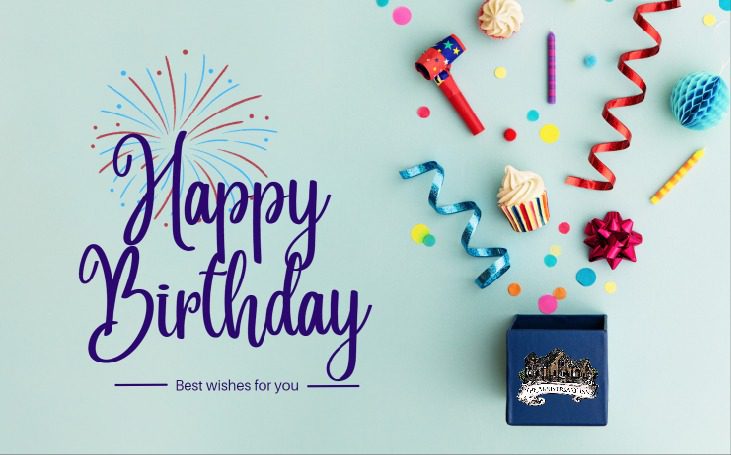 Special promotion codes for Anniversary and Birthday gifts will be emailed to you 1-4 weeks before the dates you have given us. Be sure to sign up today so you don't miss out.
Other Suites You May Like
Love takes off the mask we fear we cannot live without and know we cannot live within.
― James Baldwin
We loved with a love that was more than love.
― Edgar Allen Poe
One is loved because one is loved. No reason needed for loving.
― Paolo Coelho
Disclaimer: The photos as well as the amenities and characteristics of the suite as described on this page (such as type of tub, size of television screen, bed, etc.) may vary from what is in your suite at the time of your stay due to repairs and updates. If you require a specific type of tub or TV screen or other room characteristics during your stay, please call us and verify this with us on the phone to verify that we will be able to accommodate your needs. Otherwise, no refunds or discounts after your stay can be given due to minor variations in suite layout or characteristics such as these.
BOISE, IDAHO
1575 South Lusk Place
Boise, ID 83706
208-387-4900
1-800-324-4152
INN KEEPER
Galen Bechtel
[email protected]