Venice
5th South, Salt Lake City, Utah
Suite Details
Queen bed
50″ TV
Jetted tub with waterfall shower
Seat in front of gondola
DVD player

Full breakfast included

Sparkling cider included
Snacks, DVD's and other lovely options available.
Located on the first floor.
Romance on the Water
Visit the city of romance, with its Old-World Charm. Soak in an oversized Mediterranean bath then drift off to sleep in a gondola as you enjoy the sights and sounds of old Italy.
(Once inside the tour, click and drag your mouse to look around, or click on the circles to move around the suite.)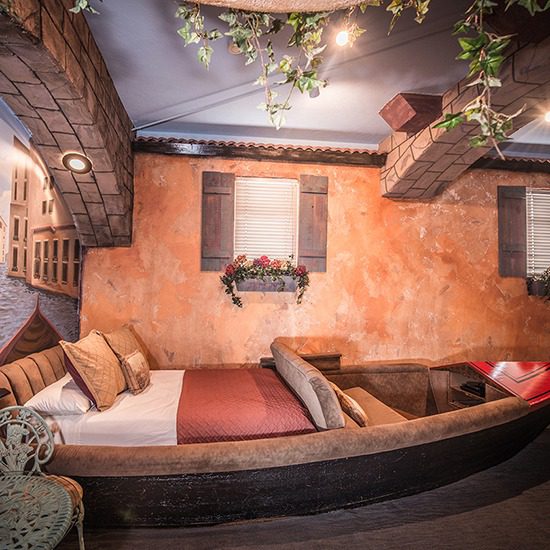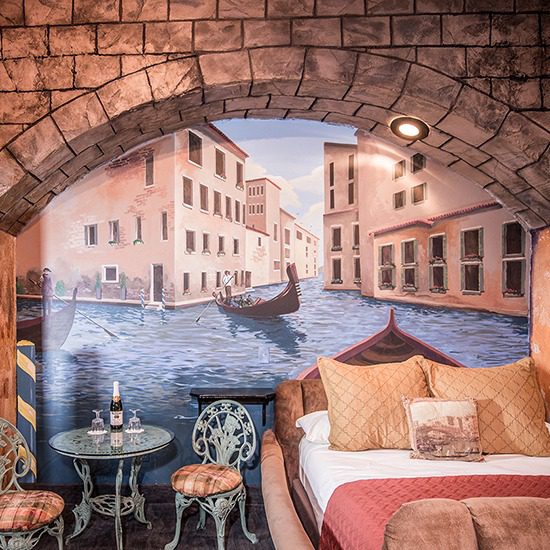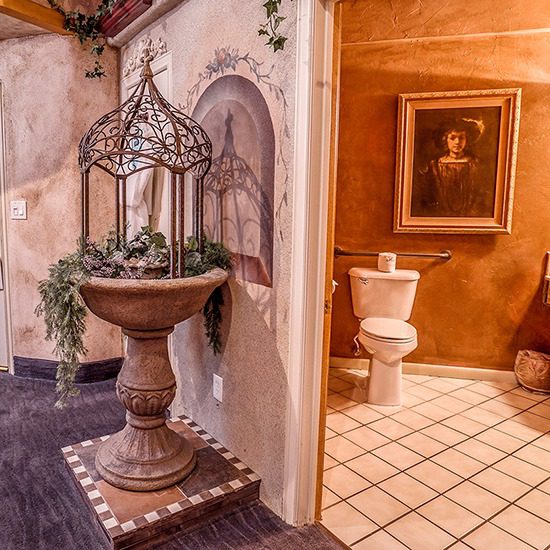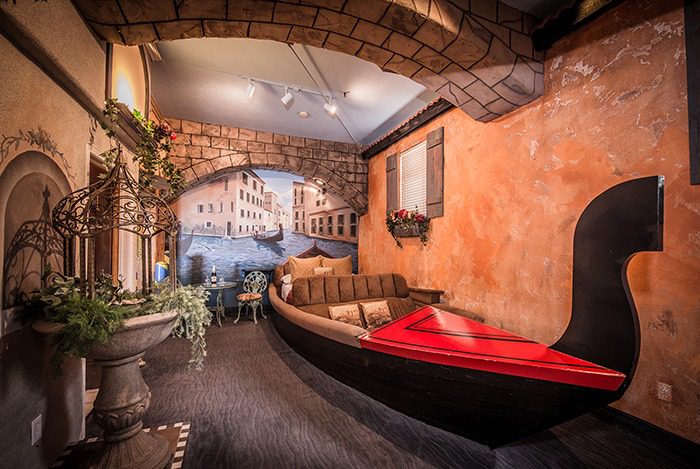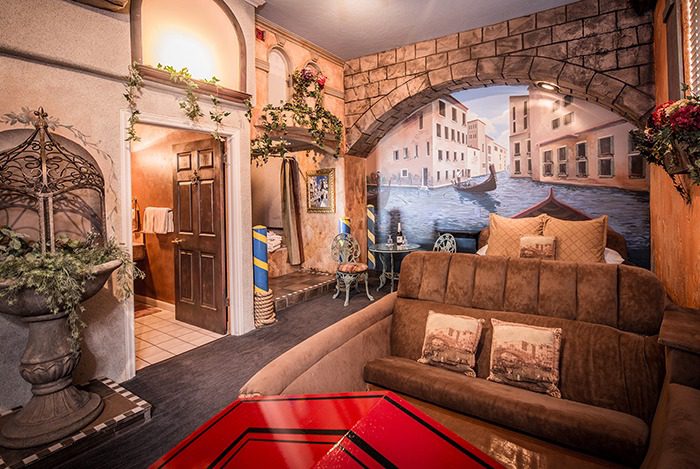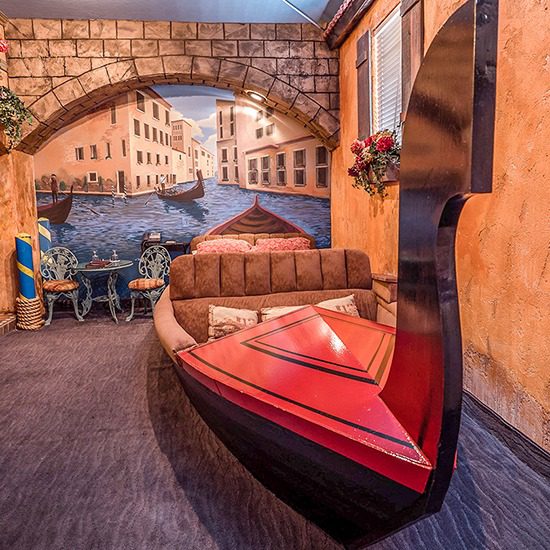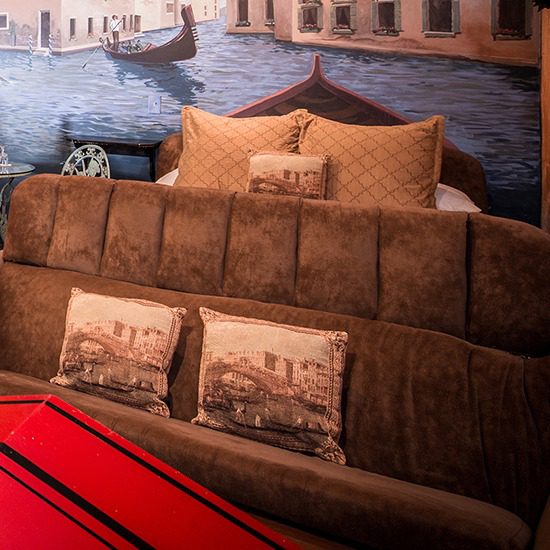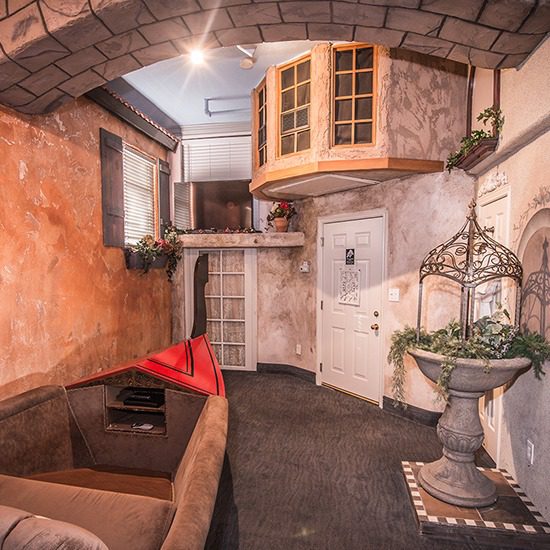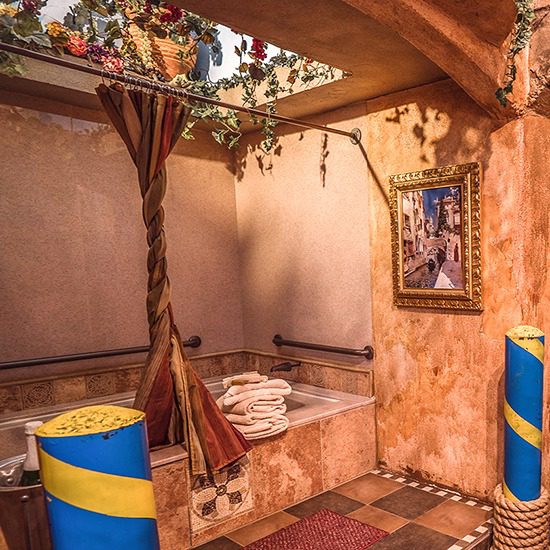 My wife and I celebrated our 45th anniversary here at the beautiful Venice suite. We enjoyed our stay very much! It was so nice to just relax in such a great atmosphere, the jetted tub, the rainfall shower, totally awesome. We plan to come back and check out the other themes, it is a great way to reconnect and celebrate 45 years together.
Adopted Venetians
Celebrating our 25th anniversary. We have stayed in a suite at the Anniversary Inn before and loved it! Great to have another amazing experience. Beautiful suite with the best reason to celebrate. Thanks!
J & J Worthington
Celebrating 18 years of marriage at our favorite place! Over the years we have visited Anniversary Inn several times, always staying in a different suite each visit but Venice may just be our favorite of them all! The jetted tub feels bigger than other suites, and this suite seems to have more space. And the theme is so charming. Another amazing experience- we'll be back!
Happy guests
We had so much fun staying in Venice on our honeymoon night! The bathtub was awesome!
Honeymooners
Venice was so much fun! It was fun sleeping in a gondola! I hope you have as much fun as we did!
Sleepy gondoliers
Join Our Email List
Sign up to join our email list and receive Anniversary Inn news and specials directly in your inbox. Sign up today!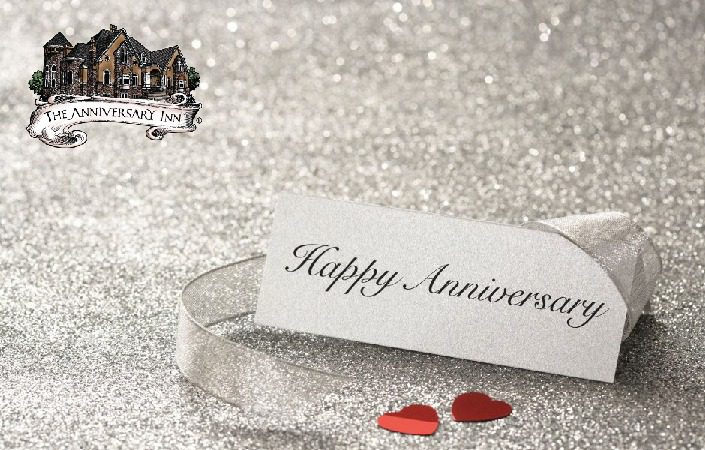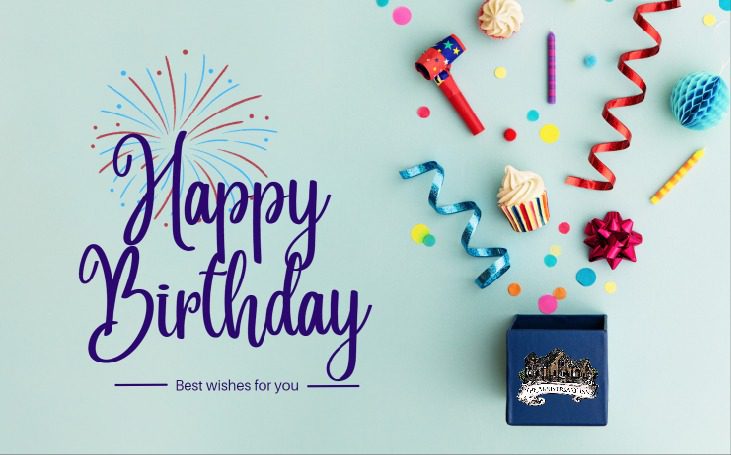 Special promotion codes for Anniversary and Birthday gifts will be emailed to you 1-4 weeks before the dates you have given us. Be sure to sign up today so you don't miss out.
Other Suites You May Like
The story of how Venice came to be starts in the 5th century AD.
When barbarian attacks struck mainland Italy in the 5th century AD, people living on the edges of the Venetian Lagoon moved to the islands of the Lagoon for safety.
Even though these marshy, unstable islets didn't seem like a good place to live, they were the start of one of the most famous cities in the world.
Today, Venice is hailed as an engineering marvel, and is known worldwide for its intricate architecture and famous canals.
Venice consists of a complex network of 116 islands, 177 canals, and 423 bridges.
Known for its winding canals and gondolas, Venice is a picturesque romantic architectural marvel. The ornate Renaissance Gothic-style architecture throughout the city speaks for its rich fascinating history. Art has also thrived in Venice for centuries and is home to many beautiful paintings and sculptures. Venetian cuisine like their art forms also has quite a history. Though their pizzas and pasta are famous, traditional cuisine is much more flavorful as they mostly use locally available fish and vegetables.
The Gondola is the most famous traditional Venetian boat. It is an 11 m long and 1,42 m wide handmade boat, built with 280 pieces of 8 different kinds of wood, weighing about 400 kg. Gondolas are built in traditional Venetian dockyards called "squeri," and every gondola needs about six months to be made. The final cost of a gondola is around 40.000 euros.
Disclaimer: The photos as well as the amenities and characteristics of the suite as described on this page (such as type of tub, size of television screen, bed, etc.) may vary from what is in your suite at the time of your stay due to repairs and updates. If you require a specific type of tub or TV screen or other room characteristics during your stay, please call us and verify this with us on the phone to verify that we will be able to accommodate your needs. Otherwise, no refunds or discounts after your stay can be given due to minor variations in suite layout or characteristics such as these.
SALT LAKE CITY
5TH SOUTH
460 South 1000 East
Salt Lake City, UT 84102
801-363-4900
1-800-324-4152
INN KEEPER
Kristen Blea
[email protected]