Jesse James Hideout
Logan, Utah
Suite Details
Queen-size bed made from logs
50″ TV visible from the bed
Jetted tub
Separate shower
Pool table
Ambiance fireplace
Bar-top table for two
DVD player
Full breakfast included
Two Root beer sodas included
Sparkling cider included
Snacks, DVD's and other lovely options available.
Located on the first floor.
The Buckaroo Inside of You
Step into Jesse James Hideout where the wild west awaits in these back woods retreat. This suite comes complete with cold root beer, a small pool table, rustic furniture, log queen-sized bed and a large, flat screen TV. The knotty pine walls and pressed brass ceiling add to the ambiance of the room. Discover the buckaroo inside of you and let loose in the splendors of this hideout.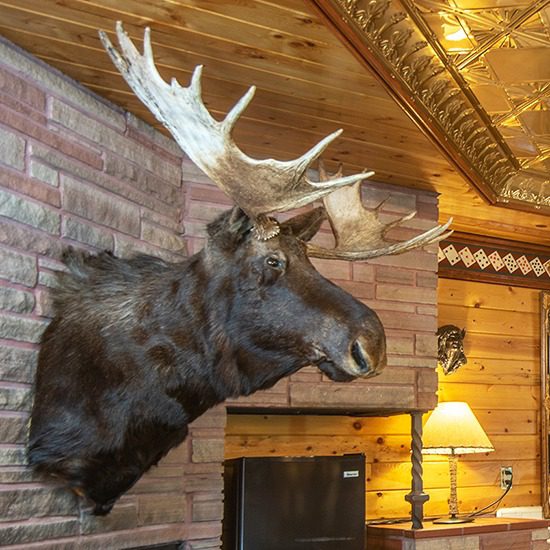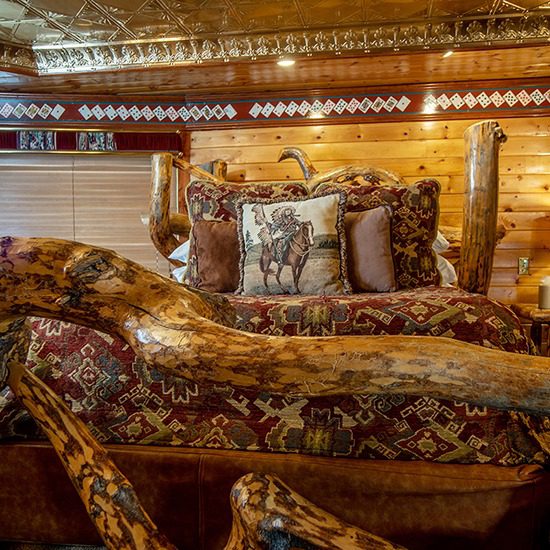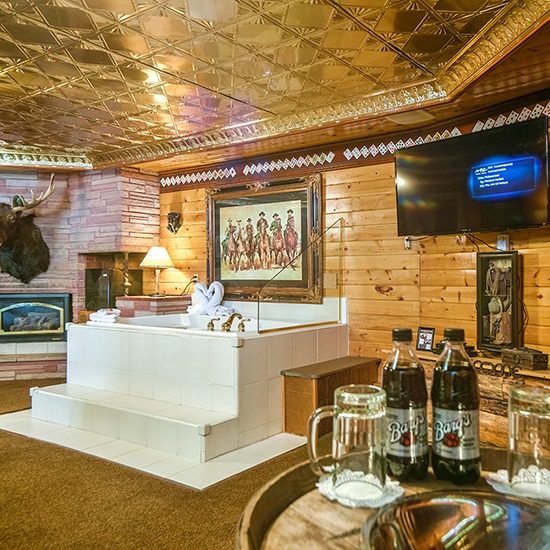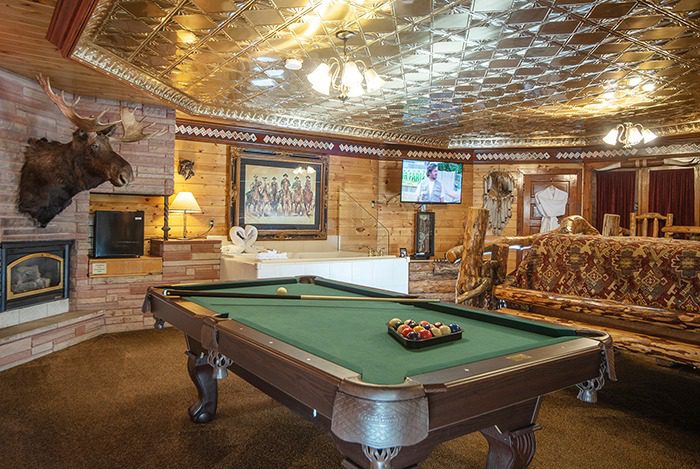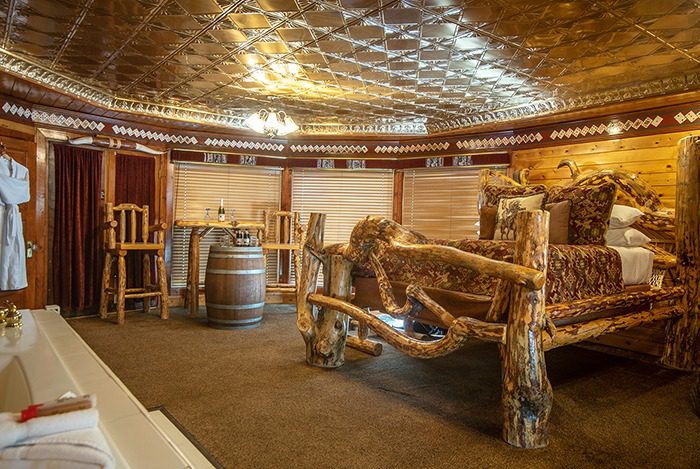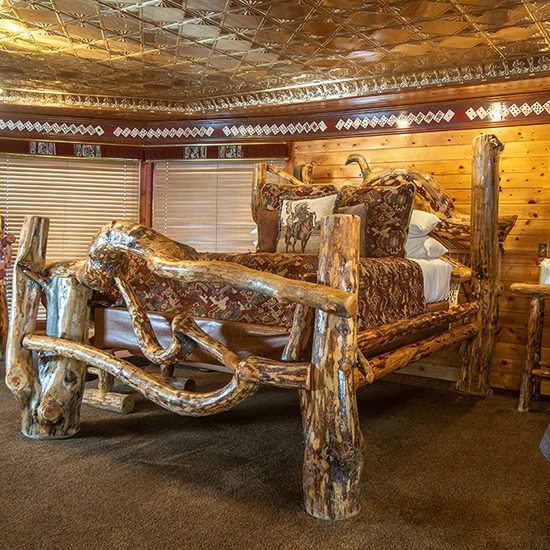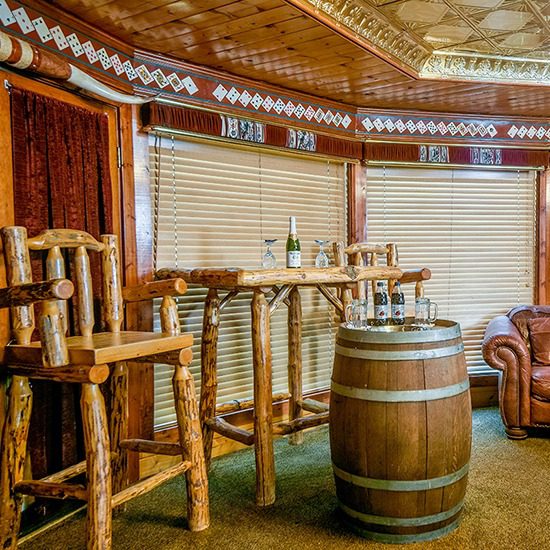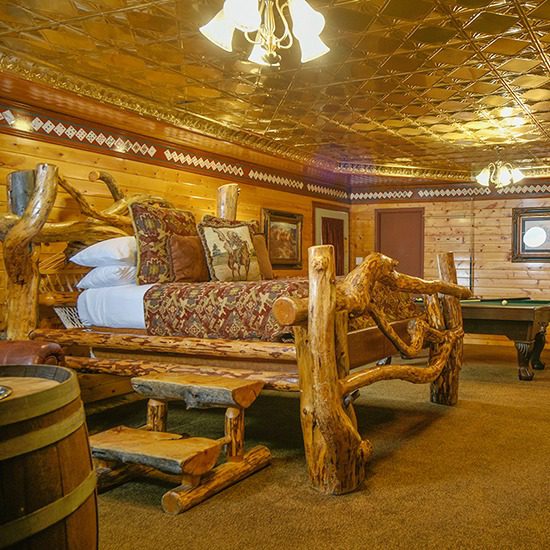 My husband & I got married four months ago & stayed here for the 1st time we absolutely loved it. We try hard to make sure we have date nights & have our time & that is super important. Love the 2nd time around. It has truly been the best!!!
Brandy & Earl
We love staying! We get a break from the kids & it is a relaxing time to enjoy ourselves, visit places in Logan & have fun. We love the food Logan has to offer & it is a nice city. We couldn't imagine staying anywhere else!
The Calls
Great 40th anniversary! Hope to come back again!
C & R
We sure enjoyed our first night as husband and wife here! We read all of the clues and searched for the loot—and we found it, but both know that the real treasure was finding each other. We hope the next people can "take the bull by the horns" when life gets tough. Our loot is stashed.
Gavin & Randi Vanderbeck
Amazing memories made here. A nice escape from reality to relax and enjoy. We didn't find the loot.
The Deedes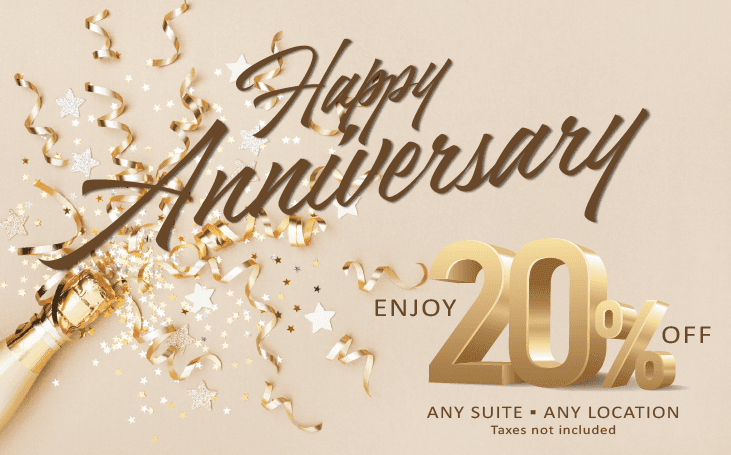 Sign up for our email list and receive Anniversary Inn news and specials directly in your inbox. Sign up today!
Other Suites You May Like
New York City is the most populous city in the United States, with an estimated population of 8.3 million people. But you can enjoy the big apple with just the two of you.  
The City of Tall Sky Scrapers
Overlook the city below as you snuggle in your cozy bed under the deep blue starry sky. 
As many as 800 languages are spoken in New York, making it the most linguistically diverse city in the world. But when you close the door, the only language you will need is the language of love.
Disclaimer: The photos as well as the amenities and characteristics of the suite as described on this page (such as type of tub, size of television screen, bed, etc.) may vary from what is in your suite at the time of your stay due to repairs and updates. If you require a specific type of tub or TV screen or other room characteristics during your stay, please call us and verify this with us on the phone to verify that we will be able to accommodate your needs. Otherwise, no refunds or discounts after your stay can be given due to minor variations in suite layout or characteristics such as these.
LOGAN, UTAH
169 East Center Street
Logan, UT 84321
435-752-3443
1-800-324-4152
INN KEEPER
Molly Winborg
[email protected]